Cruising – apparently it's on the up as more and more of us choose to take to the oceans for our holiday adventures. With some cruise ships accommodating thousands of passengers, it can feel like sailing on a floating city. So you'll be happy to know that smaller cruise vessels are voyaging in style to many corners of the planet.
If you want to go where (almost) everybody knows your name and you know theirs, small vessel cruising could be for you. If you long to stand on deck and gaze out at the open ocean without the thumping beat of the all-night disco shattering your peace, read on. As cruisecritic. com states, "a burgeoning industry niche now revolves around small vessels – a wide-ranging group that includes yachts, rugged expedition ships, riverboats and classic sailing schooners – where passenger counts top out at closer to 300, rather than 3,000 plus."
Courtesy of the top-notch experts at helloworld Mairangi Bay, we chose a sevennight cruise around the romantic islands of French Polynesia with Windstar Cruises, an upscale line sailing to some 150 ports throughout Europe, the Caribbean, Central America and the South Pacific. This was our second "small-scale" cruise: a few years ago we experienced Southwest Alaska on board UnCruise Adventure's Safari Endeavour with approximately 70 other passengers.
If you long to stand on deck and gaze out at the open ocean without the thumping beat of the allnight disco shattering your peace, read on.
Our 148-passenger ship, Wind Spirit, a beautiful motor yacht with four imposing masts and six sails, was a step up again in passenger numbers. In the brochures, Wind Spirit looks like the epitome of a romantic tall ship. In reality, the ship doesn't disappoint, looking very grand as she waits portside in Papeete to welcome her excited guests.
After a smooth embarkation it was straight into drinks and mingling with fellow cruisers in the ship's lounge. In my limited experience, small ship cruise people have a desire to meet and chat with you, which is a bonus if you like to make new friends while travelling. Plus, it's a great way to broaden your own horizons. So while you may be "giving up" some of the bells and whistles, discos, activities, cabarets, multiple restaurants and kids' programmes of the larger ships, you'll be gaining so much more.
It didn't take us long to familiarise ourselves with the simple layout of the ship and where the cabins were in relation to the three eating locations and the bar. Wind Spirit's cabins are located on two deck levels and are all the same size. Handy to know when booking, as prices do vary. We were on the lower level of cabins (Deck 1), which proved advantageous when sea swells rolled us around a little. As my husband pointed out, being closer to the waterline means less ship movement and the ocean makes a delightful sloshing noise right outside your two portholes. The cabins are really spacious and hold an ingenious amount of hidden storage that may inspire many Tiny Home aficionados. The bathrooms are small but are well stocked with L'Occitane toiletries and have great dual-head showers.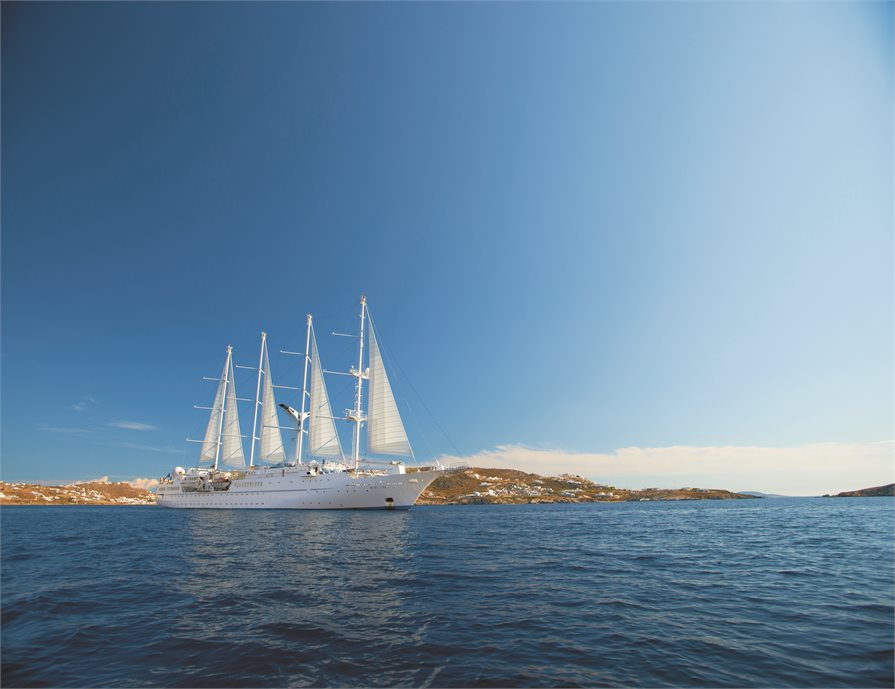 Wind Spirit boasts a staff to passenger ratio of 1:5, so there is always someone available to attend to your every need. Our dedicated cabin steward was efficient yet unobtrusive. The bar and wait staff knew everyone's names by day two and they went out of their way to meet all requests with unfailing cheer. One of the big drawcards of this cruise is the activities schedule. In this Pacific paradise, life is meant to be lived outdoors and many guests (ourselves included) took advantage of the many onshore excursions that could be booked on board. Note that all charges for paid activities and alcohol et cetera are in US dollars – so costs do mount up.
Small ship cruise people have a desire to meet and chat with you, which is a bonus if you like to make new friends while travelling.
Some passengers had planned ahead with pre-booked activities with local operators in each port, so don't feel you have to only do what Windstar Cruises suggests and plans. You just have to be back on board by the evening's sail or the ship may leave without you.
Complimentary water activities that take place off the stern of the ship include snorkeling, windsailing, paddle-boarding and even waterskiing. Guests can also make use of a spa, gym, library and a small pool. There are yoga/pilates classes, a beauty therapist and a resident doctor who also dispenses seasickness medications should you need them.
"Casual elegance" is the designated dress code, and that idea permeates the on-board vibe. Passengers leave ties and formalwear at home in favour of smart casualwear, day and night. Dining options are limited to three restaurants, but of excellent quality. We enjoyed a lot of local produce daily in AmphorA, the gourmet, course-by-course restaurant in the evenings and at Veranda, which offers casual buffet and full-service dining for breakfast and lunch. Candles on the aft deck offers dining under the stars. Plentiful fresh fish, crab, lobster and a great selection of wines, cocktails and beers meant no one was hungry or thirsty.
The port itinerary on our seven-night "Dreams of Tahiti" cruise included Papeete, Moorea, Raiatea, Taha'a, Bora Bora and Huahine. The joy of a smaller ship is that it can access ports that big liners just can't get close to.
Windstar Cruises also incorporates small island (motu) excursions. We all experienced a wonderful day with a buffet lunch on a private motu and a few days later at the highlight dinner of the cruise on another motu that is leased exclusively by Windstar Cruises. Here we were entertained with Tahitian dancers and a fire ceremony. Two of our fellow passengers chose this night to get hitched and another couple renewed their wedding vows, making it a night to remember. Being transported back to our ship, which sat at anchor with its sails and masts lit up, was a magical finale. We bookended our cruise at the spectacular Intercontinental Tahiti Resort and Spa in Papeete, the perfect launch- and end-point for our Tahiti experience.