The cruise industry is continuing to grow globally at a great rate of knots (see what we did there?) and innovation is what is keeping it on the top of bucket lists everywhere. With the huge raft of onboard options (ok, we will stop now) passengers are returning time and again as they seek out new destinations as well as new innovations.
Crystal Cruises
Let's start with Crystal Cruises and their $2 million submarine that can take a pilot and two guests at a time and dive down as deep as 300 metres. It looks like a big plastic bubble with skis on the sides and is usually reserved for researchers and film makers.
The C Explorer 3 has a 360-degree Plexiglas hull and travels at about three knots. A 20-30 minute voyage is offered on Crystal's Esprit in the Seychelles to allow guests to "dive" the reefs at a cost of about US$599 per person. It will be offered on other itineraries, including in the Adriatic soon. Cameras and cellphones are allowed onboard and you go through a full briefing on the ship before your excursion. This is ideal for those who don't like the idea of SCUBA diving or even snorkelling but would love to see the incredible fish and delicate coral that lies beneath.
Dream Cruises
The Palace is a new concept onboard Genting Dream and World Dream and it's like a ship within the ship. It's an enclave of luxurious cabins – part boutique hotel, part clubhouse, which is the perfect solution for multigenerational travellers when grandma and grandad want to travel in style, but the kids and grandkids don't care about crisp white linens and personalised butler service. Palace guests can go anywhere on the ship, but if they want the small ship style of cruising with their own private sun deck, private gym and spa or just spend time in the whiskey and cigar lounge, they have that small ship feel. If you really want luxury, book a Palace Villa with a private whirlpool spa and sauna on your own deck and host private dinners in your room.
Majestic Princess®
If you're unafraid of heights the Sea Walk onboard Majestic Princess® is a snazzy little bridge that loops out from the side of the ship and has a glass bottom so you can see the ocean washing away under your feet. It's less than 20 metres long and cantilevers out at nearly 40 metres above sea level, extending 8.5 metres out from the ship – like the view the captain has when he's pulling into port. And on the other side the Sea View Bar incorporates the glass bottom walkway into a bar with floor to ceiling windows as you sip your cocktail high above the ocean.
Celebrity Cruises®
On Celebrity Edge® you can step onto the Magic Carpet, a cantilevered bar/dining space that can take up to 100 guests. It lifts up to the top of the ship and goes all the way down to Deck 2. It's not a ride, but a bar and dining space with live music when it's positioned sky high above the 14th deck. On Deck 5 it becomes an extension of the pool area providing an open air dining experience over the sea. Then down at Deck 2 it is used as part of the gateway for the tender boats taking passengers to shore.
Royal Caribbean
The Skydiving booths and surf rider waves on Royal Caribbean's Quantum class ships almost pale into insignificance when it comes to this high-tech innovation. For a whole lot of wow, head to the Bionic Bar onboard several of Royal Caribbean's mega ships. You place your cocktail order via tablet and the robotic arm will begin a strange dance lifting a shaker under the appropriate 150 upturned bottles of spirits hanging over the bar and then diving to the back for mixers, ice and even lemons, then it muddles or shakes and finally it positions itself at your cup, pours and sends it down a teeny lane carved into the bar where you release it with your electronic ID card into your waiting hands. The whole process takes about one minute. It's ideal for the Instagram crowd, with smart phones recording more hours of this than probably any other thing on the cruise.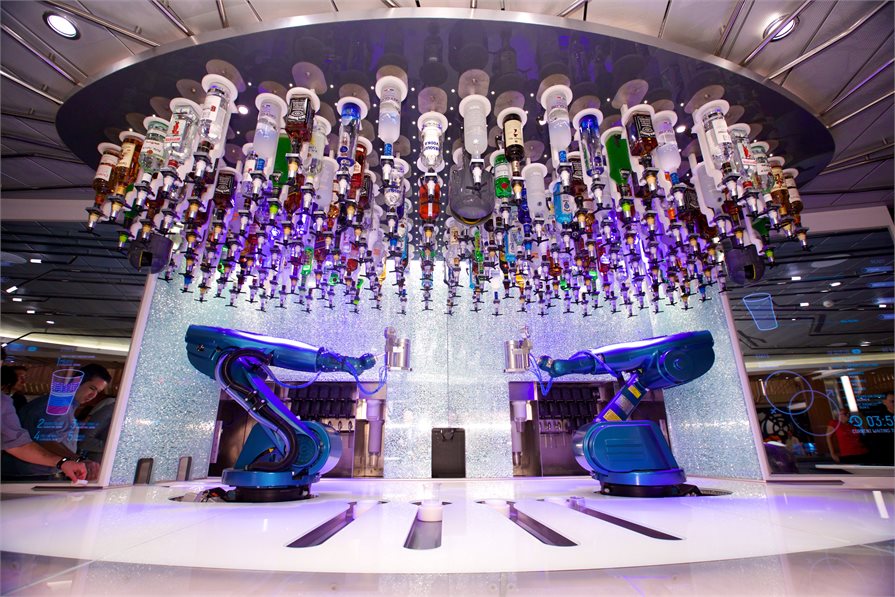 Norwegian Cruise Line
NCL offers the coolest bar at sea with the introduction of the Svedka Vodka Ice Bar at a chilly -8˚C on Norwegian Breakaway and Norwegian Epic. For US$20 you'll get a warm coat and gloves to spend 45 minutes sipping vodka out of glasses made entirely of ice and standing amongst ice sculptures before emerging to warm up in one of the many other bars onboard.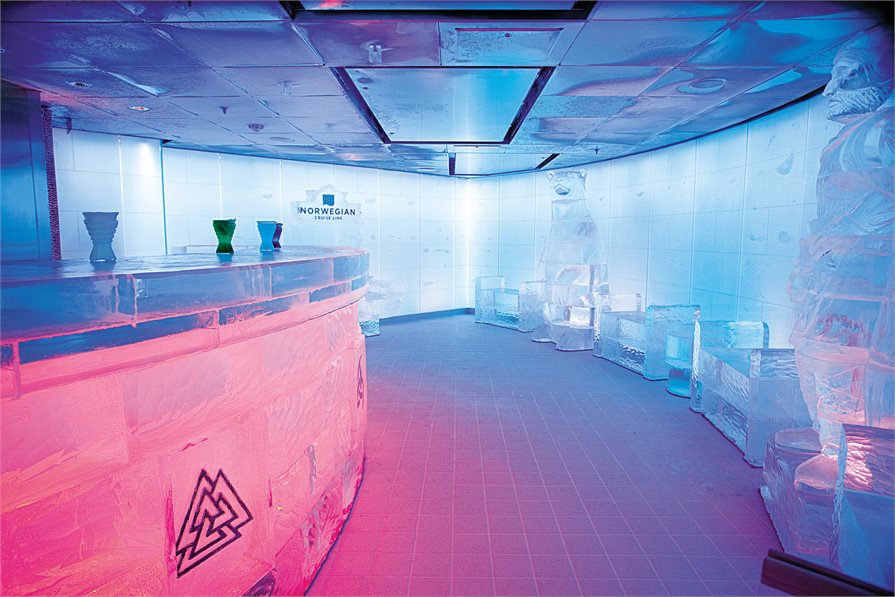 On Norwegian Bliss petrol heads will rejoice at the longest race track at sea on the top deck where you can drive go karts around hair pin bends against the back drop of Alaska's snowy mountains or the Caribbean's pristine beaches. Or whiz down the water slide tunnel that takes you over the ocean far below, or play laser tag on sea days to keep the whole family entertained!