Our introductory taxi ride from the airport through the crazily busy streets of Hanoi was an experience in itself. We arrived on a flight from Singapore and my travel companion said, "Man, I hope the rest of Asia is like Singapore!" She was in for a surprise because Hanoi is the real Asia, where trying to cross the road gets the adrenaline pumping and street food stalls line the streets. If you're wanting a unique holiday, it's definitely the place to go.
The Old Quarter of the city, our home for our first two nights, dates back to Imperial times (AD 938 to 1858) and was originally a residential and manufacturing area. If you're after a room with a view or a hotel with a pool your options are slim but there is such an abundance of street stalls, restaurants, affordable clothing stores, amazing spas, large night markets and historic churches that you are only likely to be in your accommodation to sleep. The night markets are a must-see when visiting Hanoi. Make sure you wear comfortable shoes.
We began our G Adventures small-group tour the next day and set off to Ha Long Bay for the night. It's about a four-hour bus ride but the scenery is great and the time just flew by. On arrival we met our local guide and boarded a traditional sailing junk which has a design similar to a pirate ship with cabins on the bottom floor, dining on the second and an open top deck-cum-rooftop. As we sailed away to a secluded bay to anchor overnight there was plenty of time to relax on the top deck with a drink and watch the world go by.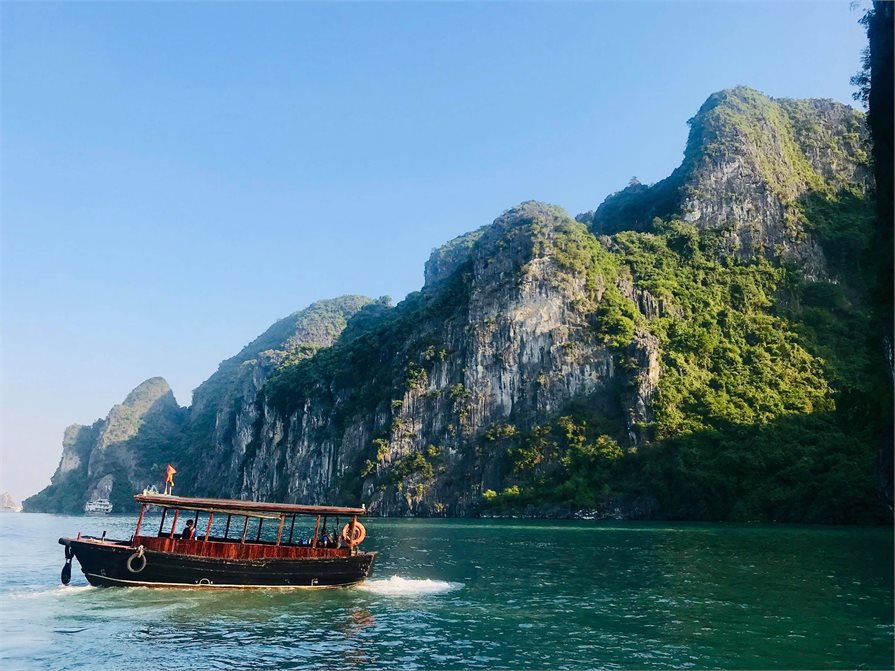 The next morning we took a full-day kayaking excursion and in the afternoon when other groups left we had the famous lagoons of the bay to ourselves. The next day saw another excursion to the Surprise Cave and Ti Top Island, both of which are spectacular. Surprise Cave, as the name suggests, is made up of three caves that transport you to another world. Ti Top Island is the best place for views of Ha Long Bay. There are 400 steep steps to the top of the island but if you aren't up for that a lookout halfway up offers 180-degree views. We got some stunning photos at sunset.
Back in Hanoi we took an overnight train 670 km south to Hue. We were in one of the newer carriages, which made the 13-hour journey more pleasant, and while the carriages and cabins are small and basic they are again all you need if you're just there to sleep. The cabins sleep four people in two bunks and there is enough room to store your luggage if your suitcase is not too big. Bring food or snacks for your evening meal. A coffee/snack trolley in the morning will get you through to your arrival in Hue.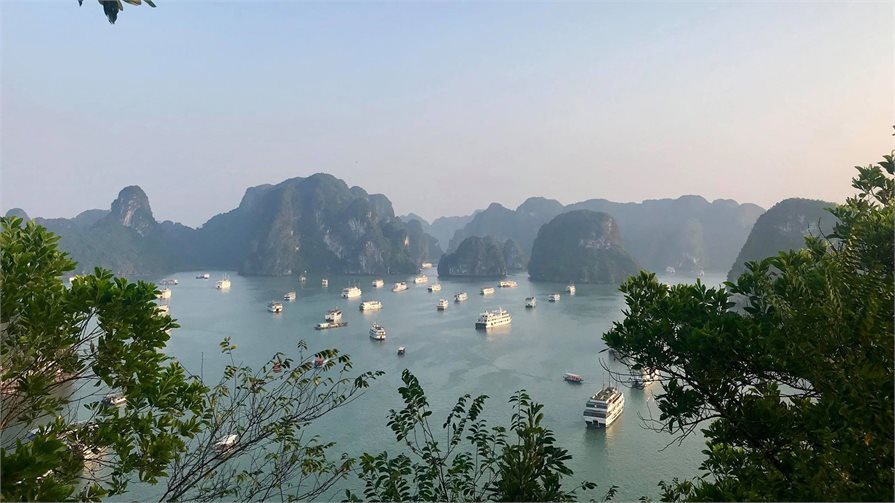 Hue is the old capital of Vietnam and with only one million people it's very green, clean and quiet in comparison with Hanoi. Excited to get up and moving, we began our first excursion which was a motorbike tour of the city. The guide met us at our hotel and we were soon off exploring the back streets and country roads. The motorbike tour visited three amazing places with equally amazing people, the first being the home of an inspirational lady who has been making the famous conical hats you see everywhere in Vietnam for 41 years. She has only one arm.
'The motorbike tour in Hue visited an inspirational lady who has been making the famous conical hats you see everywhere in Vietnam for 41 years. She has only one arm.'

She welcomed us into her home and we learned the history of the hats as well as her own story. The second stop was an incense stall where you learn about how the Vietnamese use incense in their day to day lives, and how to make it yourself. The final stop was the Perfume River lookout which offers picturesque views of the countryside on a fine day. If you opt for the tour's inclusive lunch you are welcomed into a local nunnery and served a delicious meal prepared by the nuns. This tour takes three to four hours but I strongly recommend you give it a go because it was one of the highlights of my trip.
After this amazing experience, we had the rest of the day to explore at our own pace. Hue only has two main streets full of shops, spas and restaurants but there is still plenty to fill up your day such as checking out the Tien Mu Pagoda and the Imperial Citadel. When the sun sets and you crave more good food, there are plenty of small streets and alleys with amazing restaurants.
The next day we made our way 122 km south to Hoi An. Our stay here was a bit more relaxing and we had three full days to explore. Like Hue, Hoi An is quieter than the larger cities but when the sun sets and the hundreds of famous lanterns light up, the town buzzes with groups looking for the perfect photo. During the day head to the ancient town near the river's edge where there are streets lined with tailor's shops and restaurants and homewares and gifts shops and everything in between.
Hoi An at night is even more beautiful and you really need to see it first-hand to understand its magic. A night market stretches along a couple of streets with stalls selling knick-knacks, clothes, food, handmade ice cream and of course, lanterns. The ancient town also has UNESCO heritage sites and historic buildings that are well worth a visit.
'Hoi An at night is even more beautiful than during the day and you really need to see it first-hand to understand its magic.'
G Adventures tour customers in Hoi An also get the chance to be apart of Oodles of Noodles, a "G for Good" project that helps former street youths expand their English and skill set and prepares them for future jobs in 5-star resorts. You take part in a cooking class and are served a meal that includes everything you just learned to create. Delicious!
We then flew to our final destination of Saigon (Ho Chi Minh City) and after a day of shopping and snacking our group headed to a street food market where there were at least 40 food stalls to suit everyone's tastes. The market had live music which got everyone up and dancing.
The last day of our tour was spent at the Cu Chi Tunnels, roughly a twohour drive from our hotel. Our private guide showed us around the site and described how the Vietnamese managed to survive there throughout the war. The tunnels were made extremely small so western-sized people could not fit through but one or two have been expanded so you can explore first-hand what it was like. This tour takes about five hours including the drive there and back but it is very interesting and worth doing if you have the time.
On the last night we went to a nice restaurant for dinner before heading to the famous Chill Skybar as a send-off. Located on the 25th floor of a downtown building The Skybar is 100% worth the visit. You have to buy a drink to be allowed access but the panoramic views are amazing.
That night in Saigon was crazier than usual as Vietnam had just won a big football competition and the streets were jam-packed with people on scooters with their horns tooting. Trying to cross the roads was an experience I will never forget. Our ten-day adventure saw us do things we never thought we could do and we met some amazing people who created lifelong memories. Vietnam, I will definitely see you again soon!