I have a confession to make: Antarctica was not on my bucket list. I used to joke I was solarpowered and allergic to snow but oh how things have changed!
After working for Wild Earth Travel for nearly five years I felt like I knew a fair bit about Antarctica. I did my homework, and learnt from the best – Aaron Russ, the owner of Wild Earth Travel, is an Expedition Leader himself and has travelled to the white continent over 130 times. The opportunity to visit Antarctica on Ponant's Le Soléal was thus a no-brainer and I took the opportunity to experience it, and in style. I just had no idea it would leave me with a new love and appreciation for this incredible place.
With Air New Zealand's direct service to Buenos Aires, getting to Antarctica is somewhat easier than it has been. Ponant takes care of everything from Buenos Aires: transfers, dinner, a charter flight south and a leisurely lunch on arrival in Ushuaia. It gives you a taste of the service and style that is to come.
Boarding Le Soléal was seamless and yes, that man grinning and greeting passengers on the gangway was the Captain, and after less than ten minutes of simple admin we were shown to our cabin where a bottle of chilled Champagne was waiting and our luggage had already been delivered. After an initial welcome presentation and safety drill, the ship's bars and restaurants were quick to make sure we were settling comfortably into the famous Le Soléal hospitality. With fewer than 200 passengers and 140 crew, we were quickly made to feel at home on this modern small-cruise ship.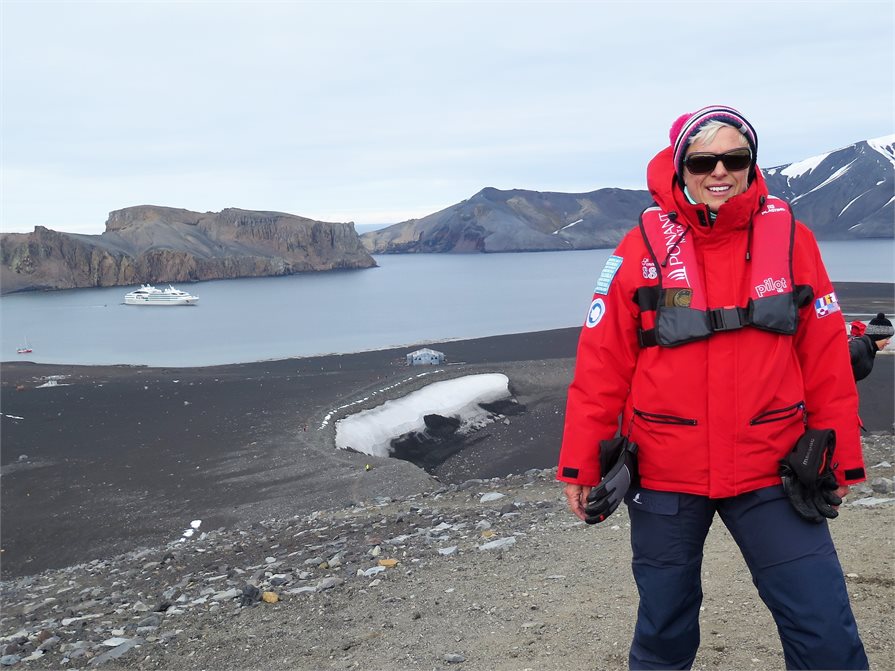 Crossing the Drake Passage south of the very bottom of South America was the first part of the adventure and as long as you are prepared it can be rather enjoyable. It's either "shake" or "lake" on the two-day passage but with a bit of seasick medication (just in case) we soon realised you can run on a treadmill (holding on), do a stretch class, and even don heels and a dress and enjoy cocktail hour with the Captain followed by a six-course degustation gala dinner. The live music afterwards saw the dance floor packed, and we all had a giggle that this was taking place in the middle of the Drake Passage.
'I never knew icebergs could be so enchanting: the colours, textures, shapes and scale were ever-changing.'
Our first sighting of land was the South Shetland Islands. Walking up the beach with elephant seals, fur seals, and both Gentoo and Chinstrap penguins nearby was incredible and I wasn't even cold. The Americans in our group were quick to point out Chicago was currently at -24C and we were enjoying +1C!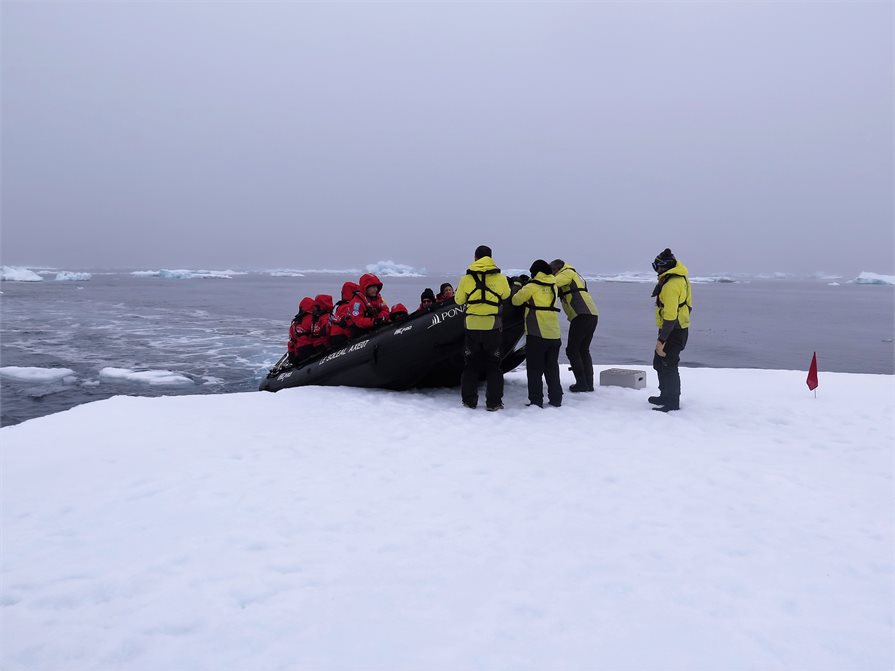 The following days were filled with breathtaking scenery, incredible wildlife, vast landscapes, rich history and dramatic ice. I never knew icebergs could be so enchanting: the colours, textures, shapes and scale were ever-changing. We managed to see a vast range of wildlife too, including Emperor, Gentoo, Chinstrap and Adelie penguins, Leopard, Weddell and Crabeater seals, and Orca and Humpback whales.
Our days were spent with landings on the ice as well as time spent Zodiac inflatable boat cruising. The only thing I could begin to compare Zodiac cruising to is game-driving in Africa – the thrill of the chase and the scope of the landscape was breathtaking and became my favourite activity. The Expedition Team also doubled as our Zodiac drivers, so whatever and wherever the adventure, an expert was there with us to answer questions and enrich the experience. Ponant also offers kayaking in Antarctica, and 80-year-old Sharon from Australia was quick to prove that age was no barrier!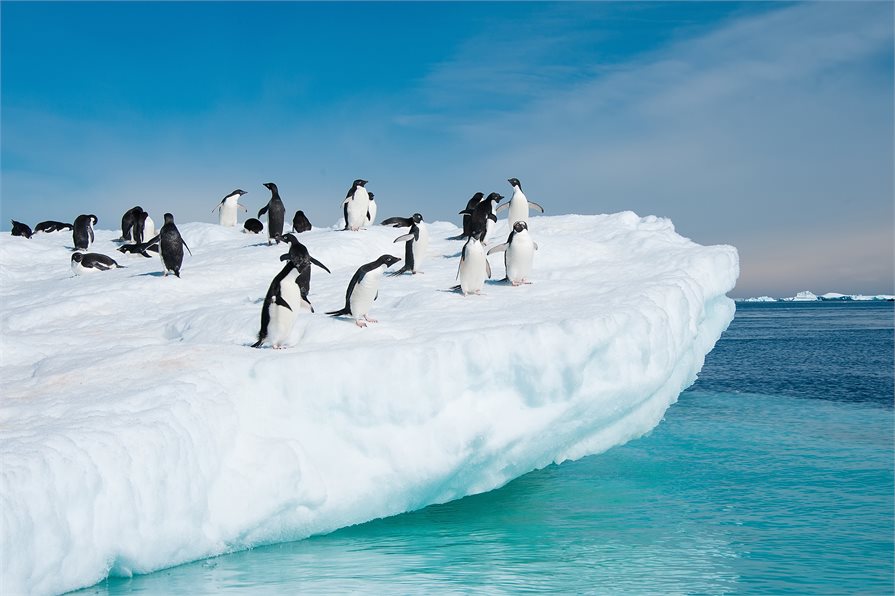 After each outing, returning to Le Soléal seemed surreal: we were greeted with open arms and tight grips from the team helping us get off the Zodiac, and after scrubbing a bit of penguin poo from our boots, the lounge awaited with live music, a hot toddy and the amazing crew there to welcome us back in unassuming French style. Meal times on Le Soléal showcased incredible culinary talent and the dessert buffets, cheese selections and amazing French bakery selection soon saw more of us making use of the gym on board.
'Meal times on Le Soléal showcased incredible culinary talent and the dessert buffets, cheese selections and amazing French bakery selection soon saw more of us making use of the gym on board.'
One evening saw us skip dinner to experience a horizon filled with whales: Humpback Whales bubble-net feeding incredibly close to the boat, as well as Orca. We spent over four hours changing course to experience this scene and many of us didn't leave the bridge until after 11pm.
The time we spent on the boat always had a leisurely feeling and while the daily programme offered lectures, fitness classes and the like, an afternoon nap or a quiet corner to read in was also a valid option for many. And just when you thought the crew were doing more than enough to enhance the experience, an on-board pool party (in aptly named Paradise Bay) saw many take the plunge for a quick photo and cocktail!
My Ponant Antarctic trip was enriching in so many ways. The history, wildlife and sheer scale of the landscape is indescribable and it's a destination that truly needs to be experienced to be believed. I can still hear the cracking and rumbling of the ice and still smell the penguins – they don't smell as good as they look! As our Expedition Leader said at our last briefing, "Many people say they've 'done' a destination. You haven't done Antarctica. You have lived just a little bit of it." It was an extreme privilege to visit this white continent, and it's now top of my bucket list to return and see a bit more of it.
SARAH'S PACKING TIPS FOR ANTARCTICA
Expedition clothing – What you wear on the ice
Underwear – goes without saying!
Thick ski socks and thinner wool socks
Thermals – Long Johns, thermal t-shirts / tops for base layers
Outer layers – Merino tops / fleeces; waterproof pants (thick ski pants or sailing pants are ideal), puffer jacket or vest, outer jacket – some cruise companies will provide the last and even let you take it home
Thick waterproof ski gloves and an inner merino pair
Neck buffer / warmer (not a scarf)
Beanie / woollen hat that covers your ears
Sunglasses
Boots – Most companies provide these but you must leave them on the ship
Clothing for everyday wear on the ship
Underwear and pyjamas
Socks
T-shirts / long sleeved tops / sweatshirts
Track pants / jeans / leggings
Shoes – one dress pair, sports shoes, casual slip-ons
One or two formal outfits. Check the pre-departure info. for your cruise. Some ships host gala evenings and / or Captain's Dinners. Men don't necessarily need a tie but a dinner jacket is a good option.
Extra bits and pieces…
Universal power adaptor / plug – check which sockets are used on your ship
Toiletries / medication / sunscreen
Seasick medication – It's worth getting some anti-nausea tablets and/or patches from your doctor. There is a doctor on board, but you will need to pay for their services
Extra moisturiser / lip balm / hand cream! Antarctica is very dry with no humidity so your skin will dry out much more than you're used to
Waterproof bag or case for your camera and / or phone, or waterproof backpack
USB stick – If you want to share photos with your travel companions
Walking poles / sticks – Many guests found walking poles helped them stay upright and steady
A few blocks of New Zealand chocolate or small tokens of appreciation for your favourite waiter, barman, maid and members of the expedition team.