If you love snorkelling and diving, exploring and walking and want a relaxing laid-back holiday with superfriendly locals, then Niue might be the island you never knew about. With some of the clearest water imaginable it's a real water babies' paradise, and when the humpback whales come to the island each year to nurse their young you can see them right from the shore.

There are two return Air New Zealand flights to Niue from Auckland every week and you gain or lose a day each way because of the International Dateline. The return flight home is fun because you can guarantee that after spending a week on the Rock you will know most of the people on the plane.

Niue lies in the centre of the triangle made up of Rarotonga, Samoa and Tonga. The average water temperature is 23 degrees C. and the island has balmy tropical temperatures all year round but can be very humid over the summer months between November and April. The whales come to visit from July to October with the peak time in August to September, so those months are a fantastic time to visit. I went to Niue with my better half in February – the low season with a bit more rain and a lot of humidity. Between May and October the weather is drier but still warm and tropical.

There are lots of great accommodation options on Niue. We stayed at the Scenic Matavai Resort Niue which is the main resort on the island and the fantastic staff looked after us very well. If a resort isn't your thing there are lots of other options from backpackers to luxury stays, apartment-style and self-catering options and everything in between.

Something I would recommend if traveling to Niue is do an orientation tour when you arrive. This will really set you up to get the most out of your stay. We went on a half-day tour with Niue Tours, run by Keith and his wife, and they were fantastic. They also give you an information pack to take away which gives you information on the tides – this is essential for travelling around.
'If a resort isn't your thing there are lots of other options from backpackers to luxury stays, apartment-style and self-catering options and everything in between.'
Another good thing to do is hire a car. There really isn't any public transport (there is a taxi) but you will be able to explore the island in full with a car. Just don't do what I did and drive with the handbrake on. It wasn't until I could smell burning rubber that I realised. The car was okay, thank goodness.
The roads are paved in Niue and a drive around the island with stops along the way is a great way to spend an afternoon. Just beware the potholes, which are many and varied and in some areas it is more like navigating an obstacle course than a road.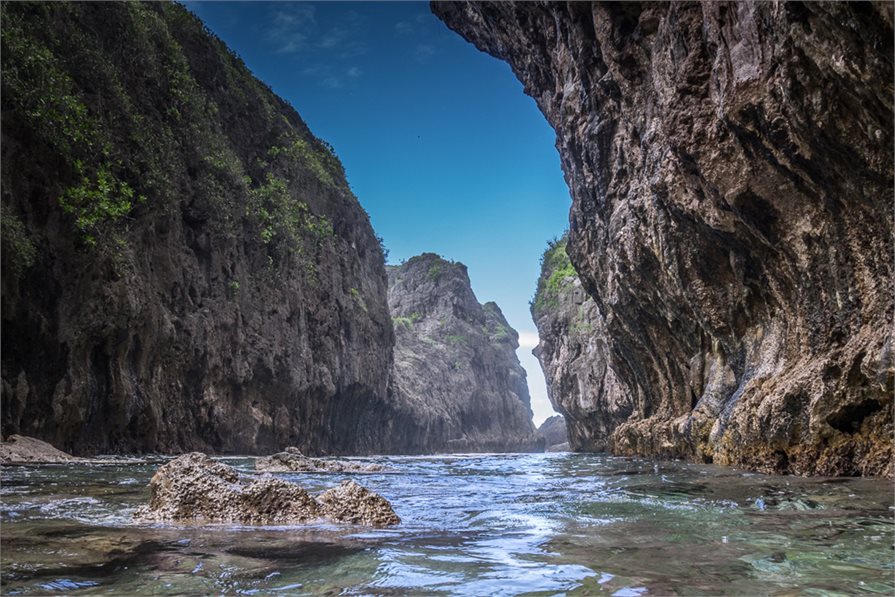 Because Niue is a raised coral atoll, it is like few other islands in the Pacific. It has a stunning geography made up of rugged and rocky terrain, with hidden caves and coves around every corner. And it is one of the few places in the world where you can swim with whales in the amazingly clear water. If you like snorkelling, swimming, diving, walking and exploring then Niue is great to visit. Some of our highlights were:
The Limu Pools. This place is beautiful and even though the tides were a bit rough during our stay we managed to get some snorkelling in.
Avatele Beach. Check out the Washaway Café while you are there. It is only open on Sundays and works on an honesty system: you write down what you have taken and pay at the end. It's a great spot for a beer or a wine and a dip at the beach.
Matapa Chasm. This is another great spot for swimming and it is stunningly beautiful.
Palaha Cave has amazing colours and stalactites and stalagmites. There is a rope to hang on to and we found it easier to explore barefooted.
Togo Chasm is a must-do walk and the landscape is quite surreal. It is a more challenging walk with a near-vertical ladder climb at the end but it is worth it. Wear sensible walking shoes for this one.
'Washaway Café is only open on Sundays and works on an honesty system: you write down what you have taken and pay at the end. It's a great spot.'
There are lots of places to eat on the Island too. We checked out the restaurant at Scenic Matavai, The Crazy Uga for coffee and also Washaway Café, Hio Café, Falala Fa Café & Bar, and Gill's Indian. We stocked up on supplies from Swanson Supermarket which has pretty much everything you would need and is located in the main township. And speaking of shopping, the currency in Niue is the New Zealand dollar and there is a Kiwibank branch but no ATMs. A number of places take credit cards and EFTPOS but remember to take plenty of cash with you. English is widely spoken and you won't have a hard time being understood. The Niuean people are also genuinely friendly and there are about 1,500 residents on the island, of whom about 800 were there when we visited during the quiet season.

As I have mentioned there is no shortage of activities to do in Niue, with the natural scenery being the biggest attraction of all. You can play golf and minigolf, go bowling, go on a tour, snorkel, dive, swim, go fishing, go caving, biking or just relax. We really enjoyed the snorkelling and just exploring the island, seeing little skinks with their blue tails, and geckos and chickens – so, so many chickens – plovers, terns, and I think I spotted some red-tailed tropicbirds which I got excited about. Also crabs: big crabs climbing trees (!) right down to little crabs in shells. Lots and lots of crabs. And fish in a huge variety of colours, and some sea snakes.

Driving around the island, negotiating the potholes, exploring the sea tracks and walking along the reefs, getting the car down tiny tracks and roads and then relaxing with a cocktail at the end of the day where we caught up with the travel stories of other visitors to the islands, made for a great ten days. Would I go back? Yes, I would. And whale season would be an absolute bucket list experience.