I recently did a five-day self-drive holiday in Ireland and would go back in a flash!
This post is a handy guide for where to stay and what to do on your incredible Ireland road trip.
Let me allay your fears right from the start: driving in Ireland is easy peasy! For one thing they drive on the left like us, and another is that the roads are good (albeit with roundabouts placed randomly along some highways) and little village lanes, while narrow, are great for just tootling along.
Ireland is also small. Its widest girth is only 275 km so you could scoot straight from Dublin to Galway in a mere two hours. But you wouldn't because it's the detours and quaintness along the way that make an Ireland road trip such fun.
Starting in Dublin
Plan to spend at least two or three days here before you get your car and hit the road.
I'm a big fan of those hop on-hop off bus tours and usually take one the first day I arrive in a new city. It's a fantastic way to get your bearings and also hear a bit of history (accompanied by comedy when in Ireland), but it's also an easy way to get around, leaping off to taste whiskey at Jameson's or pour your own pint of Guinness at the iconic Guinness factory.
In the evening head to Temple Bar and have a drink wherever the music draws you. There is so much talent in Ireland, it's like everyone plays an instrument. Family gatherings must be quite an affair! Temple Bar is not just a bar, but a neighbourhood filled with bars and shops and is where the action is as tourists and locals alike tap their toes together.
If I went back I'd also make a beeline for Trinity College Dublin to see the ancient Book of Kells. I ran out of time on this trip, but it's now on my Bucket List for next time. This 9th Century intricately illustrated Latin manuscript of the four Gospels is the most famous medieval book in the world, produced by Columban monks, and has been on display in the Trinity College library since 1661.
Cork
We set off from Dublin, my cousin Kate and I, for Cork via Waterford as I was nerdily fascinated by how they make the famous crystal. In fact I had heard there was a Waterford Seconds shop. I was wrong. While there are plenty of other shops selling crystal, if it says Waterford Seconds, it's fake. Waterford are so careful with their reputation that any product with a defect is broken down and remade. You pay to take a factory tour, which I thoroughly enjoyed, and learned many geeky things about the years of work and training that goes into becoming a crystal maker.
From there Cork is under two hours drive but as we'd fluffed about most of the day we arrived just on dark. I have learned one night is never enough on road trips! Typically you take your time driving to each city on one day, then the next day you have to check out by 10am with time to maybe visit one attraction, then you're off to the next location. Ideally stay two nights everywhere, would be my recommendation.
Cork is a university town with a river running through it. The Cork City Gaol once held prisoners bound for Australia, you can climb the bell tower of St Anne's Church for great views and ring the Shandon bells, visit the famous Old English Market and on your way out of town a stop at Blarney Castle for a quick kiss of the Blarney Stone!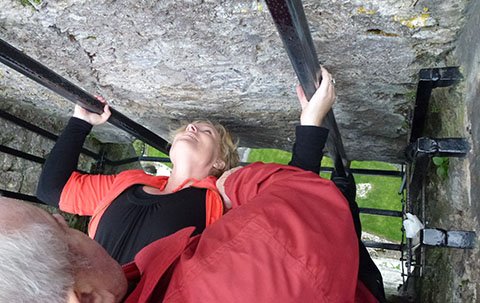 Limerick
On our way to Limerick we diverted out west to the Dingle Peninsula. People had been raving about it and its name sounded so cute! Alas the weather had turned and we could barely see 50m in front of us, so we whiled away a couple of hours in a pub before making tracks inland again. On a fine day, this is a really lovely drive and we met an American family who were spending two weeks holidaying just in this region.
Just over two hours later and we were in the city of Limerick, again only for one night. Limerick is a medieval town that sits on the River Shannon and with the recommendation of our hotel concierge we headed to The Locke Bar, a riverside pub for dinner and yet more Irish music. Visit the Frank McCourt Museum, King John's Castle and St John's Cathedral then hit the shops for a little retail therapy.
Galway
On our way north to Galway we dashed out west to the Cliffs of Moher, which are rugged and steep and make up one of the most picturesque parts of the 2000km Wild Atlantic Way. About one million visitors come here each year to wander along the paths the wind through emerald green grass with views to the Aran Islands. The drive itself is just so photogenic too, so be prepared to stop every 200m for another pic.
Just an hour's drive around the bay is Galway, quite possibly the cutest town in Ireland I reckon. Stay at least two nights, or even longer and use it as a base for day trips.
What you'll notice is colour. Brightly coloured shops and houses all standing shoulder to shoulder along cobble-stoned streets and always music coming from pubs or buskers. Eyre Square is the heart of the city surrounded by shops, pubs and cafes for afternoon teas. It's just so quaint!
Then head east to Dublin, or continue your epic road trip around the country into Northern Ireland and add Belfast to your itinerary.
Wherever you go in Ireland, you'll be immersed in sounds and sights that will be with you for life – not to mention plenty of dinner party conversations!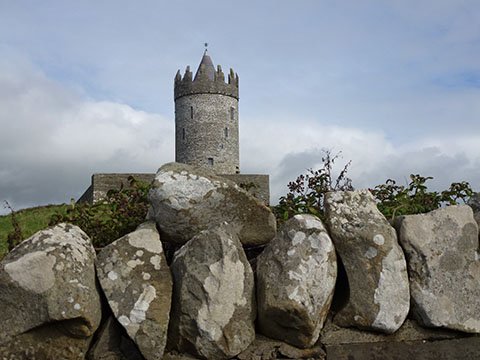 Megan Singleton is an award-winning travel writer and blogger.
Have you ever seen the wonders that Ireland has to offer? Let us know about your Irish holiday in the comments.