Email: richmond@helloworld.co.nz Call: 03-544 6640
About the Richmond Team
Tim Dunnill and his partner Nick Tilly bought the helloworld Richmond store in April 2011, in May the business was relocated its current premises next door to Taylors Shoes, Queen Street, Richmond.
In January 2013, Vicky McLean joined the team bringing with her a huge passion for travel and an extensive work history in the travel and tourism industry. In April 2014, Rhonda Doole, another hugely experienced travel professional joined the team!
The newest (and youngest) member of the team is Amanda Cuff who joined in February 2018. Despite being the youngest member of the team, Amanda brings a great deal of experience to her role as senior travel consultant, and we're delighted she's come aboard!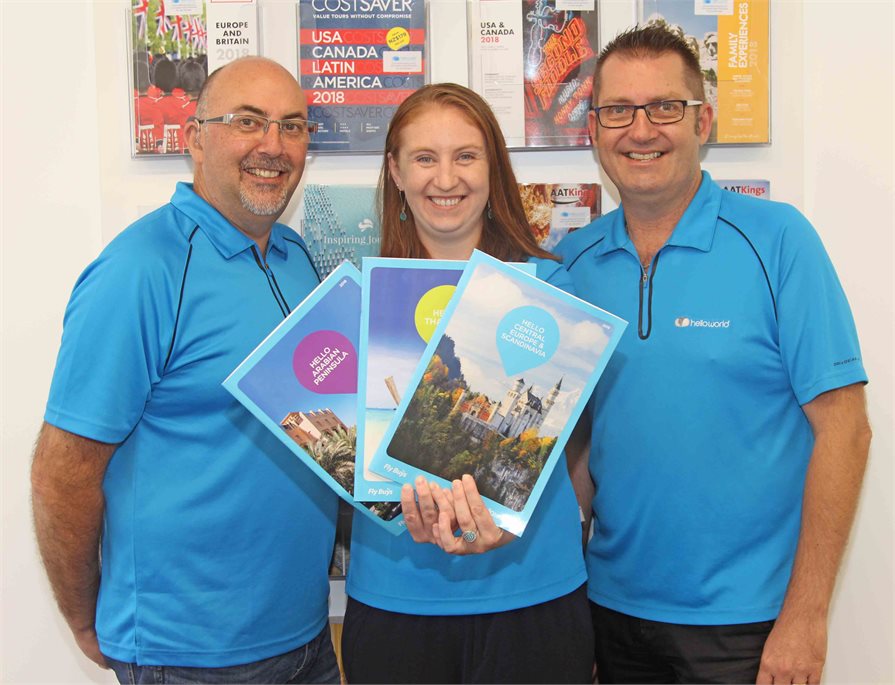 Message from the Richmond Team
We wholeheartedly believe in the importance of understanding the needs of our clients; our goal is to consistently deliver exceptional customer service.
We're passionate about travel – we love travelling ourselves and we've done a fair bit of it. We're also firm believers that travel, particularly holidays, should be fun and that the fun should start when you're working with your travel agent!
Even more importantly, we love assisting our clients to put together the perfect travel package to meet their needs. Whatever it is that our clients require, be it air travel, accommodation, a cruise, a coach tour, a rental car, a group package, or that all important travel insurance - if it's travel related – we can arrange it!
We're not just about leisure travel – we also look after several busy corporate accounts. You can find us conveniently located on the sunny side of Queen Street, right next to the Taylors Shoes.
We're open Monday – Friday, 9:00am to 5:00pm and Saturday mornings, 9:30am to 12 noon.
2017/2018 Store Awards
Top Store 2017 - Insight Vacations
$1.5 Million Dollar Store - GO Holidays
GOLD Award for Outstanding Success in Sales Revenue 2018 – Vicky McLean
DIAMOND Award for Outstanding Success in Sales Revenue 2018 – Tim Dunnill
DIAMOND Award for Outstanding Success in Sales Revenue 2018 – Rhonda Doole
2017/2018 notable achievements
$1 million store for cruise sales
$1 million store for Air New Zealand sales
After hours emergency contact: call Tim 021 767 359
Meet the team