From Sydney, Etihad operates two new A380 aircrafts daily.
A new Dreamliner operates on the Brisbane route with an A380 daily from Melbourne and a daily Dreamliner from Perth.
Business Class passengers you are offered the option of a free stopover comprising a night's accommodation (in each direction) in Abu Dhabi at a 5 star hotel. You have a choice as to your hotel rather than having this solely determined by the airline. This is booked in advance through your travel consultant. Additional nights and sightseeing tours can also be booked at very competitive rates.
As you arrive to the Business Class lounge you are greeted by Etihad's staff. They will offer to store your carry-on if needed and will accompany you to the lounge. Here you can enjoy a variety of meals from the buffet or order a from the menu. The wine and spirit selection is broad. The lounge itself is spacious – as it has been designed to host 140 Business Class passengers on a daily basis.
Once the aircraft is ready to board your name is called so you can make your way to the First/Business Class boarding gate. Once in the aircraft the crew will pamper you every chance they get. They will take your order for dinner and your wine selection as well as your order for breakfast. These will be served at the time of your choosing and don't worry if you change your mind about your meal the crew will accommodate you with a smile.
The Business Class seat is a lie-flat just before you get ready to tuck in, the crew will fit a coco-mat (mattress to cover your seat) and will check if there are any special requirements before they leave you to sleep.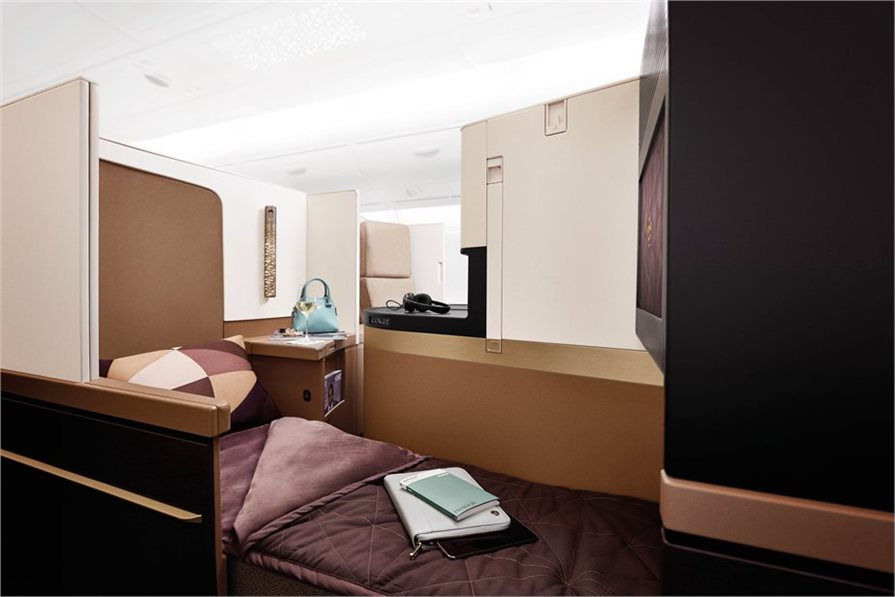 The entertainment system is packed with content to suit everyone.
Last the A380 has a lounge area called the lobby where you can go and mingle with fellow passengers, have a drink and enjoy great nibbles.