On our Royal Air Maroc fllght to Casablanca we met a lovely couple from Vienna and shared a taxi to the same hotel. As it was Morocco, we didn't save on the fare because it is on a per person basis, which I should have known from having visited 20 years previously.
We were only in the city briefly as we were planning to take a bus to Chefchaouen, the 15th-century "blue city" in the Rif mountains of northwest Morocco, and then on to Fez. You can't book online so the next morning it was a matter of going to the ticket office and then sorting out SIM cards for our phones which are great for saving on roaming charges.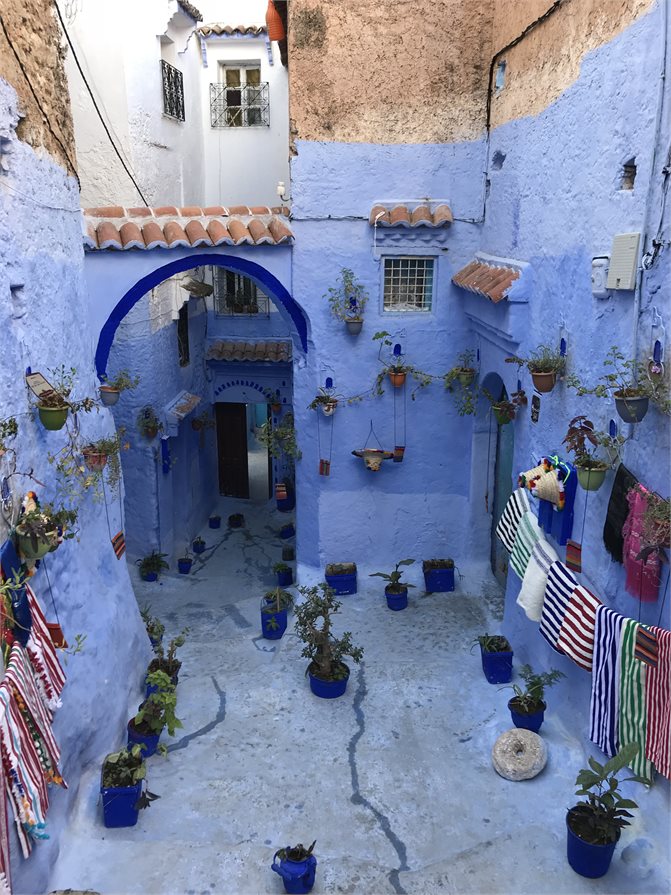 After that we had our first tagine in the medina (old city) which is typically walled with many maze-like streets. I had a traditional beef, date, apricot and almond tagine while my partner Josh opted for the chicken, olives and lemon. Both were pretty darn good. There was of course no alcohol since we were in a Muslim country – a bit of a hard prospect for two weeks!
Before we left we visited the Hassan II Mosque which we timed so we could do a tour and go inside. Set on an outcrop jutting over the ocean and with a 210m-tall minaret that serves as the city's major landmark, the flamboyant building is a showcase of the very best Moroccan artisanship: hand-carved stone and wood, intricate marble flooring and inlays, gilded cedar ceilings and exquisite zellige (colourful ceramic tiling) abound.
The seven-hour bus journey the next day proved to be pretty good and our hotel in Chefchaouen was amazing. It was a three-storey traditional riad (interior courtyard) house painted Chefchaouen blue with maze-like corridors and stairs with rooms around the courtyard. Chefchaouen itself is an artsy, blue-washed mountain village and while tourism has definitely taken hold, the balance between ease and authenticity is just right.
Fez was an assault on the senses. It reminded us of a cross between India and the Middle East, with every imaginable and unimaginable item for sale, displayed enticingly.
I braced myself for our first real bargaining and went and purchased a leather bag for NZ$30 which I was delighted with as I had expected it to be more and the haggling to be harder. We could have spent a fortune in the wonderful stalls and shops, but we had to be frugal with luggage.
Fez was an assault on the senses. It reminded us of a cross between India and the Middle East, with fruit, spices, leather goods, carpets, scarves, ceramics, intricate copper lights, food stalls and every other imaginable and unimaginable item for sale, displayed enticingly. We got lost a lot but you can't help getting entranced with the colours and patterns of Morocco.
We visited the Chaouwara Tanneries which have been there for a century or so and were given a sprig of mint to hold under our noses to help with the smell: the hides are soaked in lime and pigeon poo to cure them and make them supple. After that they are dried in the sun.
Over the next few days we visited historic buildings such as the Nejjarine Museum of Wood Arts & Crafts, several medersa (religious colleges) and Al-Karaouine University, which were very elaborate and interesting.
Next came a four-day tour with our first stop at Ifrane, built by the French in the 1930s in the style of an alpine resort. Very weird. At sunset we arrived at Merzouga on the fringe of the Sahara Desert where our accommodation at Nomad Palace was like something out of an exotic movie.
Our tour included a sunset camel ride and overnight in the desert. My camel was a very chilled-out one called Bob Marley and Josh's camel was an aggro teenager.
Our Berber camp consisted of a few tents in between sand dunes but when we entered our tent we were surprised to find a comfortable double bed with three heavy blankets and a plumbed-in toilet and shower. In the desert! Luxury.
An old caravanserai city with a chequered past, Marrakech is quite Westernised and has a relaxed and laid-back vibe.
We then drove through the Dades Valley which had beautiful Moroccan towns in the middle of nowhere with date palm groves which looked very exotic against the brownish-orange earth.
The Todra Gorge is the biggest gorge in Morocco and was spectacular with towering cliffs on either side. We then arrived at Ouarzazate to visit Ait Benhaddou, the UNESCO World Heritage site, early the next day before it was swarmed by tourists.
Ait Benhaddou is an ighrem (fortified village) on the former caravan route between the Sahara and Marrakech. The site has been used for several movies and there are even a couple of movie studios nearby.
We continued over very winding roads through the High Atlas Mountains to Marrakech, which is quite westernised and has a relaxed and laid-back vibe. We were escorted to our riad, Jennah Rouge, in the medina which was a cacophony of colours – right up my alley! We had only booked for one night but then decided to stay; because they were full we moved to their sister riad which was just as nice with an even better terrace and more nice hosts to chat with.
The first day was spent checking out the infamous Djemaa el-Fnaa, a giant square in the medina which hosts snake charmers, monkeys and tourists by day and musicians and locals by night.
It is filled with stalls, and a spider web of souks also leads off from the square, beckoning you to buy their goods. We managed to squeeze just a little more into our hefty backpacks.
An old caravanserai city with a chequered past, Marrakech resumed its fall-back hospitality career in the mid-20th-century and became the nation's breakaway success. Roving hippies built the city's mystique in the 1960s and '70s, and visits by the Rolling Stones, the Beatles and Led Zeppelin gave the city star power.
In the 1990s private medina mansions were converted into B&Bs, just in time for low-cost airlines to deliver weekenders to brassstudded riad doors.
Despite some setbacks since, the tourist trade is burgeoning again and we visited the Bahia Palace (imagine what you could build with Morocco's top artisans at your service for 14 years) and the Maison de la Photographie, which showcases photographs from everyday life from 1870 to 1950. It appears that life hasn't changed that much in Morocco.
We split up the days up with a day trip to Essaouira, a fishing town on the west coast and on the way there our minibus suddenly stopped next to a tree literally filled with goats, like a goat Christmas tree.
It was most odd, and clearly a ploy to get tourists to pay money for a crazy photo, which sums up Morocco for me. Exotic, sometimes confronting, but truly beautiful and with amazing people.