Blissfully untouched by mass tourism, Myanmar offers visitors a rare opportunity to travel back in time. Its melting pot of cultures consists of more than 135 different ethnic groups, each with its own history, culture, language and cuisine. Add to that some spectacular natural scenery and a crumbling colonial charm and you have a truly special destination.
Buddhism plays an important role in Burmese society, as evidenced by the many temples and monasteries dotted throughout the country. Much of the population spends time at some point in their lives as a monk or nun, living a simple life of study and contemplation, free from the distractions of possessions or money. Witnessing village people handing out food to a daily line-up of monks was a poignant and humbling experience. As in most Buddhist countries, a sense of calm pervades daily life, particularly in rural areas.
We, however, began in the bustling and buzzing city of Yangon, where modern high-rises are under construction adjacent to century-old colonial buildings. There's a sense of energy everywhere: as we arrived we drove past people enjoying tai chi exercises at the People's Park, bustling roadside stalls, and boisterous kids coming home from school. If shopping is on your agenda, head for Bogyoke Market for jade, gold, traditional crafts and more.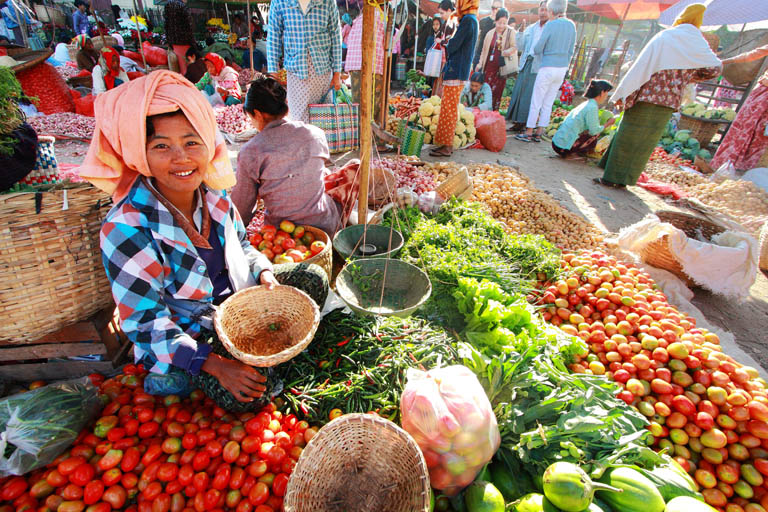 If you only visit one temple in Myanmar, head for Shwedagon Pagoda, a stunning vision in gold that is best visited early in the morning before the big tourist coaches arrive. It's great to see a temple so well loved and used by the locals. Make sure you are modestly dressed, with knees and shoulders covered (a sarong is great to carry around for this). Another handy tip when visiting temples is to wear slip-on shoes in order to avoid taking lace-up sneakers on and off many times a day!
Make sure you are modestly dressed when visiting temples, with knees and shoulders covered (a sarong is great to carry around for this).
While in Yangon we enjoyed an excursion on the quirky Elephant Coach, a restored colonial style tourist bus with a beautiful teak interior accommodating just six guests in large comfy seating complete with air-con and a lovely host serving very welcome cool drinks. Yangon's Belmond Governor's Residence is a wonderful 5-star hotel offering shady trees, a gorgeous pool, beautiful teak buildings and a whir of fans that provide a cool retreat from the tropical heat. You must try the tiffin dinner – a deliciously iconic experience. If you prefer being in the centre of town, head for the 5-star Strand Hotel with its colonial history, famed high tea and atmospheric cocktail bar.
The ancient temples strewn across the plains of Bagan, 630 km north-west of Yangon, are outstanding and are best viewed at sunrise or sunset. They're a sight that would ably compete with Machu Picchu or the temples of Mexico in terms of "wow factor"; for a bit of added fun hire an e-bike in the adjacent city of Bagan - it's an easy ride. We stayed at beautiful Bagan Lodge in New Bagan which offers glamping-style suites and rooms in resort-like grounds that include great swimming pools and a gorgeous spa.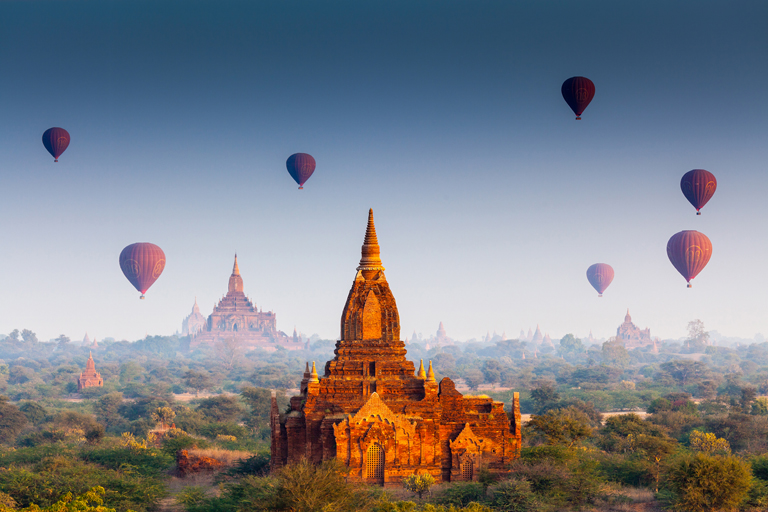 Mandalay, 180 km north-east of Bagan, is the religious heart of Myanmar, with a rich historical legacy from its time as the Royal Capital of the last Burmese King. We found the people of Mandalay super friendly and loved interacting with groups of students on Mandalay Hill who were keen to practice their English. In fact, wherever we went the people were absolutely delightful. They are friendly and genuine, even in a city of seven million people like Yangon: people in cars wind down their windows and shout out "Mingalabar" ("auspiciousness to you") to welcome you.
Arguably the best way to experience Myanmar is on a leisurely cruise down the Ayeyarwady (Irrawaddy) River on the luxurious river ship, Anawrahta.
Myanmar's complicated political situation over the years has made life difficult for many, but now they are free to discuss issues openly you will find that the local people are very enthusiastic about engaging with foreigners and telling their stories.
Arguably the best way to experience Myanmar is on a leisurely cruise down the Ayeyarwady (Irrawaddy) River. On the luxurious river ship, Anawrahta, which resembles a British colonial paddle steamer, we glided past life on the river with daily excursions to visit rural villages, fascinating monasteries and artisan craftspeople.
On-board offerings also include yoga at sunrise and delicious cuisine - a highlight was a rooftop barbecue one evening under the stars. Burmese cuisine might seem to be somewhere in-between Indian and Southeast Asian in style, but that is denying its unique flavours. Tasty favourites we tried included delicious pickled tea leaves, noodle soups, and a variety of curries that are more subtle than fiery.
One of the best times to travel in Myanmar is from November to February when the country is free of heavy monsoon rains and a little more comfortably cool. But whenever you go, take an open mind and prepare to fall in love with its beautiful landscapes and equally beautiful people.