In November of 2018, I was fortunate to take my seven-year-old daughter, and my 14-yearold niece Alyssa, on an eight-night South Pacific cruise from Brisbane on P&O Cruises' Pacific Aria, visiting New Caledonia and Vanuatu. At the same time I attended a Cruise Line International Associations Masters course which was held on board.

This proved to be a perfect combo where I could attend Masters sessions (held conveniently during kids club hours) while enjoying a holiday. My niece took my daughter to kids club each day (which she loved) and I collected both youngsters for long lunches by the pool or at 5pm to enjoy the evening's entertainment and on-board amenities. Port days were a time to explore the islands.

Our journey started in Brisbane after an early flight from Auckland where we discovered the upside of arriving early: a morning at leisure. We had a transfer prearranged from the airport and after dropping our luggage at the Brisbane Cruise Terminal we continued to the CBD for a spot of shopping.

Pacific Aria is new to the P&O Cruises fleet and formerly belonged to the Holland America line. She has a capacity of 1,860 guests and recently underwent extensive and awardwinning renovations to her public areas. I loved the fun artwork and decor throughout the ship and the numerous restaurant and dining options. Pacific Aria's adults-only Oasis pool area is the best I have seen and the Top Deck Pool has a retractable roof.
Once on board the ship, we completed formalities, enrolled my daughter in the kids club, phoned to reserve a couple of dining options and unpacked our luggage. Our Balcony Room was a good size and featured the new Heavenly beds and the best part, the balcony with loungers. Balcony Rooms offer twin or triple capacity and some interconnect.
'Pacific Aria's adults-only Oasis pool area is the best I have seen and the Top Deck Pool has a retractable roof.'
Next it was time to join the passengers and crew in our designated mustering station for the compulsory safety drill and life jacket checks. Then on to the sailaway party on the pool deck with face painting, swimming and a good DJ. Later, as the effects of an early morning made themselves felt, it was lights out for my daughter while Alyssa and I admired a magnificent sunset.
After a day and a half of cruising our first port of call was Nouméa, New Caledonia, where we received an entertaining welcome from local performers. On land we chose the popular motorised Tchou Tchou Train for an open-air guided tour of Nouméa. Although it was Sunday and many places were closed, it was fascinating to travel around and learn about the island's indigenous and French history while seeing the city sights and the beachside suburbs where locals and tourists were enjoying their Sunday.
Lifou in the Loyalty Islands was our next port of call and a personal highlight for me. I had been there before and stayed near the port in the village of Easo, but this time we did a tour (prebooking gave us priority to disembark) and once ashore we went via bus to the most beautiful beach. Although the weather was threatening rain with dark clouds, it made the colours in the landscape stand out and the kids loved the soft white-sand beach and snorkelling.

Despite a language barrier, the local Kanak villagers were welcoming and enjoyed sharing their culture and lifestyle. I was amazed at the structure of their traditional huts that are very resilient to weather. Back at the port in the afternoon we enjoyed a visit to a nearby marine reserve which has crystal-clear water for snorkelling. The local kids came and joined in. A tip: book early for Lifou excursions as there are limited numbers and you can't purchase on the day.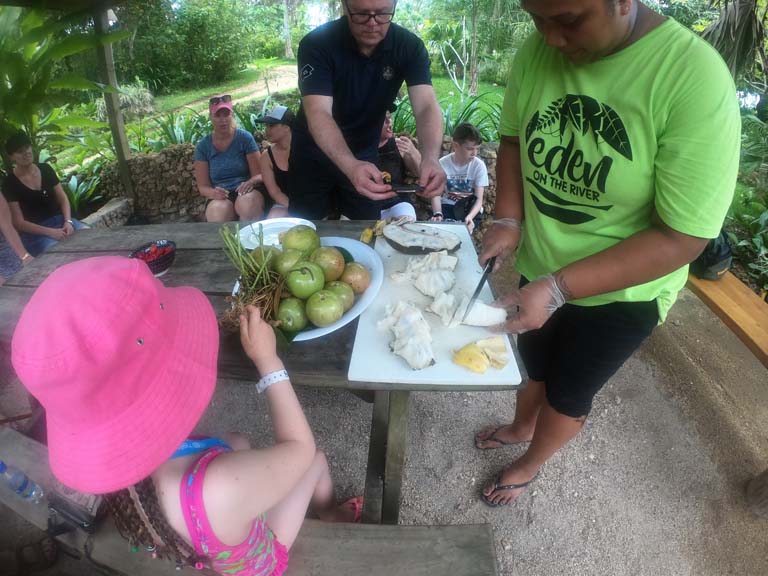 Our final port of call was Port Vila in Vanuatu, where we were hosted by Eden on the River, a living farm and gardens run by a New Zealand family. Out of their love of gardening they have created a space for visitors to experience local farm life and see and taste local produce.
'A tip: book early for excursions on Lifou in the Loyalty Islands as there are limited numbers and you can't purchase on the day.'
The weather wasn't in our favour and it was unsafe to go whitewater-rafting on tyre tubes on the river, but we harnessed up and tackled one of the suspended rope bridges over the whitewater instead. This proved a bit of an obstacle for some but I was proud of my seven-year old for doing it. It was one person at a time over the rope bridge and she was justly proud of herself. In the afternoon, because of the rain, we went to the Warwick Le Lagon Resort & Spa for lunch and a swim.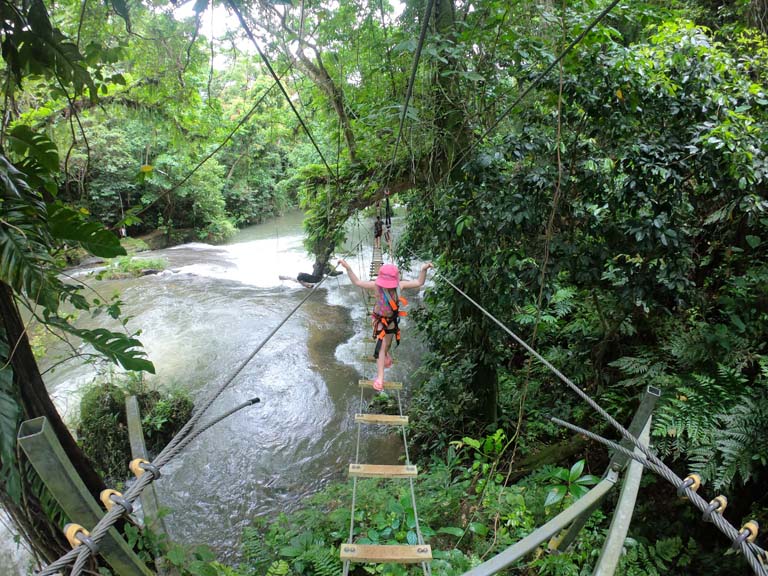 Following the final sea days back to Brisbane we had a finale, as a thank you to my niece, of hiring a car and staying at the Intercontinental Sanctuary Cove Resort to experience Dreamworld theme park in Coomera. It was fun, but with 30-degree C. temperatures it was great that Whitewater World water park is right next door. The Intercontinental also had a beautiful pool.

Footnote: I passed my Cruise Masters course in January, having completed the assignment and on-board modules. And of course cruising with P&O is a holiday where you can do as much or as little as you like, with good sleeps, limited cell phone connectivity, well executed entertainment and friendly and attentive crew. I also can't rate P&O Cruises' kids clubs highly enough.