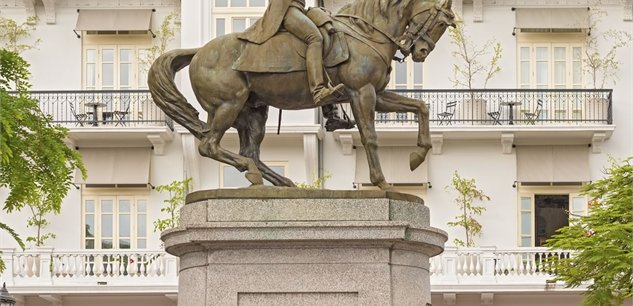 The culture, contrasts and epic landscapes of Panama and Costa Rica are revealed on this trip, which ventures from capital to coast via Gamboa, Borinquen and Carrillo Beach.You'll enjoy Insider moments like... delving into local cultures whether it is riding a canoe to visit with the Embera Indians who live off the land in Panama or enjoying dance performed by local children in Costa Rica.
Tour Operator:
Trafalgar Tours
What's Included

15 full breakfasts.
5 lunches (including 2 Be My Guests).
7 dinners.

Pricing

Start Date

End Date

17 Mar 17

1 Apr 17

$7,150

Please note: while prices are accurate at time of loading they are subject to change due to currency fluctuations and currency surcharges may apply.Please check price at time of booking

Itinerary

Day 1 - Arrive Panama City (2 Nights)

Bienvenidos a Panama City. You are greeted at the airport by a local host and transferred to your hotel overlooking the Bay of Panama. In the evening, join your fellow travel companions and your Travel Director at the hotel for a Welcome Reception. Welcome Reception

Day 2 - Panama Canal Cruise and Free Time

Board your vessel to cruise the Panama Canal. As you enter the most important waterway in the world, cruise down from the north end of the Galliard Cut, where the Chagres River flows into the Canal. Cruise over the Continental Divide and under the Centennial Bridge and Bridge of the Americas. Snacks and lunch are included onboard. Once in the beautiful Bay of Panama, prepare for the best views of Panama City's modern, fast-changing skyline. Afterward, enjoy the evening in Panama City to sample local cuisine. Note: The start time of the canal cruise is dependent on ship traffic and in some instances the trip may operate in the afternoon.Full Breakfast, Lunch

Day 3 - Panama City Sightseeing – Gamboa Rainforest (2 Nights)

Visit Panama Viejo, site of the ruins of the original Panama City. Wander the quaint streets of Casco Antiguo-a UNESCO World Heritage Site-in Panama's Historic District. Afterward, stop at the Miraflores Locks Visitor Center and Canal Museum. Then head for the lush vegetation and tropical climate of the rainforest. Once at your resort, join a guide on an exciting nature walk and aerial tram ride. Visit the Observation Tower and admire the panoramic views of the Chagres River and Panama Canal. After dinner, join a discussion with a Smithsonian researcher, a Local Specialist, and learn more about the diversity of Panama. Full Breakfast, Dinner

Day 4 - Gamboa Rainforest Sightseeing and Free Time

Embark on a different kind of water adventure and meet your boteros (boatmen) at the edge of the Chagres National Park. Enjoy a ride up river through the jungle, possibly sighting toucans, sloths and monkeys. Arrive at the village of Emberá Drua where you are met with a traditional greeting and learn about the Emberá Indians' fascinating culture. Enjoy a Cultural Insight by tasting delicious patacones (fried plantains) with small samples of fried fish or chicken. Listen to local music and watch traditional shamanic dances. Back at the resort, the afternoon is free.Full Breakfast

Day 5 - Gamboa Rainforest – David – Cerro Punta – Boquete (2 Nights)

Fly to David and travel up the mountain slopes of the Chiriqui Province. At Cerro Punta, take in the superb views of the prominent Volcán Barú volcano. An exclusive Be My Guest lunch awaits at a thoroughbred farm situated in Cerro Punta Valley. As guests of the owners, explore the farm and learn how they breed these magnificent horses. Later, arrive at your mountain resort in beautiful Valle Escondido.Full Breakfast, Be My Guest Dining

Day 6 - Boquete Sightseeing and Free Time

Visit a coffee plantation and learn how coffee in Panama is making a grand entrance on to the world stage of gourmet grounds. Learn about the coffee-making process with a Local Specialist and see the Ngobe-Bugle, an indigenous group who handpick the red coffee berries when they are perfectly ripe. The rest of the day is free before dinner this evening.Full Breakfast, Dinner

Day 7 - Boquete – Santiago – Nata – Playa Blanca

Descend from the Chiriqui Highlands to Santiago. Then it's on to Aguadulce and Natá in Cocle Province, the heart of Panama's sugar cane industry. In Natá, view the beautiful basilica, said to be the oldest church in Central America. Arrive at your resort, nestled alongside the Pacific Ocean. Enjoy dinner on your last evening in beautiful Panama.Full Breakfast, Dinner

Day 8 - Playa Blanca – Panama City – San José

This morning, transfer to Panama City International Airport for an evening arrival into San José. Full Breakfast

Day 9 - San José – Sarapiquí – Arenal (2 Nights)

Head toward the Poas Volcano area, where you visit a local coffee plantation. Learn about coffee production in Costa Rica from the owner and sample a cup of gourmet coffee. Continue to Sarapiquí, an off the beaten path area surrounded by dense rainforests and wildlife. Here you are welcomed by Don Alberto and Doña Ana Quintana for a Be My Guest experience at their home, Hacienda Pozo Azul. Enjoy a tour of the plantation before sitting down for a luncheon with your hosts. Afterward, continue to La Fortuna de San Carlos, home of the giant Arenal Volcano. The afternoon is free for you to relax before dinner. Full Breakfast, Be My Guest Dining, Dinner

Day 10 - Arenal Sightseeing and Free Time

Start the day with an informative visit at the Asis Project, a wildlife refuge where you will learn how the centre helps preserve the life of endangered animals and get up close and personal with a wide variety of animals. Savour a typical Costa Rican lunch before an entertaining Cultural Insight, brightened by the dances of children at a local education center. Afterward, enjoy a guided visit to the Arenal Hanging Bridges to walk eye-level within the lush canopy. Back at the hotel, there is time to relax. Full Breakfast, Lunch

Day 11 - Arenal – Borinquen (2 Nights)

Today, head toward the Guanacaste province. Famous for its cowboys and cattle ranches, you'll be surrounded by breathtaking views of open fields. View Rincon de la Vieja Volcano, a smooth cinder cone volcano made up of 9 contiguous craters before arriving at your hotel in Borinquen. The beautiful resort offers an abundance of relaxing activities. Full Breakfast, Dinner

Day 12 - Borinquen Free Time

The day is free for you to pursue your own interests. Thrill seekers can bike the miles of trails, zip line, take a hike, or set off on a horseback ride. The property's thermal hot springs and natural steam room are available if pure relaxation is what you're after.Full Breakfast, Dinner

Day 13 - Borinquen – Palo Verde – Carrillo Beach (2 Nights)

Today, descend to Carrillo Beach. This white sand beach is a secret paradise framed by mountains. En route, enjoy a boat ride on the Tempisque River through the famous Palo Verde National Park. Cruise through 12 different types of habitats including 55 aquatic plants and 150 species of trees. After lunch is served in the park, continue your journey to the hotel where the rest of the day is free. Full Breakfast, Lunch

Day 14 - Carrillo Beach Free Time

A white sand beach right off your bungalow, pristine and warm water and a beautiful blue sky-the perfect way to enjoy the "pura vida" way of living like the locals. The options are endless, and the choice is all yours. Your Travel Director is on hand to help you plan the perfect day. Full Breakfast

Day 15 - Carrillo Beach – Los Angeles Cloud Forest

After a leisurely breakfast, travel to the Los Angeles Cloud Forest. Later, join your Travel Director for a different type of experience as you are taken on a nocturnal visit through the Cloud Forest-when the sun goes down, the forest transforms itself like no other habitat in the world. You'll see countless species of animals, birds, insects and plants. Tonight, share experiences with your fellow travellers at a Farewell Dinner. Full Breakfast, Farewell Dinner

Day 16 - Cloud Forest – Depart San José

Travel back to San José's Juan Santamaria International Airport for your flight or extend your stay at the Studio Hotel. Full Breakfast
*Terms and Conditions
Offer subject to availability at time of booking. Prices are per person share twin based on best available tour price, inclusive of all discounts unless otherwise stated. Prices are subject to currency fluctuations and are based on cash or cheque. Tour deposit, amendment and cancellation conditions may apply. Travel agent service fees may apply. Special conditions apply - please ask for full details at time of enquiry.
HLO Ref# 5978