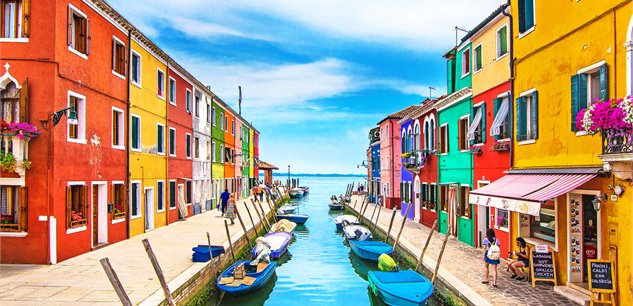 The birthplaces of arts, culture and history are on show in this discovery of Europe, from Amsterdam's charming canal houses with their gabled façades and the imposing Cologne Cathedral to Vienna's Opera House and the exquisite Doge's Palace in Venice. Medieval castles, Baroque palaces and Renaissance masterpieces are yours to explore along this creative pilgrimage.
Tour Operator:
Trafalgar Tours
What's Included

14 hot buffet breakfasts
5 dinners

Pricing

Start Date

End Date

4 Jun 17

18 Jun 17

$5,375

18 Jun 17

2 Jul 17

$5,375

2 Jul 17

16 Jul 17

$5,150

9 Jul 17

23 Jul 17

$5,150

30 Jul 17

13 Aug 17

$5,150

6 Aug 17

20 Aug 17

$5,150

20 Aug 17

3 Sep 17

$5,150

3 Sep 17

17 Sep 17

$5,375

10 Sep 17

24 Sep 17

$5,375

17 Sep 17

1 Oct 17

$5,375

24 Sep 17

8 Oct 17

$5,375

22 Dec 17

5 Jan 18

$4,950

Please note: while prices are accurate at time of loading they are subject to change due to currency fluctuations and currency surcharges may apply.Please check price at time of booking

Itinerary

Day 1 - London – Eurostar™ – Amsterdam

This morning meet your Travel Director before travelling to London's St. Pancras International station to board the Eurostar™ for a high-speed train journey to Brussels. Continue by luxury coach to Amsterdam. Enjoy an orientation of the historic city centre, then get to know your fellow travellers and Travel Director on a glass-topped boat as you enjoy a sightseeing cruise Welcome Reception along the city's canals which includes a light supper and welcome drink.Welcome Reception

Day 2 - Amsterdam – Cologne – Rhine Cruise – Mannheim

This morning travel to Germany where you have the opportunity to visit Cologne Cathedral. Embark on a relaxing Rhine cruise at Boppard. Pass medieval castles and vineyards on the way to St. Goar, site of the Lorelei Rock. Dine at your Rhineland hotel this evening.Buffet Breakfast, Dinner

Day 3 - Mannheim – Munich – Innsbruck

Drive through the Swabian Uplands to Munich and view the Olympic Stadium and Marienplatz during your orientation. Marvel at the Golden Roof and St. Jakob's Cathedral across the border in the Tyrolean capital, Innsbruck. This evening enjoy a Regional Meal with local specialities.Buffet Breakfast, Regional Meal

Day 4 - Innsbruck – Salzburg – Vienna (2 Nights)

Admire the splendours of Salzburg, birthplace of Mozart. View the city's major landmarks during a walking tour with your Local Specialist including many locations used in the film 'The Sound of Music'. A scenic journey takes you towards the Danube River and the Baroque elegance of Vienna. This evening consider an Optional Dining Experience.Buffet Breakfast

Day 5 - Vienna Sightseeing

Wonderful views of Vienna's sights include the Opera House, the Hofburg, Stadtpark, Parliament and the Imperial Boulevards on your morning sightseeing tour with a Local Specialist. Visit the sights of your choice during free time this afternoon. Shop on the fashionable Kärntnerstrasse or simply relax in a typical Viennese café. Perhaps consider taking an Optional Experience to Schönbrunn Palace or experience the elegance of a concert and dinner.Buffet Breakfast

Day 6 - Vienna – Venice (2 Nights)

Journey into the heart of the Austrian Alps, past the Austrian Lake District, over the Italian border to the fertile plains of the Veneto. Cross into the magical city of Venice, Queen of the Adriatic, your home for the next two nights. Why not experience Venice at its best with an optional trip down the Grand Canal and a Gondola Serenade? Dine tonight at your hotel.Buffet Breakfast, Dinner with wine

Day 7 - Venice Orientation

Discover the rich heritage of this Byzantine city during your private canal cruise to St. Mark's Square. Admire the Bridge of Sighs and the beautiful Doge's Palace. Enjoy a Cultural Insight into the Venetian tradition of glass making on Giudecca Island. Spend free time afterwards exploring or shopping. Consider an Optional Experience to the island of Burano, famous for its colourful houses. Buffet Breakfast

Day 8 - Venice – Rome (2 Nights)

Cross the Po valley and journey over the dramatic Apennine Mountains to Rome, the Eternal City. This evening you might like to discover Rome's vibrant nightlife.Buffet Breakfast

Day 9 - Rome Sightseeing

Visit St. Peter's Basilica, home of Michelangelo's Renaissance masterpiece the Pietà with a Local Specialist. In ancient Rome, view the Colosseum and see the Circus Maximus set in a valley below the Aventine and Palatine Hills. Consider an Optional Experience to the magnificent Sistine Chapel or perhaps admire the Piazzas and Fountains of Rome with an evening stroll through the ancient streets of the Eternal City.Buffet Breakfast

Day 10 - Rome – Florence Sightseeing

Admire the Tuscan landscape en route to Florence. Learn about the city's Renaissance history from your Local Specialist, who shows you the Duomo, the baptistery and a visit to Piazza della Signoria during your guided walking tour. View the majestic Ponte Vecchio bridge. Shop for high-quality leather and gold.Buffet Breakfast

Day 11 - Florence – Lucerne (2 Nights)

Drive north and see beautiful Lake Lugano. Through the Ticino region take the scenic St. Gotthard route through the Alps to the picturesque town of Lucerne. This evening consider a night out at a traditional Swiss folklore evening with cheese fondue.Buffet Breakfast

Day 12 - Lucerne Orientation

Admire the sights of this medieval town on your morning orientation. Visit the poignant Lion Monument and the wooden Chapel Bridge spanning the River Reuss. Don't miss the opportunity to take an exciting mountain Optional Experience with breathtaking views. Later there is time to shop for Swiss souvenirs including watches and chocolates.Buffet Breakfast

Day 13 - Lucerne – Paris (2 Nights)

From Lucerne over the French border and past Belfort, see the vineyards in the wine-producing Burgundy region. Arrive later in Paris where you might like to visit a world-famous Parisian Cabaret tonight.Buffet Breakfast

Day 14 - Paris Sightseeing

The Champs Elysées, the Arc de Triomphe, Place de la Concorde - see all these sights and more on your morning sightseeing tour with a Local Specialist. Admire stunning views across the city from the second level of the Eiffel Tower. Celebrate the end of a wonderful trip this evening with your companions at a Farewell Dinner.Buffet Breakfast, Farewell Dinner

Day 15 - Paris – London

Drive across Northern France past the Canadian War Memorial at Vimy Ridge on the Somme battlefields. Sail from Calais to Dover and continue to London by coach where your splendid European holiday comes to an end.Buffet Breakfast
*Terms and Conditions
Offer subject to availability at time of booking. Prices are per person share twin based on best available tour price, inclusive of all discounts unless otherwise stated. Prices are subject to currency fluctuations and are based on cash or cheque. Tour deposit, amendment and cancellation conditions may apply. Travel agent service fees may apply. Special conditions apply - please ask for full details at time of enquiry.
HLO Ref# 6141