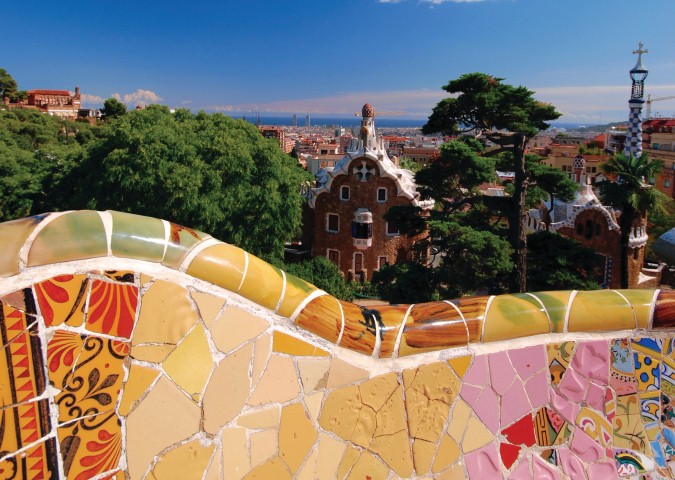 A kaleidoscopic adventure that takes you from some of Europe's most cosmopolitan cities, to an exotic and vivid land of medinas and minarets.
Tour Operator:
Insight Vacations
What's Included

An expert Insight Tour Director, at the pinnacles of their careers, will smooth your way throughout your journey. They are your 'travelling concierges', expert guides, consummate organisers and friends in a foreign land.
Enjoy the unique comfort of Insight's luxury air-conditioned 40 seat coach with extended leg room and on-board restroom. It's business class comfort.
Personal radio headsets, gives you the freedom to wander during visits to famous highlights without missing any of your local expert's fascinating insights and commentaries.
Baggage handling everywhere, with seamless and prompt delivery to your door at every hotel. Hotel and restaurant tips included - you'll never have to worry about how much to give, nor search for foreign currency. Plus we include all taxes and porterage charges at hotels.
Stay connected with friends and family with our complimentary coach and hotel WiFi.
Insight Flourishes - from time to time, your Tour Director will enchant you with local tidbits, each representing authentic food or beverages unique to the destination.
Included airport transfers at scheduled times on arrival and departure days.

Pricing

Start Date

End Date

1 Apr 17

17 Apr 17

$5,025

8 Apr 17

24 Apr 17

$5,095

15 Apr 17

1 May 17

$5,025

22 Apr 17

8 May 17

$5,025

29 Apr 17

15 May 17

$5,150

6 May 17

22 May 17

$5,150

13 May 17

29 May 17

$5,150

13 May 17

29 May 17

$5,150

20 May 17

5 Jun 17

$5,150

27 May 17

12 Jun 17

$5,075

27 May 17

12 Jun 17

$5,075

3 Jun 17

19 Jun 17

$5,075

10 Jun 17

26 Jun 17

$5,075

17 Jun 17

3 Jul 17

$4,950

24 Jun 17

10 Jul 17

$4,950

1 Jul 17

17 Jul 17

$4,950

8 Jul 17

24 Jul 17

$4,950

15 Jul 17

31 Jul 17

$4,950

22 Jul 17

7 Aug 17

$4,950

29 Jul 17

14 Aug 17

$4,950

5 Aug 17

21 Aug 17

$4,950

12 Aug 17

28 Aug 17

$4,950

19 Aug 17

4 Sep 17

$4,950

26 Aug 17

11 Sep 17

$5,050

2 Sep 17

18 Sep 17

$5,195

2 Sep 17

18 Sep 17

$5,195

9 Sep 17

25 Sep 17

$5,195

16 Sep 17

2 Oct 17

$5,195

16 Sep 17

2 Oct 17

$5,195

23 Sep 17

9 Oct 17

$5,150

23 Sep 17

9 Oct 17

$5,150

30 Sep 17

16 Oct 17

$5,025

7 Oct 17

23 Oct 17

$5,025

14 Oct 17

30 Oct 17

$5,025

21 Oct 17

6 Nov 17

$4,895

28 Oct 17

13 Nov 17

$4,825

Please note: while prices are accurate at time of loading they are subject to change due to currency fluctuations and currency surcharges may apply.Please check price at time of booking

Itinerary

Day 1 - Welcome to Madrid

Transfers leave Madrid Airport for your hotel at 09:00, 11:00, 13:30 & 16:00. Later, join your Tour Director for a Welcome Reception and a pleasant evening of dinner and wine.(WD)

Day 2 - Prado Museum and on to Golden Salamanca

Go with a Local Expert down the Gran Vía to the Cibeles Fountain on the wide Paseo de la Castellana. Cross the Puerta del Sol and see the Cervantes Monument in the Plaza de España. A highlight is a visit to the Prado Museum, a magnificent palace housing works by Velázquez, Goya, Rubens and others. Later, pass the walls of Avila en route to Salamanca with its honey-coloured cathedral.(BB)

Day 3 - Estrela Mountains to reach Holy Fátima and Lisbon

(Relaxed Start) Cross the Portuguese frontier and skirt the Estrela Mountains en route to Fátima. Join the pilgrims flocking into the great Basilica commemorating the miraculous appearance of the Virgin Mary to three young shepherds in 1917. Then continue to Lisbon.(BB)

Day 4 - Lisbon and the Age of the Great Discoveries

(Relaxed Start) Sightseeing with a Local Expert takes you along the avenues of the Lower Town to the Terreiro do Paço with a visit to the Belem Quarter. Visit an old patisserie that has managed to hold on to the secret recipe of Portugal's finest pastry for over 100 years and enjoy a tasting of the famous 'Pasteis de Belem'. See the Monument to the Discoveries and the more ancient Belem Tower - a fortress originally set in the middle of the river. Next, visit Jeronimos Monastery with its Manueline architecture. Enjoy free time in the afternoon.(BB)

Day 5 - To Seville, the City of Carmen

On arrival in Seville, join a Local Expert for a tour of the immense cathedral, burial place of Christopher Columbus and the slender Giralda Tower. Explore the labyrinthine Santa Cruz Quarter and see the Alcazar. In the evening, sit back and enjoy a fiery flamenco show with dinner.(BB / SE)

Day 6 - Free Time in Seville

(Relaxed Start) This day is yours to completely relax, explore, or continue sightseeing in this fascinating city. One suggestion is an optional experience to Cordoba to visit the magnificent Mezquita.(BB)

Day 7 - Across the Straits of Gibraltar to Fes

Set sail across the Straits of Gibraltar to Morocco, a world of veils, musky spices, bazaars, souks and snake charmers. Continue to Fes, Morocco's most ancient imperial city.(BB / D)

Day 8 - The Ancient Imperial City of Fes

(Relaxed Start) Sightseeing with a Local Expert shows you the Medina – the walled city of hidden courtyards, mosques and workshops, the bazaar and one of the world's oldest universities. Learn about the ancient craft of carpet making and gain an insight into the motifs and colours used in the designs. Then you will be at leisure.(BB)

Day 9 - On the Road to Marrakesh

Travel via the Atlas Mountains, past mud-walled villages to Marrakesh.(BB / D)

Day 10 - Marrakesh, Pearl of the South

(Relaxed Start) Enjoy the atmosphere in Jemaa el-Fnaa Square where acrobats and fortune tellers entertain you. A guided tour with a Local Expert shows you the Medina with its many souks and the Koutoubia Minaret dominating the skyline. Also included is a visit to the Palais de la Bahia, built in the late 19th century, intended to be the greatest palace of its time.(BB)

Day 11 - Play It Again Sam in Casablanca

Say goodbye to the snake charmers of Marrakesh and head for Casablanca on the coast. Did Humphrey Bogart really say 'Play it again Sam'? Find out during sightseeing with a Local Expert and see the largest mosque in the country.(BB / D)

Day 12 - Rabat and the White City of Tangier

(Relaxed Start) Drive northwards to Rabat, with a Local Expert see the Royal Palace and Hassan Tower. Continue to Tangier, Morocco's great port, overlooking the Straits of Gibraltar. Sightseeing with a Local Expert includes the Sultan's Palace and the famous Casbah, with its variety of Moroccan wares. In the evening, relax in the comfortable surroundings of your hotel or take a stroll along the Bay of Tangier.(BB / D)

Day 13 - Across to Gibraltar and on to the Costa del Sol

Cross back over to Spain to Gibraltar, an independent colony under British control since 1704. Visit the Rock of Gibraltar, St. Michael's Cave and see the Barbary Apes, legendary guardians of the colony. Later, take the scenic route along the Costa del Sol through exclusive resorts where the Mediterranean's most expensive yachts are moored.(BB)

Day 14 - Free Time on the Costa del Sol

(Relaxed Start) Enjoy a free day on the Costa del Sol. Relax by the blue Mediterranean waters, stroll along the promenade or savour the specialities in the local restaurants.(BB)

Day 15 - Mijas and on to Granada and the Alhambra Palace

Drive through the green hills above the Costa del Sol to the white-washed village of Mijas. Stroll through the old streets and gardens and take in the views of the coast. Continue to Granada to visit the magnificent Alhambra Palace. With a Local Expert, see the Lion Court as well as the water gardens of the royal summer residence. In the evening, choose your own personal ambience and cuisine from our Dine-Around selection of restaurants.(BB / DA)

Day 16 - Madrid in search of Don Quixote.

Journey northwards through countryside immortalised by Don Quixote. In the wine centre of Valdepeñas, visit one of the 'bodegas' for a taste. In the evening, back in Madrid, bid farewell to your newfound friends with a lively Celebration Dinner at a local restaurant.(BB / CD)

Day 17 - Depart Madrid

Departure transfers arrive at Madrid Airport at 07:00, 09:00 & 11:00.(BB)
*Terms and Conditions
Offer subject to availability at time of booking. Prices are per person share twin based on best available tour price, inclusive of all discounts unless otherwise stated. Prices are subject to currency fluctuations and are based on cash or cheque. Tour deposit, amendment and cancellation conditions may apply. Travel agent service fees may apply. Special conditions apply - please ask for full details at time of enquiry.
HLO Ref# 6154