Visiting 19 countries: France, Spain, Switzerland, Italy, Vatican City, Greece, Albania, Montenegro, Slovenia, Bosnia and Herzegovina, Serbia, Hungary, Slovakia, Austria, Poland, Czech Republic, Germany, Denmark, Netherlands
Introducing the heavyweight champion of Europe tours. Uncover this magnificent continent in all its glory as you spend seven fabulous weeks soaking up all the culture, cuisine, history and nightlife you could ever hope for while exploring Europe. Experience the grand old capitals and iconic landmarks of Western Europe, the artistic allure and passion of the Mediterranean, the vibrancy and beauty of the re-emerging Balkans, right to the very frontier of Asia itself. This is the Europe experience of a lifetime you'll never want to end. Seriously.
Available for the following departures: 04 Apr, 02 May, 09 May, 16 May, 23 May 2017
From price is based on tours departing: 04 Apr, 02 May, 09 May 2017
Bucket List Inclusions:
Stay at a resort in the heart of Tuscany
Italian feast in Tuscan hills
Guided tour of former concentration camp Auschwitz-Birkenau
Canal dinner cruise in Amsterdam
Visit the Pont du Gard
Paris city driving tour
Local guide in Florence
Vaporetto ride on the Grand Canal, Venice
Gourmet picnic beside the Eiffel Tower
French Riviera perfumery experience
3 nights sailing in Greece
Visit UNESCO World Heritage-listed Plitvice Lakes National Park
Local guide in Dubrovnik
Sun, sea & party on Mykonos
3 night stay in Dubrovnik
More Inclusions:
48 breakfasts, 7 lunches, 19 dinners
7 nights in hotels, 27 nights in hostels, 3 nights sailing in Greece, 8 nights in bungalows at European campsites, 2 nights canvas cabins & 1 night in a cabin on an overnight ferry
English Channel crossings
Modern air conditioned coach with free Wi-Fi
Guided tours of all major cities
Awesome Trip Leader + Driver + On-­Site Chefs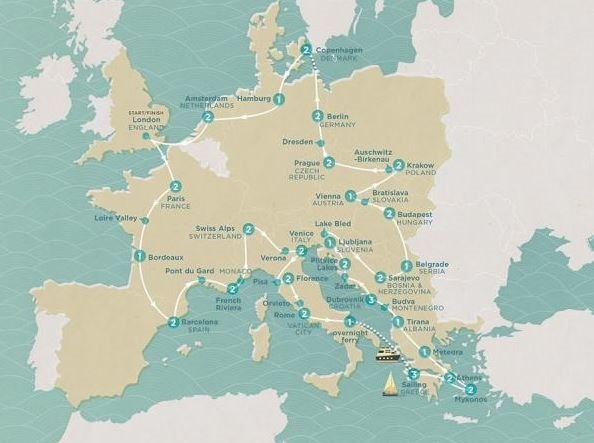 *Terms and Conditions
Valid for sale 14 November – 14 December 2016 & limited to Europe Summer 2017 trips only. A $200 deposit must be received with 7 days of booking & all services must be paid in full by 15 December 2016. This offer is not combinable with any other offer including the Early Payment Discount rates. Topdeck trips are designed for people between the ages of 18 to 39 years. They may in special circumstances approve persons outside this range, but reserve the sole right to decline a booking request should they think their trips are not suited to you.
HLO Ref# 6181