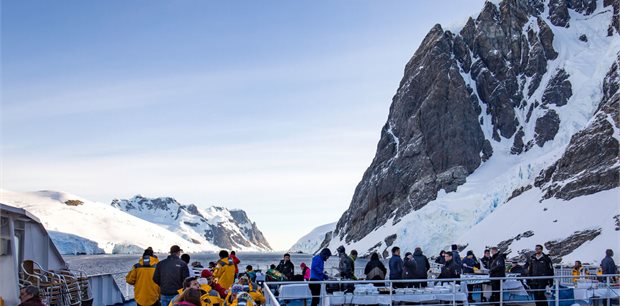 Enter the southernmost region on earth then take things a step further as you cross the Antarctic Circle. This is nature at its harshest yet Antarctica's wildlife thrives, having adapted to the beautiful, barren surrounds by the thousands. Experience the thrill of seeing seals lie on the icefloe, whales breaching the frigid waters and penguins patrolling the rocky shoreline in vast numbers. Zip around the ice-filled bays by Zodiac, landing on Antarctica itself for onshore excursions and jaw-dropping views witnessed by seldom few. With towering mountains, glaciers and mammoth icebergs dotting the landscape, you may not understand how the wildlife survives here, but you can't blame them for wanting to stay.
Highlights

Freezing is great but freedom is better. Customise your trip with a wide range of optional activities on top of regular Zodiac excursions. Explore the water by kayak, sign up for a photography masterclass, rejuvenate with some onboard yoga and a massage, take a refreshing polar plunge or camp overnight like a true polar explorer.
Our experienced leaders have made hundreds of polar voyages between them. They're experts in marine biology, glaciology and Antarctic history, and they'll share their knowledge throughout the journey during a comprehensive lecture program.
Rest assured that footprints are all you'll leave behind. Your Antarctica expedition is carbon offset, and we serve only sustainably sourced seafood, avoid single-use plastics and use biodegradable and phosphate-free cleaning products.
Take advantage of extra days at the Antarctic Peninsula on this extended expedition. That means more places, more landings and more time to see Antarctica's incredible wildlife and landscapes.
Travelling solo? This is your perfect Antarctic adventure, with single cabins at the same price as some twins.
Whereas most polar expeditions of this kind have a crew-to-passenger ratio of ten, fifteen or twenty to one, Intrepid expeditions on the Ocean Endeavour have an expedition crew member for every 8 passengers for a greater personal touch.

What's Included

Meals

13 Breakfasts, 11 Lunches, 11 Dinners

Transport

Expedition cruise ship , zodiac

Pricing

Start Date
End Date
Room Type
Price
Availability

Room Type:

CATEGORY2 (Triple Interior)

Room Type:

CATEGORY8 (Superior)

Availability:

7+ Available

Room Type:

CATEGORY9 (Junior Suite)

Room Type:

CATEGORY1 (Single Interior)

Room Type:

CATEGORY3 (Twin Interior)

Room Type:

CATEGORY4 (Twin Porthole)

Room Type:

CATEGORY5 (Twin Window)

Room Type:

CATEGORY6 (Comfort Twin)

Room Type:

CATEGORY7 (Select Twin)

Please note: while prices are accurate at time of loading they are subject to change due to currency fluctuations and currency surcharges may apply. Please check price at time of booking

Itinerary

Day - 1

Location: Ushuaia - Hola! Welcome to Ushuaia, the gateway to Antarctica, located at the bottom of Argentina. These parts are known as Tierra del Fuego – 'the End of the World' – but this is just the beginning of your Antarctic adventure. You'll meet your fellow travellers at the hotel this afternoon, but if you arrive early there are plenty of ways to entertain yourself. Those with a day or two in hand may want to head to Tierra del Fuego National Park on a full day's adventure, but if you've only got a few hours to kill then why not take a stroll around town and visit the waterfront overlooking the Beagle Channel, or perhaps get a taste of Argentina's famous cuisine at a local restaurant.

Day - 2

Location: Ushuaia – Embarkation Day - After you and your shipmates have boarded this afternoon, the ship will make its way through the Beagle Channel towards the infamous Drake Passage. Named after the Charles Darwin's historic ship, the channel presents many great photo opportunities and be sure to wave goodbye to South America if you're not too busy snapping away – your next land sighting will be the Antarctic Peninsula.

Day - 3-4

Location: Drake Passage - The Drake Passage is one of the most famous bodies of water on the planet. It can be a little rough, but if weather conditions are good you can head out on deck for a chance to spot ocean dwellers like whales and dolphins, or perhaps seabirds including albatross, prion and petrel. Over the next two days you'll get to know your team of polar experts as a comprehensive lecture program gets underway. They'll share their knowledge of the Antarctic region so you can gain a great understanding of its wildlife, history and geology. The crew are familiar with the marine life that inhabits these parts and will help scout for sightings from the deck – it's not like they get sick of these incredible places. The ship is scheduled to arrive at the Antarctic Peninsula late on the evening of Day 4.

Day - 5-8

Location: South Shetland Islands and the Antarctic Peninsula - You've heard about it. You've read about it. You've seen it from the ship's deck. Now it's time to take your first steps on Antarctica, courtesy of a Zodiac ride through the icy waters. There are several potential landing sites including Neko Harbour, Petermann Island and Port Lockroy, and while weather dictates which specific site you'll land at, each of them presents an opportunity to get up-close with some truly incredible wildlife, watch penguins waddle and seals slide as icebergs and glaciers crackle and crumble. For a full list of potential landing sites, please visit: https://www.intrepidtravel.com/au/antarctica-landing-sites If you have any questions, look to your team of polar experts to inspire and educate you about this fascinating part of the world. There are some optional activities for the more active adventurer including snowshoeing, kayaking and – wait for it – overnight camping, and you'll also have an opportunity to take a polar plunge off the ship. There's nothing quite like a quick dip in the Antarctic's icy depths to wake you up. If the weather conditions make an excursion unsafe, the crew will arrange for alternative, ship-based activities such as wildlife presentations and documentary screenings. Alternatively, you can make the most of the wellness spa, heated pool and sauna, library and gym so you're feeling fresh for when the weather clears. An average day on board begins with a wakeup call from your expedition leader around 7 am, giving you time to prepare for the day before joining your fellow passengers for breakfast in the restaurant. You will usually have two excursions, one in the morning and one in the afternoon, with lunch on the ship in-between excursions.

Day - 9-10

Location: The Antarctic Circle - Venturing to the ends of the earth is a moment to revel in as not all expeditions come this far south. Weather conditions permitting, celebrations will be in order after reaching 66°33' S. Toast to the sheer rawness of the surrounds and take it all in as a dream comes to fruition – while not a typical landing, the crossing of the Antarctic Circle leaves a lasting memory.

Day - 11

Location: Antarctic Peninsula and South Shetland Islands - You'll be more familiar with the Antarctic waters as the ship begins heading north. Test your newfound knowledge of penguin species and finetune your wildlife spotting skills as you differentiate between fur, leopard and Weddel seals. The Zodiac excursions will continue, and the expedition team will be on hand to make the most of the peninsula's wildlife opportunities for those wanting to flex their photography muscles en route to Ushuaia.

Day - 12-13

Location: Drake Passage - The journey's final leg offers an opportunity to reflect on the spectacular scenery and prolific wildlife encountered over the course of the voyage. Spend some time with your shipmates, who you've no doubt bonded with, and enjoy a final together to toast the end of this Antarctic adventure.

Day - 14

Location: Disembark Ushuaia - Disembark in Ushuaia after having breakfast on the ship. You have the option to be transferred to the airport if you're flying home today, otherwise enjoy some extra time exploring Tierra del Fuego and its rugged surrounds.
*Terms and Conditions
Offer subject to availability at time of booking. Prices are per person share twin based on best available tour price, inclusive of all discounts unless otherwise stated. Prices are subject to currency fluctuations and are based on cash or cheque. Tour deposit, amendment and cancellation conditions may apply. Travel agent service fees may apply. Special conditions apply - please ask for full details at time of enquiry.
HLO Ref# 14634