This A to Z of Europe reveals a feast of flavours, culture and history. Tick off the sights, from medieval monuments, myths, legends and ancient history to the glittering capitals of Rome, Athens and Paris. You'll come full circle on this month-long extravaganza across the continent – 11 countries on one bucket-list trip.
Inclusions:
28 nights accommodation
28 Breakfasts, 7 Dinners
Tour Leader/Director
Transport
MAP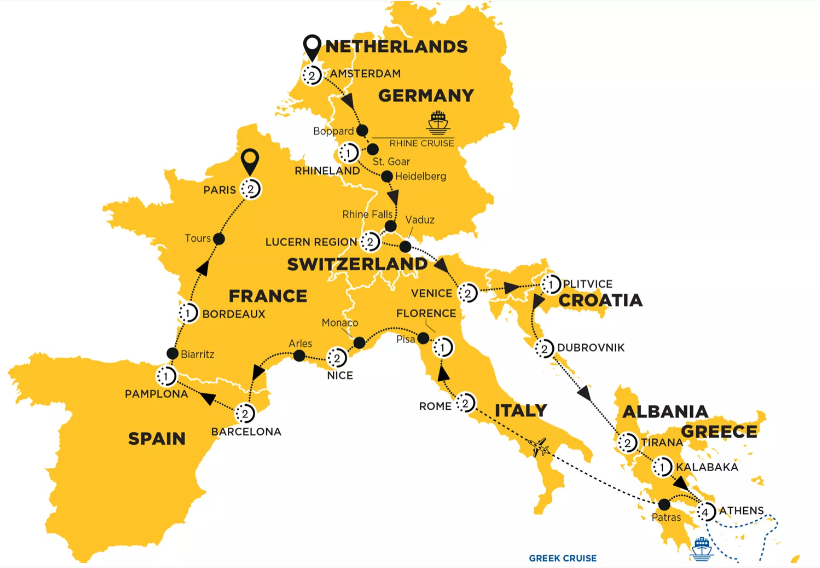 ITINERARY
DAY 1 - AMSTERDAM
Home to bikes, clogs, cheese, canals and windmills, it can only be the Netherlands! You'll arrive here journeying south from London through the Kent countryside to Dover. Board your ferry to Calais, then wind your way through Belgium, reaching Amsterdam. There's time to join a Choice Experience to see the city from a private canal cruise in a glass-topped boat, the perfect kick-off to your Europe Value tour.
DAY 2 - AMSTERDAM ORIENTATION & FREE TIME
It won't take long to fall in love with the Dutch capital! Explore its history, culture and art. Your orientation tour will take you past gabled houses, countless canals and greenspaces. Explore more blockbuster sites on your own later or opt to join a Choice Experience to Volendam where the Dutch traditions of cheese and clog making take centre stage. Later, consider an optional Dutch dinner in a historic gable home.
DAY 3 - AMSTERDAM - RHINE CRUISE - RHINELAND
You won't want to blink as you head east into the lush landscapes of Germany. Lined with medieval villages, steep vineyards and storybook castles, the Rhine Valley has enchanted painters and writers for centuries. See it in all its glory on your leisurely river cruise winding your way through Rhineland landscapes before dinner.
DAY 4 - RHINELAND - LUCERNE
Slice through the heart of Switzerland bound for Lucerne on your very own 'Grand Tour' of Europe. Take a step back in time and join your Travel Director for a stroll of the Old Town including the medieval Chapel Bridge which has spanned the Reuss river since the 14th century. There won't be a dry eye in the house when you visit the wounded Lion Monument, hewn from rock to commemorate the brave Swiss Guards who lost their lives defending King Louis XVI during the French Revolution. This afternoon, you have time to explore the city your way, or top the day off kicking up your heels with a fondue lunch and folklore show.
DAY 5 - LUCERNE ORIENTATION AND FREE TIME
Mountain heights, lakes and green landscapes, Lucerne is a mix of quintessential Switzerland. Explore it your way today with our Choice Experiences. Head to the countryside for a horse-drawn carriage ride to a local working farm. Or, embrace the great outdoors and epic views from the top of Mount Pilatus, ascending to the summit by the world's steepest cog-wheel train. Then, descend by cable car before taking a scenic lake cruise. It doesn't get much better than this!
DAY 6 - LUCERNE - VENICE
Touch the sky when you follow the St. Gotthard highway, winding past mountain scenery and into Italy, arriving into 'Queen of the Adriatic', Venice! The best way to see the sights? From the water, of course. Your private water taxi along the Grand Canal will have you tick off the Palazzi, Rialto and St Mark's Square. Later, an optional Gondola ride could take you through the iconic narrow waterways, just like you've seen in the movies. That's Venice for you.
DAY 7 - VENICE ORIENTATION AND FREE TIME
Cobbled lanes, artisan shops, little trattorias, 400 canals - Venice is the ultimate explorers' playground. Cruise the local way, arriving by private launch to St Mark's Square. All the main attractions are within walking distance of the Piazza so you'll have easy access to view the famous Byzantine Basilica of St. Mark. Wander the lanes before visiting a glassblowing workshop on a MAKE TRAVEL MATTER® Experience. Watch talented master craftsmen at work, as they make the beautiful glass creations that are characteristic of Venice. This afternoon, see the city your way taking an optional cruise across the lagoon to colourful Burano Island.
DAY 8: VENICE - OPATIJA - PLITVICE
Farewell Italy, hello next leg of our adventure - Croatia! Get your first taste in Opatija, this coastal town dotted with Habsburg-era villas that will make an impact as you stroll the historic promenade, perhaps stopping for an ice cream along the coastline or for people watching. Later, arrive in Plitvice, home to the epic waterfalls you'll explore tomorrow.
DAY 9: PLITVICE LAKES - DUBROVNIK
Find yourself in paradise on a MAKE TRAVEL MATTER® Experience in UNESCO-listed Plitvice Lakes National Park. Team up with a Local Specialist to learn about the Park's conservation of its native species on easy trails and boardwalks through the blue-green beauty of interconnecting lakes. Duck your head into cool caves and gaze up at waterfalls before you continue your Europe Value tour to Dubrovnik.
DAY 10: DUBROVNIK SIGHTSEEING & FREE TIME
Rector's Palace, check! Onofrio's Fountain and the city walls, check! It's one iconic highlight after another in Dubrovnik on this morning's Locally Guided sightseeing tour, with courtyards and limestone streets throwing you back to the city's Golden Age. There's no better way to enjoy this coastline than on tonight's optional sunset dinner cruise to a secluded bay with the city illuminated in the background. Cheers!
DAY 11: DUBROVNIK - KOTOR - TIRANA
Make a quick stop in Montenegro's medieval Kotor before pulling into colourful Tirana, Albania. The best way to dig into its history? Explore the previously communist-dominated capital including highlights like Skanderbeg Square and the Palace of Culture. Wander up the main boulevard and see the Prime Ministry building, the Presidential office and the Pyramid Building.
DAY 12: TIRANA ORIENTATION
It's one blockbuster sight after the next as you explore through the city's colourful architecture, a blend of Ottoman, Fascist and Soviet styles. Take in the Skanderbeg Statue – a national hero, and snap photos of the Et'hem Bey Mosque. Stroll through Blloku neighbourhood where members of the communist party once lived.
DAY 13: TIRANA - KALAMBAKA
Cross into Greece through the scenic Plains of Thessaly to Kalambaka. This afternoon, choose to join an optional tour of the gravity defying Meteora monasteries that cling impressively to immense rounded rock towers. Rebuilt after it was burned by the Nazis in WWII, Meteora holds a magnificent old Byzantine church as well as several museums – one devoted to old schoolbooks and another to mushrooms. So, why not tick off a few more unique sights off your bucket list?
DAY 14: ATHENS
Welcome to Athens! The Greek capital was once the centre of the world and for several days it will be yours. The best way to start your time in Greece? Tailor your night with a Choice Experience at a taverna evening and kick up your heels with dancing and drinks. Opa!
DAY 15: ATHENS
Oh, glorious Athens. Whether you're a history buff or a lover of Greek food, ask your Travel Director for advice on how to make the most of the day. Evidence of the city's former status as the 'Cradle of Western Civilisation' can be seen around every turn where the literature, art and laws have shaped western civilization as we know it. Join a Choice Experience first crossing the Corinth Canal to ancient Mycenae, 3500 years old and home to the Lion Gate, then see Royal Palace & Tomb of Agamemnon, topped off with the ancient theatre of Epidaurus and the picturesque town of Nafplio, the first capital of modern Greece.
DAY 16: ATHENS
Do it your way and join a Choice Experience to the southernmost tip of mainland Greece to see the fifth-century B.C. Temple of Poseidon at Sounion. See if you can spot where Byron carved his initials on one of the temple's columns and marvel at the rugged beauty of the coastline as you uncover classical Greek history.
DAY 17: ATHENS
Get your final fix of Athens with a free day to get some last-minute souvenir shopping done. Keen for a last fix of Greek history? You could choose to visit ancient Mycenae with its Royal Palace and Tomb of Agamemnon or take a one-day cruise to the islands of Aegina, Poros and Hydra.
DAY 18: ATHENS - ROME
This morning, lace up your walking shoes and go in search of the artistry, architecture and archaeological treasures that have made Athens a popular stop for history lovers. Then we fly from Athens to Rome - you'll instantly see why there's so much to love in the land of dolce vita. Whether you're a foodie or just like to take in the local vibe, choose to tick off the city's quintessential Italian piazzas and fountains with a Local Specialist. Throw a coin in the Trevi Fountain, see the Pantheon and get local exploring hidden corners of the Eternal City.
DAY 19: ROME SIGHTSEEING & FREE TIME
With so much to see and do, you could explore Rome for an eternity without getting bored. Join a Choice Experience to Michelangelo's famous Sistine Chapel and the Vatican Museums and stand in St. Peter's Square. Visit St. Peter's Basilica and view Michelangelo's greatest work, the Pietà. Cross the Tiber next, to view the mighty Colosseum and the countless blockbusters from the Roman Empire. Later, explore on your own or embrace the Italian way of la dolce vita with an evening of Italian dishes and Roman music.
DAY 20: ROME - FLORENCE
Ahh, Florence. Birthplace of the Renaissance and a city that has inspired poets, authors and artists for centuries. Start your time here learning about centuries old leathercraft at Peruzzi Leatherwork Demonstration. The best way to sample all the local cuisine? Head into the Tuscan Hills for dinner on an unforgettable Choice Experience. Pappardelle pasta, Florentine steak, Panzanella salad and crostini. Is your belly rumbling yet?
DAY 21: FLORENCE - PISA - MONTE CARLO - NICE
If you've always dreamed of visiting that famous leaning tower, we'll take you to snap a few strategic photos featuring you and the extraordinary Leaning Tower of Pisa. Admire Pisa's Romanesque Square of Miracles in all its striped marble glory. Next, head west to the shores of Monaco. Keep your eyes peeled as you drive along its glitzy boulevards before arriving in the glamorous French Riviera.
DAY 22: FRENCH RIVIERA FREE TIME
Oh là là! A full free day on the French Riviera. There's no shame in spending the day sprawled out on a sun lounger with a cocktail. If you can pull yourself away from the sun, you'll want to join a Choice Experience travelling along the mountains of the Middle Croniche to Saint-Paul-de-Vence home of the famed perfumery – Fragonard. Life is rather idyllic in this walled hill-town and, like some of its famous residents, you'll want to linger here a little longer, but the sun-kissed promenades of Nice beckon. You never know who you might spot seated in those sleek Ferraris and private yachts!
DAY 23: FRENCH RIVIERA - BARCELONA
The Mediterranean coastline stretches ahead. Keep your cameras at the ready as you drive along elegant boulevards and attempt to capture the sophistication that seems to ooze from every corner. Take a scenic right into Spain, pulling into in the eclectic city of Barcelona.
dAY 24: BARCELONA FREE TIME
Ahh, Barcelona. Get right to it with locally guided tour through the lanes of the Gothic Quarter, and past the façades of Spanish Art Nouveau architect Antoni Gaudí. Later, tailor your Barcelona experience with a visit to the Montserrat monastery to see the beloved Black Madonna. Tonight, end your day on a high note, choose toto see the whirling skirts and fiery passion of a flamenco show with dinner – a foot-tapping extravaganza is not to be missed!
DAY 25: BARCELONA - PAMPLONA SIGHTSEEING
Tick off more landscapes winding your way through Catalonia's vineyards to Pamplona. Fall for the city's top sights as your Travel Director shows off Gaudí's ornate La Sagrada Família and the Plaça de Catalunya. Kick back and let the street performers entertain you while artists and shoppers fill the lively La Rambla with energy. Then see it all from above from the top of Montjuïc. The capital of Catalunya lights up at night, so resist the urge to retire early and hit the town with your new friends. Hungry for more? choose to join an optional dinner of Tapas and Sangria.
DAY 26: PAMPLONA - BIARRITZ - BORDEAUX
The beach is back on the agenda today, so get your hat and sunglasses ready for a trip to the glamorous seaside town of Biarritz on the Atlantic coast. Take your cue from the European royals who have been visiting this resort town since the 1800s and find your new favourite spot on a wicker chair in the sun. After a good dose of sun and sea, it's back into the rolling countryside of Les Landes en route to Bordeaux.
DAY 27: BORDEAUX - TOURS - PARIS
Wind your way through the French countryside to Tours, the gateway to the Loire Valley. In its car-free centre you'll discover a medieval heart, reflected in its timber-framed houses and Renaissance mansions. Your next stop is Paris, the French capital that doesn't hold back and doesn't expect you to either. Take a walk through its grand past, dynamic present and exciting future, from the maze of streets that once nurtured great artists in Montmartre to the Eiffel Tower. You could choose to join a cruise on the Seine, admiring the illuminated skyline at night.
DAY 28: PARIS SIGHTSEEING & FREE TIME
The Parisians know a thing or two about food, fashion and fun, and the City of Light will always deliver. Dive right in, capturing your picture by the Eiffel Tower and the Arc de Triomphe and shopping on the Champs Élysées. Maybe join a Local Specialist to feel like you've stepped in the movie Amelie exploring Montmartre's winding streets of galleries and world-famous Artist's Square. Or, see the city from Montparnasse's Panoramic Observation Deck and stroll past the Latin Quarter's bistros, boutiques and hidden squares. Tonight, the colourful Can-Can dancers entice you with their bold outfits in a Choice Experience cabaret show.
DAY 29: DEPART PARIS
All good things must come to an end. This morning, after breakfast, say farewell to your fellow travellers.
*Terms and Conditions
Save up to 15% on select departures with Insight Vacations, Trafalgar or Costsaveras featured on the brand's website as "Black Friday Travel Sale". New bookings only made with deposit between 9 November, 2023 and 5 December, 2023. Full payment due 120 days prior to departure or at time of booking if booked within 120 days of departure; whichever comes first. Prices are in NZD, are per person, land only, based on double occupancy and are subject to availability. If guests change to another tour or date not on sale, they are responsible to pay the difference and adhere to different payment conditions. Savings are subject to availability and may be withdrawn at any time without notice. May be combined with 5% Global Tour Rewards savings only, not combinable with group discounts, Future Travel Credit carry forward discount or any other discount or promotion. Other conditions may apply.
HLO Ref# 22459