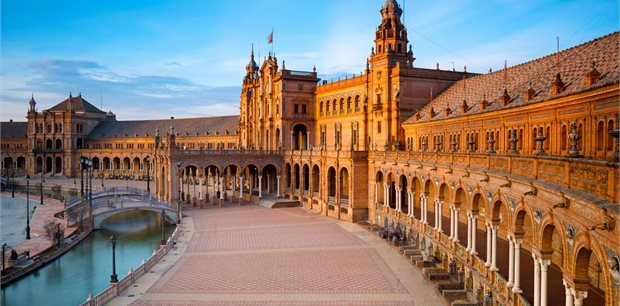 Feel the pulse of spirited Spain on this eight-day Lonely Planet Experience from the country's capital to the bustling coastal city of Barcelona. Be captivated by Cuenca's Old City, mosey around the markets and space-age architecture of Valencia and get lost in the convoluted streets of Barcelona's Gothic Quarter. This is a journey of old and new that introduces you to the history, traditions and architecture of Spain, as well as the best shopping, restaurants and nightlife enjoyed by locals. With a local leader to set you up in each city and show you around, plus plenty of freedom to explore what (and how) you like, this adventure is perfect for independent travellers.
Theme
Lonely Planet Experience
Highlights

Explore the medieval Old Town of Cuenca, a city built around deep gorges with many casa colgadas (hanging houses) that spill over the edge of edge of cliffs.
Spend two days in Valencia, the gateway to the Mediterranean and a walker's paradise, where you can explore via a lush, snaking park that runs through the city.
Taste the unforgettable flavours of Catalan dishes such as fideua (similar to seafood paella) and botifarra amb mongetes (haricot beans served with sausage) washed down with a glass of Rioja.
Wander around the 17th-century Plaza Mayor, the perfect place to get a sense of Madrid's vibrant history and contemporary culture (plus do a little people watching).
Witness Gaudi's La Sagrada Familia, a Gothic masterpiece embodies Barcelona's artistic and progressive heart, and choose whether to continue inside on an optional tour.

What's Included

Meals

4 Breakfasts

Transport

Train , Public bus , Metro , Tram

Accommodation

Hotel (1 night), Hostel (6 nights)

Pricing

Start Date
End Date
Price
Availability

Availability:

7+ Available

Please note: while prices are accurate at time of loading they are subject to change due to currency fluctuations and currency surcharges may apply. Please check price at time of booking

Itinerary

Day - 1

Location: Madrid - Welcome to Madrid, the sassy central capital of Spain known for its elegant boulevards and expansive, manicured parks. Your adventure begins with a welcome meeting at 6 or 7 pm, depending on common area availability. After the welcome meeting, perhaps get into the mind of a Madrileno with some tapas and Rioja.

Day - 2

Location: Madrid - Today is free for you to discover Madrid. Perhaps begin in the heart of Old Madrid with a stroll along the portico-lined Plaza Mayor. After that maybe take a break in the Real Jardin Botanico, a garden wonderland dating from the 18th century, or by sitting with a coffee in one of the atmospheric streets and squares around the famous Plaza Mayor. If you're after something a little more structured, you could join a locally-guided Urban Adventure to get a deeper insight into the city through its tapas. At night, maybe follow the crowds to Chueca, Plaza Dos de Mayo or Plaza Santa Ana, where the pulse of the city will lead you from bar to bar.

Day - 3

Location: Cuenca - Today travel by train to charming Cuenca (approximately 3 hours), located on the edge of deep gorges created by two rivers: Jucar and Huecar. On arrival, venture out on an orientation walk around this historic World Heritage-listed fortress city. The Old Town of this city is an outstanding medieval development built on steep mountainsides, with many casa colgadas (hanging houses) that are literally on the cliff edge. After the orientation walk, use your free time getting to know the city. Perhaps visit the impressive 12th-century gothic cathedral. Evening is a great opportunity to gather together with the group and enjoy a dinner and see the Old City beautifully brushed with light from a series of high-powered lamps suspended half-way up the rock.

Day - 4

Location: Valencia - Board a train east to the coastal town of Valencia (approximately 4 hours). It's known for being the Spanish gateway to the Mediterranean, with a big port, beautiful beaches, restaurants and a beach promenade along the waterfront. On arrival you are free to begin exploring at your own pace. Perhaps head to the Old Town, where you will find beautiful monuments and historical buildings, or (if weather permits) soak up some sun on the beach. The colourful stalls of the Mercado Central are a great place to grab some fresh produce to snack on during the day while you explore.

Day - 5

Location: Valencia - Enjoy another free day in Valencia. History buffs might want to check out the 13th-century Valencia Cathedral, which houses what legend says is the Holy Grail. Or maybe climb the 207 steps of the Miguelete tower for the best views of the city. After something different? The Museum of the Fallas contains a history of the Valencia Fire Festival in the form of giant papier mache figures (and entry is inexpensive, which is a bonus). To try the paella that Valencia is famous for (made with rabbit and chicken), ask your leader to point you towards the Las Arenas area for a hearty and reasonably priced lunch. Cycle paths and cheap bike hire make for another great way to explore, so active types might consider biking the park (a former river) that runs through the centre of the city.

Day - 6

Location: Barcelona - Take the train up the coast to Barcelona (approximately 4 hours), a quirky city with a ground-breaking art scene, Gothic architecture, superb dining and a non-stop nightlife. Arrive in the afternoon. Maybe wander the labyrinthine streets of the old Gothic Quarter and navigate your way through the throngs of tourists along La Rambla, Barcelona's famous tree-lined boulevard. There are plenty of museums to choose from, so perhaps spend some time in the National Art Museum of Catalonia or the Museum of City History to brush up on your local knowledge. Take the funicular to the top of Montjuic or Tibidabo for panoramic views of Barcelona and the harbour. The heart of Catalonia prides itself on being a gastronomic centre, so tonight make sure to follow your leaders advice on where to get a taste of the culinary action.  

Day - 7

Location: Barcelona - You're free today to partake in some of the optional activities on offer or relax. In the morning perhaps head to the stalls of Santa Catarina Market, a huge trove of local produce beneath a colourful, undulating roof. The city is famous for its architecture designed in the unique Catalan Modernista style. The master of this movement was Antonio Gaudi, whose eccentric creations are dotted all over the city. A visit to Gaudi's masterpiece, the modern basilica of La Sagrada Familia, is a must, even if it's just to see the outside. Gaudi worked on this hugely ambitious project for decades until his death and it remains under constant construction. For more insight into the artist, head to Parc Guell, a surreal landscaped area also designed by the artist.

Day - 8

Location: Barcelona - Your adventure ends this morning. There are no more activities planned today and you're free to leave the accommodation at any time, those please note you must comply with the hotel's internal check-out rules. If you'd like to spend a few more days in Barcelona, our reservations team can help secure accommodation at the time of booking (subject to availability).
*Terms and Conditions
Offer subject to availability at time of booking. Prices are per person share twin based on best available tour price, inclusive of all discounts unless otherwise stated. Prices are subject to currency fluctuations and are based on cash or cheque. Tour deposit, amendment and cancellation conditions may apply. Travel agent service fees may apply. Special conditions apply - please ask for full details at time of enquiry.
HLO Ref# 5816