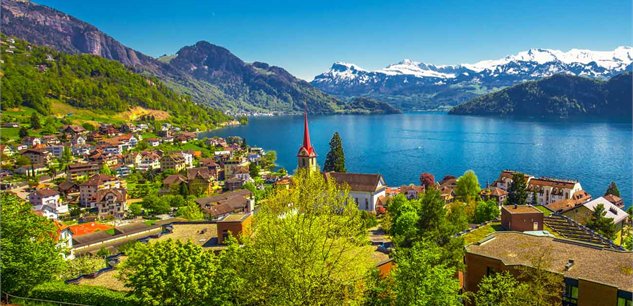 Savour the flavours of France and Italy as you travel north from Rome, Florence and Venice through the rolling Tuscan countryside, Switzerland's Alpine landscape and the Burgundy wine region to Paris to see the Champs Élysées and Arc de Triomphe.
Tour Operator:
Trafalgar Tours
What's Included

10 buffet breakfasts
4 three course dinners

Pricing

Start Date

End Date

6 Apr 17

16 Apr 17

$2,495

25 May 17

4 Jun 17

$2,550

8 Jun 17

18 Jun 17

$2,550

22 Jun 17

2 Jul 17

$2,550

29 Jun 17

9 Jul 17

$2,550

6 Jul 17

16 Jul 17

$2,550

13 Jul 17

23 Jul 17

$2,550

20 Jul 17

30 Jul 17

$2,550

27 Jul 17

6 Aug 17

$2,550

3 Aug 17

13 Aug 17

$2,550

17 Aug 17

27 Aug 17

$2,550

31 Aug 17

10 Sep 17

$2,550

7 Sep 17

17 Sep 17

$2,550

14 Sep 17

24 Sep 17

$2,550

21 Sep 17

1 Oct 17

$2,550

Please note: while prices are accurate at time of loading they are subject to change due to currency fluctuations and currency surcharges may apply.Please check price at time of booking

Itinerary

Day 1 - Arrive Rome (2 Nights)

Welcome to Rome. Unwind after your journey. Meet later with your Travel Director and fellow travellers before considering an excursion for dinner.

Day 2 - Rome Sightseeing and Free Time

Your Local Specialist takes you on a fantastic sightseeing tour. Visit St. Peter's Basilica and admire Michelangelo's Renaissance masterpiece, the Pietà. Your guided tour continues across the Tiber where you view the mighty Colosseum, see Circus Maximus and the ancient sites of Rome. Spend time afterwards seeing more sights or shopping for souvenirs.Buffet Breakfast

Day 3 - Rome – Siena – Florence (2 Nights)

Head north through the Chianti wine-producing region to the beautiful medieval city of Siena in Tuscany. Stroll through ancient cobbled streets to Piazza del Campo where the colourful Palio horse race takes place every year. Marvel at the striped marble cathedral and shop for attractive ceramic pottery. Arrive later in Florence, birthplace of the Renaissance and your home for the next two nights. Don't miss the opportunity to visit the Statue of David. Buffet Breakfast, Dinner

Day 4 - Florence Orientation and Free Time

Florence is a treasure trove of art and history. Enjoy spectacular views from Piazzale Michelangelo, then spend time exploring the delights of this amazing city. Perhaps visit Piazza della Signoria featuring many statues and palazzos, and don't miss the Duomo or Giotto's Bell Tower. Florence is also renowned for high-quality leather goods and 18-carat gold.This afternoon join an Optional Experience to see more of Tuscany and the Leaning Tower of Pisa followed by dinner in the Tuscan Hills.Buffet Breakfast

Day 5 - Florence – Bologna – Venice (Region) (2 Nights)

Cross the forested Apennines to the city of Bologna, home to one of the oldest universities in Europe and famous for sausages and salami. Your sightseeing tour with a Local Specialist includes views of the Kissing Towers. Continue along the Brenta, across the Po Delta and into the Venice region.Buffet Breakfast, Dinner

Day 6 - Venice Orientation and Free Time

Admire the many sights of this Byzantine city as you cruise by private launch to St. Mark's Square. See the Palladian Churches of the Redeemer and St. George, the ornate Doge's Palace and the Bridge of Sighs. Marvel at the Basilica and Campanile. Watch the Venetian craftsmen at work creating local specialities at a glassblowing workshop on Giudecca island. In your free time take an optional cruise across the lagoon to the Island of Burano for a delicious meal.Buffet Breakfast

Day 7 - Venice (Region) – Verona – Lake Lucerne (2 Nights)

Follow the Veneto plains to Verona and stop to see the Roman Arena and Juliet's Balcony. Pass Milan and head north to the Italian and Swiss Lake Districts via Como and Lugano. Drive along the scenic alpine St. Gotthard route through central Switzerland to the picturesque town of Lucerne.Buffet Breakfast, Dinner

Day 8 - Lucerne Orientation and Free Time

Enjoy the sights of Lucerne during your orientation tour, including the 14th century wooden Chapel Bridge and a visit to the Lion Monument commemorating the heroism of the Swiss Guards during the French Revolution. In your free time, take an exhilarating mountain excursion, shop for Swiss watches and chocolate, or perhaps explore the flower-bedecked squares and fortified towers in the quaint old town.Buffet Breakfast, Dinner

Day 9 - Lake Lucerne – Paris (2 Nights)

Drive across the French border past Belfort and the remains of the Maginot Line and through the Burgundy wine region. View the sprawling vineyards that stretch across the hillsides. Arrive later in Paris, the City of Light. Tonight why not dine at a cosy Parisian bistro and finish with a dazzling tour of the city's illuminations?Buffet Breakfast

Day 10 - Paris orientation and free time

This morning enjoy views of the Eiffel Tower, Champs Élysées and Arc de Triomphe during your orientation tour. Spend free time exploring the banks of the Seine. This evening you might like to experience a world-famous cabaret show.Buffet Breakfast

Day 11 - Paris – London (2 nights)

Traverse northern France past World War I battlefields. Cross the English Channel to Dover where you see the famous White Cliffs. Later arrive in London. Buffet Breakfast
*Terms and Conditions
Offer subject to availability at time of booking. Prices are per person share twin based on best available tour price, inclusive of all discounts unless otherwise stated. Prices are subject to currency fluctuations and are based on cash or cheque. Tour deposit, amendment and cancellation conditions may apply. Travel agent service fees may apply. Special conditions apply - please ask for full details at time of enquiry.
HLO Ref# 6137