Visiting 13 countries: France, Switzerland, Monaco, Italy, Vatican City, Greece, Albania, Montenegro, Croatia, Slovenia, Germany, Czech Republic, Netherlands
Fancy spending a day lounging under the Mediterranean sun on a yacht coursing through the turquoise waters of the Adriatic? How about three days? You got it. Not only will you have the chance to channel your inner captain with a jaunt on the high seas, but you'll also crisscross epic mountain ranges, explore the continent's great capitals and discover some of Europe's hottest new destinations in the Balkans. Talk about a trip of a lifetime. Summer Fun and Sailing is all that and more.
Available for the following departures: 05 May, 12 May, 19 May, 26 May, 02 Jun, 06 Jun, 09 Jun, 13 Jun, 16 Jun, 25 Aug
From price is based on tours departing: 05 May, 12 May
Bucket List Inclusions:
Dutch cheese & clogs demonstration
Paris city driving tour
Gourmet picnic beside the Eiffel Tower
Vaporetto ride on the Grand Canal, Venice
French Riviera perfumery experience
3 nights sailing in Greece
Local guides in Florence, Tirana & Dubrovnik
Visit former concentration camp Dachau
Farewell canal dinner cruise in Amsterdam

More Inclusions:

26 breakfasts, 7 lunches, 13 dinners
1 nights hotel upgrade, 15 nights in hostel accommodation, 3 nights sailing in Greece, 6 nights in bungalows at European campsites & 1 night in a cabin on overnight ferry
English Channel crossings
Modern air-conditioned coach with free Wi-Fi
Guided tours of all major cities
Awesome Trip Leader + Driver + On-Site Chefs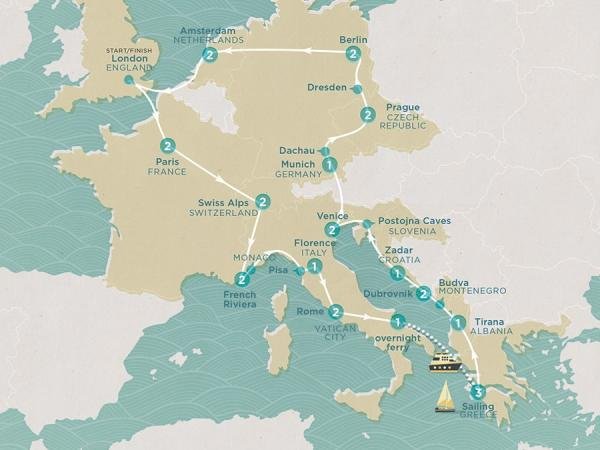 *Terms and Conditions
Valid for sale 14 November – 14 December 2016 & limited to Europe Summer 2017 trips only. A $200 deposit must be received with 7 days of booking & all services must be paid in full by 15 December 2016. This offer is not combinable with any other offer including the Early Payment Discount rates. Topdeck trips are designed for people between the ages of 18 to 39 years. They may in special circumstances approve persons outside this range, but reserve the sole right to decline a booking request should they think their trips are not suited to you.
HLO Ref# 6185