A grand adventure - world renowned wines, snow-capped mountains, sun-drenched beaches, magnificent châteaux, Roman remains, excellent food and battlefield history.
This tour is a combination of Normandy, Brittany & the Loire Valley and Country Roads of France.
From price is based on 29 July & 22 July 2017 departure
SIGNATURE EXPERIENCES:
Côte d'Azur: Walk through the old streets of Monaco to see the Palace and Tomb of Princess Grace.
St-Paul-de-Vence: Discover how this hilltop town became a refuge for artists.
Arles: See the ancient two-tiered amphitheatre built by the Romans in the 1st century AD and which is still used for plays and concerts today.
Lascaux II Caves: This caves contain some of the oldest and finest prehistoric art in the world. For preservation reasons, they have been replicated in all their glory.
Paris: See the monuments, museums, buildings and bridges on a Seine River cruise through the heart of Paris.
Bayeux: The tapestry is actually a 70m long embroidery that tells the story of the Battle of Hastings in 1066. Look out for King Harold with an arrow in his eye!
Normandy Beaches: Join an emotive journey tracing the story of the D-Day landings. With a Local Expert visit the American Military Cemetery of St. Laurent and appreciate the valour of Rudder's Rangers among the bunkers of Pointe du Hoc.
Mont-St-Michel: Savour your first sight of the fortified island of Mont-St-Michel. Cross the causeway for a guided tour through the maze of halls and vaults of the massive abbey.
Château d'Ussé: Visit the fairytale castle, Charles Perrault's inspiration for his tale 'Sleeping Beauty'.
Villandry: Beside the Cher River stands Villandry Castle, surrounded by France's finest formal gardens.
Chartres: Inside magnificent Chartres Cathedral, marvel at the stained-glass windows, a riot of rich blues and reds, justly considered the finest medieval glass in France.
ADDITIONAL INCLUDED HIGHLIGHTS:
Troyes: Explore the medieval heart of the Champagne capital.
Chamonix: Stay in France's mountaineering capital.
Annecy: Enjoy free time in the Little Venice area.
Monaco: Drive on part of the Grand Prix circuit.
Saint-Paul de Vence: Discover the village's artistic vocation.
Aix-en-Provence: See the mansions of the Cours Mirabeau.
Avignon: See the old Papal Palace and famous bridge.
Pont du Gard: See the famous Roman aqueduct.
Camargue: Visit Stes Maries-de-la-Mer.
Nîmes: See the Maison Carrée and Roman Arena.
Carcassonne: Enjoy a walking tour of this fortified town.
Albi: See the soaring brick cathedral.
Cahors: See the Pont Valentré.
Rocamadour: Visit this medieval cliff top town.
Dordogne: See the golden limestone buildings of Sarlat-la-Canéda.
Paris: See Notre Dame Cathedral, Louvre, Arc de Triomphe and Eiffel Tower.
Scenic Drives: Burgundy, High Alps, Route Napoleon, Cote d'Azur, Camargue, Dordogne Valley.
Rouen: See the Cathedral and Place du Vieux-Marché where Joan of Arc was burned at the stake.
Normandy Coast: See the remains of the artificial Mulberry Harbour at Arromanches and drive along the D-Day landing beaches.
St Malo: Walk along the fortifications and narrow streets.
Loire Valley: See the imposing Châteaux of Saumur, Angers and Ussé.
Paris: Enjoy a sightseeing tour of the French capital seeing the Eiffel Tower, Notre Dame Cathedral, Louvre, Place de la Concorde and Arc de Triomphe.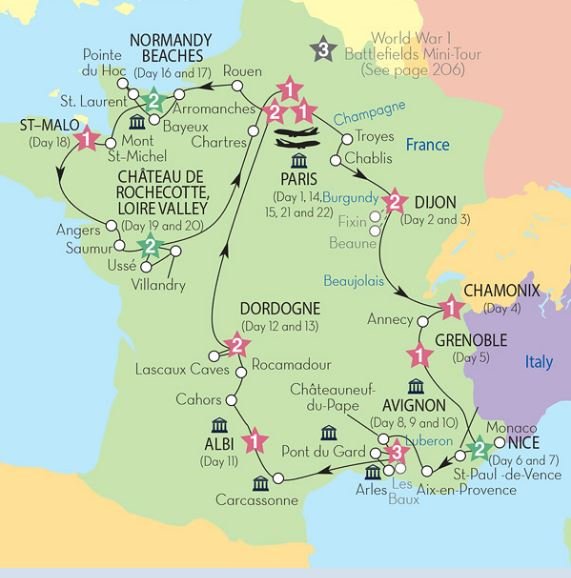 *Terms and Conditions
*Terms & Conditions: General: Flight offers only valid for select Insight Vacations tours that are booked and deposited between 27 Nov - 14 Dec 2016 and paid in full before 5pm NZT 15th Dec 2016. Flight offers are based on fares from AKL, WLG or CHC to London, Zurich or Frankfurt. Other destinations are available, however surcharges may apply. The air carrier is Emirates in "T" Booking Class. Airfare can only be sold when booked with an Insight Vacations tour and is subject to availability at time of booking. Insight Vacations reserves the right to correct errors or omissions and to change any and all fares, fees and surcharges at any time. A non-refundable deposit of $2500 per person, per Insight Vacations tour is required within 7 days of booking. Full payment for the Insight Vacations tour must be received by 5pm NZST 15 Dec 2016. By paying your deposit you accept the Terms and Conditions of the Insight Vacations flight offer. Our partner airline, Emirates, reserve the right to advise an earlier airfare Ticketing Time Limit date, subject to booking conditions and restrictions. After ticket issuance, fees for date changes and 100% cancellation fees will apply. Flight offers are only available on tours departure dates that qualify for Insight's Early Payment Discount (EPD). Flight offers are not combinable with the EPD, any other brochure discounts or other discount promotion. Flight offers may be withdrawn or amended at any time. Insight Vacations' and Emirates' standard booking terms and conditions apply to tours and flights booked under this promotion. You must comply with all applicable terms and conditions. Fly Free: Fly Free offer is valid when one (1) of the specified Insight Vacations tours are booked. Tours not on this list will not qualify for the fly free offer. Please check with Insight Vacations if you have a specific tour/date that you'd like to check. Fly Free offer is available on new bookings only. $999/$1049/$1099 Flight Offer: Valid for new bookings only made between 27 Nov – 15 Dec 2016, when booked in conjunction with Insight Europe and Britain tours 8 days or longer, excluding special interest tours, group departures, Autumn/Winter/Spring or indicatively priced departures, trips to Greece, Turkey, Israel, Jordan and Egypt. Discounts are subject to tour and flight availability at the time of booking. Seasonality details are: Fly From $999 available in Low Season - 16Jan17-04Apr17 / 24Apr17-13Jun17 / 02Oct17-31Oct17. Fly From $1049 available in Shoulder Season - 05Apr17-23Apr17 / 04Sep17-01Oct17. Fly From $1099 available in High Season - 14Jun17-03Sep17 All prices are per person and represent adult airfares inclusive of any taxes and surcharges. Fly for $999/$1049/$1099 offer is not combinable with any other Insight Vacations offer in the market market. Offers may be withdrawn or amended at any time. Travel agent professional service fees where charged, will be additional to the advertised prices. Please contact your local helloworld travel agent for further terms & conditions.
HLO Ref# 6189