Sail the Baltic Sea, crossing rolling tundra and glassy fjords on your search for the midnight sun, all the while enjoying the local culture, history and striking scenery.
From price is based on 23 April 2017 departure
SIGNATURE EXPERIENCES AND DINING:

Copenhagen: Make the most of the long summer nights at Tivoli Gardens, the famous entertainment park.
Copenhagen: With a Local Expert witness the regal interior of Christiansborg Palace, with its stunning tapestries, furnishings and decor.
Stockholm: With a Local Expert, step inside the City Hall where the fabulous Gold Room is covered by 25 million gilded mosaic tiles.
Karasjok: Visit the museum devoted to Sami history and culture offering a glimpse into the old Sami lifestyle.
Alta: At a working husky farm, meet the huskies and share in the challenges of competing in marathon Arctic dog sleigh races.
Geiranger: Cruise along the deep, blue waters of majestic Geirangerfjord, surrounded by snow-covered mountains, gushing waterfalls and lush green vegetation.
Oslo: Stand beneath the scrolled prows and handcut hulls of 9th century ships that carried Viking nobles to the afterlife and learn about their traditions and culture.
Rovaniemi: With a Local Expert, visit the church and see Town Hall.

ADDITIONAL INCLUDED HIGHLIGHTS:

Copenhagen: See the Little Mermaid, Stock Exchange, the Rosenborg Castle and Amalienborg Palace.
Stockholm: Walk through the Old Town and see the cathedral and Royal Palace.
Helsinki: Visit the 'Church in the Rock', Sibelius Monument and see the Finlandia Hall.
Kuopio: Ascend the viewing Tower for spectacular views.
Rovaniemi: See Alvar Aalto's Town Hall and visit the Cathedral. Visit the Santa Claus Village and receive an Arctic Circle certificate
Sodankylä: Visit one of Lappland's oldest churches.
Karasjok: See the Sami Parliament.
Mosjoen: See the street of historic, 19th century wooden buildings
Hell: Tell all your friends you've been there!
Trondheim: See the Market Square with its statue of Olav Tryggvason, the Nidaros Cathedral, the Tyholt tower and Old Town Bridge.
Lom: See the 12C Stave Church.
Oslo: See the impressive Akershus Castle and Royal Palace. Visit the controversial Vigeland sculptures in Frogner Park.
Scenic Drives: Peer Gynt Valley, Rago National Park and Norwegian Fjordland.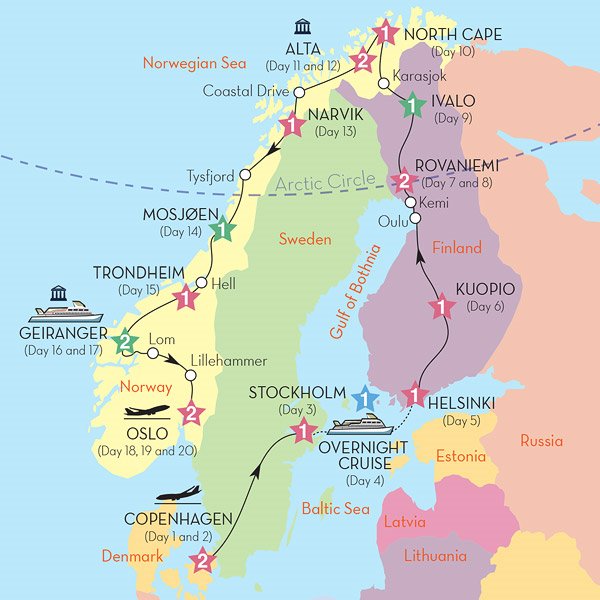 *Terms and Conditions
*Terms & Conditions: General: Flight offers only valid for select Insight Vacations tours that are booked and deposited between 27 Nov - 14 Dec 2016 and paid in full before 5pm NZT 15th Dec 2016. Flight offers are based on fares from AKL, WLG or CHC to London, Zurich or Frankfurt. Other destinations are available, however surcharges may apply. The air carrier is Emirates in "T" Booking Class. Airfare can only be sold when booked with an Insight Vacations tour and is subject to availability at time of booking. Insight Vacations reserves the right to correct errors or omissions and to change any and all fares, fees and surcharges at any time. A non-refundable deposit of $2500 per person, per Insight Vacations tour is required within 7 days of booking. Full payment for the Insight Vacations tour must be received by 5pm NZST 15 Dec 2016. By paying your deposit you accept the Terms and Conditions of the Insight Vacations flight offer. Our partner airline, Emirates, reserve the right to advise an earlier airfare Ticketing Time Limit date, subject to booking conditions and restrictions. After ticket issuance, fees for date changes and 100% cancellation fees will apply. Flight offers are only available on tours departure dates that qualify for Insight's Early Payment Discount (EPD). Flight offers are not combinable with the EPD, any other brochure discounts or other discount promotion. Flight offers may be withdrawn or amended at any time. Insight Vacations' and Emirates' standard booking terms and conditions apply to tours and flights booked under this promotion. You must comply with all applicable terms and conditions. Fly Free: Fly Free offer is valid when one (1) of the specified Insight Vacations tours are booked. Tours not on this list will not qualify for the fly free offer. Please check with Insight Vacations if you have a specific tour/date that you'd like to check. Fly Free offer is available on new bookings only. $999/$1049/$1099 Flight Offer: Valid for new bookings only made between 27 Nov – 15 Dec 2016, when booked in conjunction with Insight Europe and Britain tours 8 days or longer, excluding special interest tours, group departures, Autumn/Winter/Spring or indicatively priced departures, trips to Greece, Turkey, Israel, Jordan and Egypt. Discounts are subject to tour and flight availability at the time of booking. Seasonality details are: Fly From $999 available in Low Season - 16Jan17-04Apr17 / 24Apr17-13Jun17 / 02Oct17-31Oct17. Fly From $1049 available in Shoulder Season - 05Apr17-23Apr17 / 04Sep17-01Oct17. Fly From $1099 available in High Season - 14Jun17-03Sep17 All prices are per person and represent adult airfares inclusive of any taxes and surcharges. Fly for $999/$1049/$1099 offer is not combinable with any other Insight Vacations offer in the market market. Offers may be withdrawn or amended at any time. Travel agent professional service fees where charged, will be additional to the advertised prices. Please contact your local helloworld travel agent for further terms & conditions.
HLO Ref# 6192