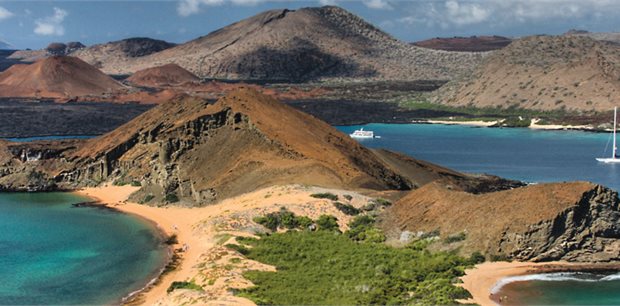 The Galapagos Islands have a bit of a reputation – think the wildest wildlife, colourful underwater worlds and some of the most remote beaches and rock forms on earth. Spend seven days discovering this explorer's dream, staying at the bustling centres of Isla San Cristobal, Isabela and Santa Cruz. Volcanoes, marine iguanas, playful sea lions and the giant tortoise all await on this animal-focused island getaway – what's not to love about the Galapagos?
Themes
This trip is for 18 to 29-year-olds
Some of our under-30 travellers prefer to get around with people their own age. If that's you, you're in the right place!
Over 29? We have a vast range of other great adventures to choose from for solo travellers, friends, families, food lovers, hiking enthusiasts, and more!
Wildlife
Highlights

By staying on the islands, you'll get the best of both worlds – discovering the forests, beaches and marine hotspots by day, and chilling out in town by night.
Collect solid gold bragging rights after climbing Isla Isabela's volcano. The views up the top don't get much better than this!
Consider a range of optional activities to enhance your wicked wildlife stops with your small group. Snorkelling at Kicker Rock? Swimming alongside sea lions near Isla Lobos? It's up to you!
Take land-side visits to San Cristobal's Interpretation Center and Isabela's Giant Tortoise Breeding Center to discover more about the islands' history and conservation efforts to preserve this far-flung paradise.
The Galapagos Islands are home to some of the most unique wildlife on earth – many you may not have heard of before! Spot blue-footed boobies, marine iguanas, frigate birds and so much more on your island escape.

What's Included

Meals

6 Breakfasts

Transport

Speed boat , Private Vehicle , Public bus

Accommodation

Hostel (2 nights), Hotel (4 nights)

Included Activities

Isla Isabela - Giant Tortoise Breeding Centre (1 Hour)
Isla Isabela - Sierra Negra Volcano Hike (5-6 Hours)
Isla San Cristobal - Interpretation Center (45 minutes)
Isla San Cristobal - Snorkelling in Tijeretas Hill
Isla Santa Cruz - Charles Darwin Research Centre (45 Minutes)
Isla Santa Cruz - Highlands Visit (1.5 hours) - Dry Landing
Isla Santa Cruz - Tortuga Bay walk
Las Grietas - Swimming Hole & Canyon
Santa Cruz - Los Kioskos Food market by Night

Pricing

Start Date
End Date
Price
Availability

Availability:

7+ Available

Book now and receive a discount. Was $1,370. Now only $1,233 for this departure

Availability:

7+ Available

Book now and receive a discount. Was $1,370. Now only $1,233 for this departure

Availability:

7+ Available

Book now and receive a discount. Was $1,370. Now only $1,233 for this departure

Please note: while prices are accurate at time of loading they are subject to change due to currency fluctuations and currency surcharges may apply. Please check price at time of booking

Itinerary

Day - 1

Location: Isla San Cristobal - Welcome to San Cristobal! Today you'll be joining with other travellers arriving from Quito. Once arrived, take an included visit to the San Cristobal Interpretation Center and learn about the natural history of, and human impact on, the Galapagos. Afterwards, you'll have time to explore on your own. Perhaps take a hike up to Frigatebird Hill or head to Mann Beach to spot some sea lions lazing on the shore. If you hit the water for a spot of snorkelling, be sure to keep an eye out for sea turtles, an array of colourful fish and even the odd sea lion coming up to swim with you!

Day - 2

Location: Isla San Cristobal - Today is free for you to continue to explore the wildlife-rich and naturally beautiful Isla San Cristobal. There are a range of optional activities that are available to you today – your group leader will be able to recommend some and help book them. You might like to take an optional boat ride to Kicker Rock – an incredible rock island that is home to some of the most interesting snorkelling in the islands. Otherwise, you could book a visit to Isla Lobos, which is known for its populations of blue-footed boobies, marine iguanas and sea lions. Consider taking a walk down Ochoa Beach on Lobos and soaking up this wildlife paradise.

Day - 3

Location: Isla Santa Cruz - Early in the morning, take a 2.5-hour public speedboat ride to Isla Santa Cruz. Once in Santa Cruz, have some breakfast and settle into the hotel. In the midmorning, continue onwards to the Charles Darwin Research Station. The visitor centre and museum exhibits house a whole range of information about the islands and the conservation efforts being made to preserve the unique ecosystem here. This station is also an ideal place to meet the Galapagos tortoise. Later in the afternoon, continue your search for tortoises when you and your group head to the higher part of the island to observe these ancient giants roaming in their natural habitat. Tonight, join your leader and discover the best food in Puerto Ayora, and possibly even in the Galápagos, at a bustling row of restaurants and stalls with tables spilling into the road. The eateries here may not have the polish of the restaurants along Avenida Charles Darwin, but the food is exponentially cheaper and always fresh, and the lively atmosphere is what makes Los Kioskos more than just a place to eat.

Day - 4

Location: Isla Isabela - Rise and shine again early this morning to travel to Isla Isabela. Check in to the hotel and enjoy breakfast with your group. Isabela is the largest island in the Galapagos and one of the most volcanically active places on earth. A worthwhile optional activity today is an excursion to Las Tintoreras – home to the rare Galapagos penguin as well as other unique Galapagos wildlife. The excursion will then take you to 'shark alley', where white-tipped sharks rest during the day. This is also a popular nesting site for the endemic marine iguanas.

Day - 5

Location: Isla Isabela - Start the day with a visit to the Giant Tortoise Breeding Centre for a close encounter with these placid giants. Here you can see tortoises in different stages of development as well as learn about the preservation program of this unique species. Afterwards, take a bus to the highest part of Isabela where Sierra Negra Volcano is located. Weather permitting, go for a hike up to the crater to enjoy spectacular views and the possibility of sighting the rare vermillion flycatcher. The challenging 17-kilometre hike takes between 5-6 hours, and at the top you'll be able to enjoy spectacular views. After the hike, make your way back to town in the late afternoon for some free time to relax up with a book or venture down to the water for a swim before dinner.

Day - 6

Location: Isla Santa Cruz - Travel back to Isla Santa Cruz in the morning, where you'll enjoy breakfast on arrival. Then, jump aboard a water taxi for a short trip to Punta Estrada we you'll make your way to Las Grietas. Literally meaning 'The Cracks' in Spanish, it's a narrow, rocky crevasse where the earth seems to have split in two, creating a crystal clear swimming hole running more than 100m through the stone. This is undoubtably one of the most unique places to swim or snorkel in the Galápagos, and it is easily accessible from Puerto Ayora. This afternoon, you will go on an excursion to Tortuga Bay - a stunning natural paradise. Enjoy a leisurely walk with your guide while observing marine iguanas and birds. You will also have the opportunity to swim with harmless sharks in the cove or take part in optional activities such as kayaking and snorkelling to discover a whole new underwater world. You can choose your own adventure, so ask your knowledgeable group leader for their recommendations.

Day - 7

Location: Isla Santa Cruz - This morning your Galapagos adventure comes to an end. Say goodbye to your fellow travellers who may be continuing on to Quito to finish their trip. If you would like to spend more time on Santa Cruz, and possibly undertake any of the Galapagos scuba diving options, we'll be happy to organise additional accommodation (subject to availability).
*Terms and Conditions
Offer subject to availability at time of booking. Prices are per person share twin based on best available tour price, inclusive of all discounts unless otherwise stated. Prices are subject to currency fluctuations and are based on cash or cheque. Tour deposit, amendment and cancellation conditions may apply. Travel agent service fees may apply. Special conditions apply - please ask for full details at time of enquiry.
HLO Ref# 12895