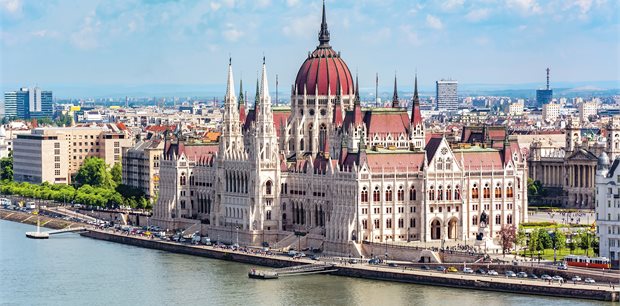 Delight your senses on the Highlights of Eastern Europe tour as you travel through Budapest, Warsaw and Vienna alongside Local Experts.

In the German capital, a robust Berlin sightseeing itinerary meanders through the leafy Tiergarten of the Reichstag building, to the Brandenburg Gate and along the Unter den Linden to the State Opera House, and Museum Island. In Vienna, see, hear and taste the city from a local perspective at the Mozart & Strauss Concert dinner—with a menu composed of traditional Austrian delicacies and classical music masterpieces. Across the border in the Polish Capital, enjoy the Warsaw Cooking of an expert chef with a demonstration of traditional dumpling making techniques.
Tour Operator:
Insight Vacations
What's Included

Our highly-skilled Travel Director will ensure your journey is seamless, serving as your expert guide, consummate organiser, and friend overseas.
Personal radio headsets give you the freedom to wander during visits to famous highlights, without missing any of your Local Expert's fascinating commentary.
We carry your bags for you and promptly deliver them to your hotel door.
Hotel and restaurant tips are included - you'll never have to worry about how much to give, nor search for foreign currency. We also include all taxes and porterage charges at hotels.
Stay connected with friends and family with our complimentary coach and hotel Wi-Fi (where available).
From time to time, your Travel Director will delight you with an Insight Flourish, which is a local specialty representing the destination.
If your arrival and/or departure flights are as per the itinerary start and end dates, then transfers are available at scheduled times. If your flights are outside these times, or you have booked additional nights accommodation with Insight Vacations, you may purchase transfers or make your own way from/to the airport.

Pricing

Start Date

End Date

27 May 23

9 Jun 23

$7,175

17 Jun 23

30 Jun 23

$7,175

22 Jul 23

4 Aug 23

$6,850

26 Aug 23

8 Sep 23

$6,995

Please note: while prices are accurate at time of loading they are subject to change due to currency fluctuations and currency surcharges may apply.Please check price at time of booking

Itinerary

Day 1 - Welcome to Budapest

On arrival at Budapest Ferenc Liszt International Airport, there are complimentary transfers to your hotel at 10:00, 13:00 and 15:30.Join your Travel Director at 18:00 and travel to a local restaurant. Your Welcome Dinner is a treat of mouthwatering Hungarian specialities, accompanied by specially selected wine.

Day 2 - Delve into Budapest Relaxed Start

Stroll through the alleys of the Old Town of Buda with a Local Expert. Enjoy a tour of the Liszt Music Academy with a student, followed by an enchanting recital. The university was founded by the piano virtuoso and composer Franz Liszt in 1875.In the evening, perhaps choose an Optional Experience to see this fairy-tale city as you cruise along the Danube and enjoy a meal of Hungarian specialties, served with drinks?

Day 3 - The Mountains to Kraków

Take a gentle drive into Slovakia and through the breathtaking Low Tatra Mountains, where villagers still live in traditional wooden houses. Stop at scenic Donovaly. Continue north to see the picturesque Oravský Hrad Castle before crossing into Poland and continuing to historic Kraków.

Day 4 - The Damsels and Dragons of Kraków Relaxed Start

Join a Local Expert to ascend Wawel Hill and visit the cathedral. Walk past the former residence of Pope John Paul II through the Old Town, to Europe's largest and most beautiful town square. See the medieval Sukiennice Cloth Hall and visit the 14th century St. Mary's Basilica, the most important church in the city. Keep your eyes and ears peeled for the trumpeter in the tower.This afternoon, why not join an Optional Experience and journey into a glistening subterranean world at the 600-year-old Wieliczka Salt Mines? In a maze of tunnels deep below the surface, witness unique salt sculptures, sunken lakes and even a glorious cathedral carved entirely out of rock salt by the miners. Alternatively, enjoy time at leisure.

Day 5 - Auschwitz and Częstochowa

Join a Local Expert at Oświęcim, better known throughout the world by its German name, Auschwitz, infamous for its role during the Holocaust. Spend reflective moments amid the remains of the concentration camp and the memorials to those who died. Travel north to Częstochowa to visit the 14th century Monastery of Jasna Góra, famous for the Black Madonna, said to have been painted by St. Luke. Continue across the Polish plains to the country's capital, Warsaw for the night. Dumplings are an Eastern European tradition, so in the evening enjoy a dumpling demonstration and delightful Highlight Dinner.

Day 6 - The Polish Capital of Warsaw Relaxed Start

Join a Local Expert in the morning to see the Old Town, Royal Castle and Palace of Culture. Visit the Chopin Memorial in the Łazienki Park.Pay your respects at the Monument to the Ghetto Heroes and then enjoy a free afternoon to explore at your own pace. Perhaps attend a Chopin recital or delve into Warsaw's inspirational past?

Day 7 - Wielkopolska to Berlin

Your route leads westward, across the rolling farmlands of the central plains, over the Oder River to enter Germany. Your destination is the vibrant capital of Berlin where you can try traditional Berliner cuisine.

Day 8 - The Spirit of Berlin Relaxed Start

Prepare to embrace the rejuvenated spirit of Berlin. Join a Local Expert for a drive through the leafy Tiergarten to the refurbished Reichstag building and see the Brandenburg Gate. On the eastern side, take the Unter den Linden past the State Opera House to Museum Island.

Day 9 - Dresden and Golden Prague

Journey south to Dresden. Almost totally destroyed by horrific air raids in 1945, Dresden has now risen again from the ashes in a blend of old and new. See the reconstructed Frauenkirche and walk past the colossal 'Procession of the Princes' on the wall of the Royal Palace. Explore around the Catholic cathedral to view the tiered facades of the opera house and the Baroque Zwinger Palace. After free time for lunch, head for the Czech border, high in the Ore Mountains and continue to the capital city of Prague.

Day 10 - Prague, City of a Hundred Spires

Explore Prague with Insight Choice. Choose to walk the courtyards of the Castle and visit the imposing St. Vitus Cathedral. Alternatively, join your Local Expert for a walk through the Jewish Quarter and learn about a different side of the history of Prague.The city is then yours to explore. Perhaps walk in the footsteps of kings along the Royal Route? Czechs are passionate about their beer, so be sure to try the local pilsners, alongside the Czech cuisine.

Day 11 - Bohemian Český Krumlov Relaxed Start

A journey through the green Bohemian countryside will bring you to České Budějovice. Enjoy a behind-the-scenes tour of a local brewery to sample the beer and discover the secrets of how this golden vintage is made. Continue on to Český Krumlov, a picturesque medieval town nestled on the banks of the Vltava. Walk the narrow cobbled streets and arch-covered footpaths, past colourful townhouses and centuries-old inns. With a Local Expert, visit the fairy-tale, red-roofed castle, considered by many to be the finest in the land. After the day trippers have left, soak up the unique atmosphere of this UNESCO World Heritage Site at a local restaurant. Enjoy a traditional Czech Highlight Dinner of local specialities.

Day 12 - Stately Vienna Relaxed Start

Cross the border into Austria and enjoy a delightful journey to Vienna. The afternoon is free for you to explore this stately capital and later why not enjoy a delightful Austrian meal with the option to dine at a country mansion?

Day 13 - The Habsburgs of Vienna

Vienna owes much of its present-day charm to the long reign of the Habsburgs. Join your Local Expert for a private visit of Maria Theresa's Schönbrunn Palace and its formal gardens. Then, take some great photos on a circuit of the famous Ring Road. This grand boulevard, built along the lines of the old city walls, showcases many of the capital's architectural masterpieces, including the Opera House, magnificent Hofburg Imperial Residence, Austrian Parliament Building and Karlskirche. Explore Vienna with Insight Choice. Choose between a visit to a traditional Viennese café to enjoy local specialities of coffee and Sachertorte or alternatively, join a MAKE TRAVEL MATTER® Experience during an inclusive workshop and take to the floor in a Viennese Waltz dance workshop designed to support the visually impaired community. Enjoy a delicious meal of traditional Austrian fare with drinks at a local restaurant, before sitting down to an extraordinary concert of Viennese classical music.

Day 14 - Depart Vienna

A transfer arrives at Vienna airport at 08:00.
*Terms and Conditions
Offer subject to availability at time of booking. Prices are per person share twin based on best available tour price, inclusive of all discounts unless otherwise stated. Prices are subject to currency fluctuations and are based on cash or cheque. Tour deposit, amendment and cancellation conditions may apply. Food fund and airfares may be additional. Travel agent service fees may apply. Special conditions apply - please ask for full details at time of enquiry.
HLO Ref# 17898