The northern nooks and the regal Republic – see it all on an eight-day adventure on both sides of the Irish border. Travel past green pastures, stunning lakes, striking cliff faces and, in the evening, head straight to the pub for a Guinness (or two). Visit medieval castles and ancient sites filled with folklore and whimsy, and marvel at the views of Ireland's rugged coastline, including the Ring of Kerry, Cliffs of Moher and the Giant's Causeway. Hitting the cities of Belfast and Dublin, don't forget to gather your travel crew together for some pub grub and live music to cap off a tour that hits all the hotspots of Ireland. 'To be sure?', you say? Why yes, we're sure.
Highlights:
Explore the rugged coastline of the Aran Islands, with time to explore ruins and remains from the Bronze and Iron Age with your local leader.
Revel in Dublin's energetic nightlife – it'll feel like there's a pub on nearly every corner, and its creative neighbourhoods are teeming with hip bars and eateries.
Scramble about the clustered pillars of Giant's Causeway and decide for yourself if it's a natural phenomenon, or the work of giants, as legends may say.
Stroll through Belfast's city centre and learn about recent historical events brought to life in their monuments and buildings – one most notably being the story of the Titanic.
Walk through Ireland's unspoilt natural wonders of the Rings of Kerry and see shepherds in action, with a sheep farm visit and herding demonstration for your small group.
Whats included:
7 Breakfasts
Train , Public bus , Private vehicle , Ferry
Hotel (5 nights), Hostel (2 nights)
INCLUDED ACTIVITIES
Aran Islands - Guided Day Trip by Ferry

Cliffs of Moher

Cork - leader led city tour

Giant's Causeway - Day Trip

Killarney - Ring of Kerry Day Trip

Killarney - Sheep Dog Trials (seasonal)
Itinerary:
DAY - 1
Location: Belfast - Welcome to Belfast and the Emerald Isle! Your Irish adventure begins with an important welcome meeting at 6 pm. As you don't spend much time in Belfast as part of the trip, we recommend you arrive a few days early to make the most of it. If you happen to do so, spend some time wandering the streets of the bohemian Cathedral Quarter, or perhaps visit the leafy suburbs of South Belfast or the stately City Hall in Donegal Square. Make sure you also visit the revitalised waterfront area where you will find the Titanic Belfast monument on the site of the former Harland & Wolff shipyard where the legendary RMS Titanic was built. The monument tells the story of the ship's ill-fated maiden voyage in 1912.
DAY - 2
Location: Giant's Causeway / Belfast - Take a private transfer to the renowned natural wonder known as The Giant's Causeway (approximately 2.5 hours), travelling along the scenic and rugged wild coast north of Belfast. Giant's Causeway is home to roughly 40,000 basalt columns. The landmark has inspired artists and storytellers for centuries. Depending on the school of thought you wish to believe, they are either the result of an ancient volcanic eruption or a rather big argument between rival giants! Upon return to Belfast in the evening, why not visit the areas that have a connection to the Troubles, such as Shankill Road, the unionist Protestant area, the nationalist and Catholic area, as well as the 'Peace Wall'. Explore the local neighbourhoods to get more of a feel of this regenerated city, perhaps with a visit to a local pub for a meal with your travel crew.
DAY - 3
Location: Galway - This morning, travel by public bus to the harbour city of Galway – capital of the county of the same name. You will be crossing the border from Northern Ireland to the Republic of Ireland, so you may need to switch your Pounds for some Euros at this point. While you're in Galway, you could visit the impressive Galway Cathedral. Its full name, the Catholic Cathedral of Our Lady Assumed into Heaven and St Nicholas, is far more elaborate than the simplicity of its building.
DAY - 4
Location: Aran Islands / Galway - Enjoy a day trip by ferry to the Aran islands, which have been crafted by centuries of wild winds and smashing waves. The islands are one of the few places where the Irish language is still spoken on an everyday basis. You'll travel by minibus and on foot to explore the native flora and fauna, with visits to the ruins of a church and a lighthouse. There are also some remains from Bronze and Iron Age fortresses to be found. If you're lucky you may even spot a seal lounging on the rocky shore! Return to Galway for a free evening and time for more exploration. The best way to take in the spirit of this city is by attending a live performance in one of the many pubs, accompanied by a pint of Guinness, of course.
DAY - 5
Location: Cliffs of Moher / Adare / Killarney - The magnificent Cliffs of Moher will leave you in awe with their striking look over the Irish coastline. The daring can walk to the edge and watch puffins nesting along the cliff face (from April to late July). Learn about the history of the famous site and its feathered inhabitants at the Cliffs Exhibition. Next stop is the quaint village of Adare. Arrival into Killarney is in the late afternoon. You'll learn quickly that pubs are the heartbeat of Ireland, whether you're interested in guzzling beer or simply getting to know more about Irish culture, pubs are definitely an important part of any Irish adventure – the place for infectiously cheerful music, tall tales and making friends over a pint or two. The Irish take their beer seriously, so this is a great chance to taste a variety of rich 'real ales'. Get to know classic pub fare such as Irish stew, chowders and fish and chips, while also sampling less familiar dishes such as coddle, boxty and champ.
DAY - 6
Location: Ring of Kerry / Killarney - Prepare for picturesque rolling green hills and breathe in the salty coastal air as you travel along the Iveragh Peninsula, better known as the Ring of Kerry – a mystical and unspoilt region of Ireland. You'll pass through bucolic villages and enjoy views across some of Ireland's greatest beaches, beautiful lakes and rivers as well as a bit of dramatic coastal scenery. It's the perfect place for a small town crime drama to be set. Travelling by private vehicle will allow you to stop frequently at any of the numerous outlooks along the way for photos. You'll visit a sheep farm and will see a demonstration of sheep herding – with skilled border collie dogs at work rounding up the sheep, and following commands from the shepherd, they're no doubt full of practice. Arrive back into Killarney in the early afternoon. If there is enough time perhaps head out to Ross Castle, picturesquely sitting on the shores of Lough Leane.
DAY - 7
Location: Dublin / Cork - Travel by train to Cork and take a city tour led by your leader. Cork is known as the culinary capital of Ireland, so grab a bite before boarding another train this time bound for the real, proud capital of the Republic of Ireland - Dublin. Spend the afternoon exploring the cobbled streets of this humming city or drop into the pub for a pint and a yarn. Dublin has much to offer, so make sure you go out and maximise your time here. In the evening, perhaps get your group together and cosy up at a local pub or head into town to find a cool restaurant or bar in Dublin's Creative Quarter, also known as the city's 'hipster triangle'.
DAY - 8
Location: Dublin - As there are no activities planned for today, you are free to head on your way at any time, providing you comply with the accommodation's internal check-out policy. You might want to return to Belfast by train or further explore Dublin and surrounding area. Your leader can be of assistance in organising train tickets back to Belfast. If you'd like, additional accommodation can be booked in both locations (subject to availability).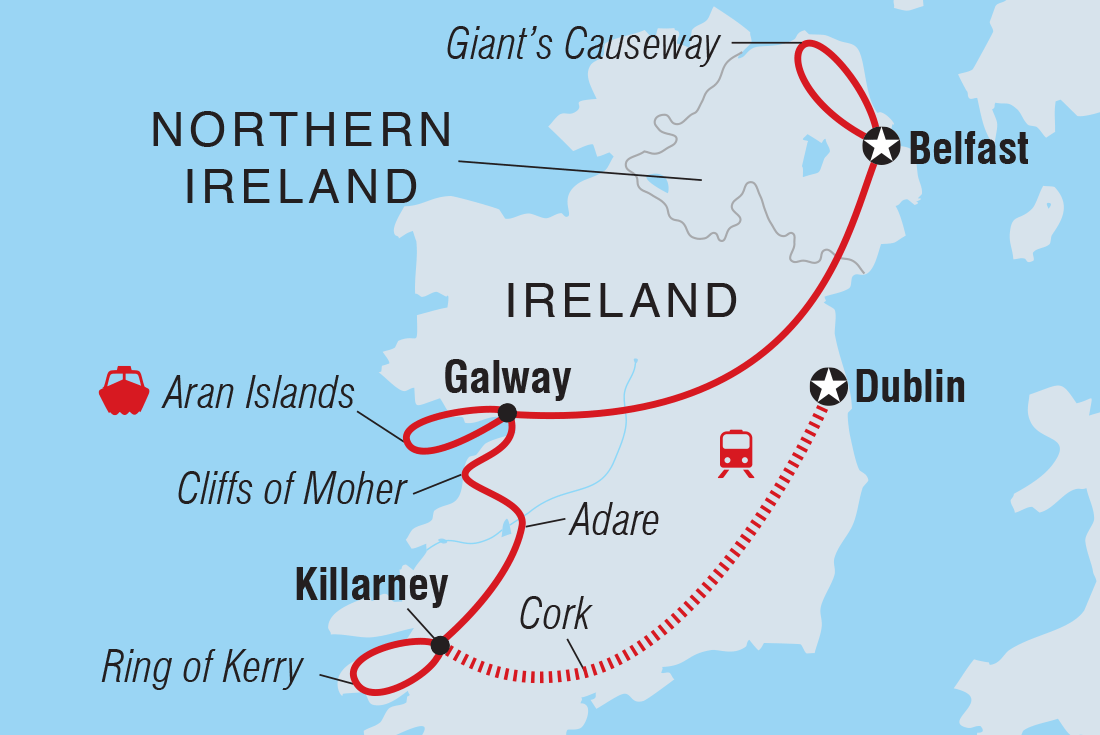 *Terms and Conditions
Offer subject to availability at time of booking. Prices are per person share twin based on best available tour price, inclusive of all discounts unless otherwise stated. Prices are subject to currency fluctuations and are based on cash or cheque. Tour deposit, amendment and cancellation conditions may apply. Travel agent service fees may apply. Special conditions apply - please ask for full details at time of enquiry.
HLO Ref# 21053