Head west for a 9-day adventure with the pioneer spirit of Northern California. How will you strike gold in the Golden State? Traipsing through coastal canopies of Redwood trees or touring foodie fun in Frisco? Trekking the trails in Yosemite or treading lightly on the timeless lanes of an old west town? Gliding to new heights or sailing scenic sights? With complimentary YourChoice Excursions, you choose to climb to new heights or dig deeper to find your California dream. What a rush!
Why This Tour is El Capitan:
A journey to uncover Northern California's historic sites and scenic sights from San Francisco to Yosemite.
The Wild West and the Pony Express … lake time and gold mines … granite cliffs and wine sniffs!
Included YourChoice Excursions in San Francisco, Lake Tahoe, and Yosemite National Park.
Eureka!
Includes
8 Breakfasts & 2 Dinners
Touring by private, air conditioned motorcoach with free Wi-Fi
Accommodation - First-class or Superior First-Class with private bath or shower
Itinerary
Day 1: Arrive in San Francisco
Day 2: San Francisco
Day 3: San Francisco - Sonoma - Sacramento
Day 4: Sacramento - Lake Tahoe
Day 5: Lake Tahoe
Day 6: Lake Tahoe - Yosemite National Park
Day 7: Yosemite National Park
Day 8: Yosemite National Park
Day 9: Yosemite National Park - San Francisco
Map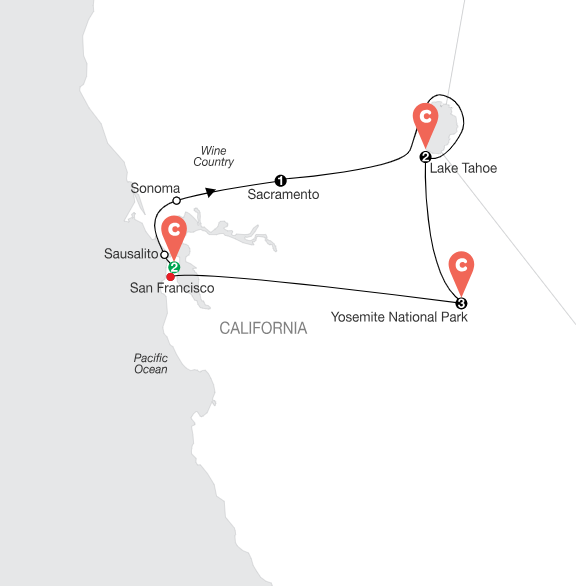 HLO Ref# 21370