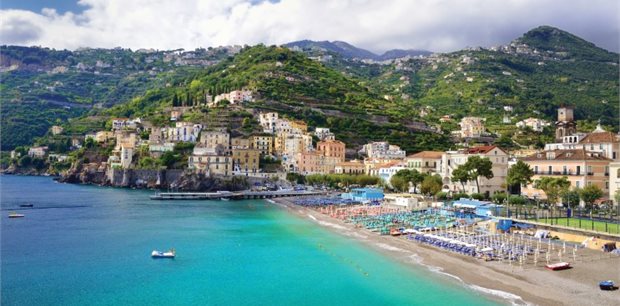 On this idyllic sailing trip, spend eight carefree days sailing from one stunning island to the next through the glistening Mediterranean Sea. On board a real yacht, this adventure takes you along the spectacular Amalfi Coast, enjoying gorgeous beaches, ancient ruins, beautiful landscapes, picturesque villages, fresh seafood and chilled-out waterfronts along the way. From discovering the ruins of Pompeii to sipping Limoncello from locally harvested orchards, experience Italy from the water in the best way. Stop in Sorrento for panoramic views and discover all the colours of Procida. Enjoy heaps of free time to explore at your own pace and gain insider knowledge from a local skipper who will give you all the best dinner spots and recommendations. Paradise is calling!
Highlights

By travelling on this trip, you'll directly support our Intrepid Foundation partner, Cooperativa Coraggio. Donations help them regenerate 22 hectares of unused public land to create local jobs and produce organic food in Italy.
Calling all history buffs! Buried in ashes, you'll visit the Roman city of Pompeii and take a peak inside the steaming crater of Mt Vesuvius – the volcano that once destroyed it.
Explore the caves of Capri's Grotta Azzura (the Blue Grotto) and swim daily in the glittering waters of the Mediterranean. Then, spend every night falling asleep to the gentle rock of waves on board your group's yacht. 
Explore the serene countryside, medieval architecture and glittering waters of the famed Amalfi Coast, passing through flourishing vineyards and olive groves.
Fresh honey, olives, rabbit stew, snails and sea urchins are just some of the local delicacies offered within Ischia (not to mention local wine and Limoncello)!
Start and end your trip away from the hustle and bustle of mainstream tourism in the pastel bay of Procida Island. This hidden gem exudes relaxation and is the perfect spot to explore on foot or find a café to sit and people-watch.

Pricing

Start Date
End Date
Room Type
Price
Availability

Availability:

7+ Available

Availability:

7+ Available

Availability:

7+ Available

Availability:

7+ Available

Availability:

7+ Available

Availability:

7+ Available

Availability:

7+ Available

Availability:

7+ Available

Availability:

7+ Available

Availability:

7+ Available

Availability:

7+ Available

Availability:

7+ Available

Please note: while prices are accurate at time of loading they are subject to change due to currency fluctuations and currency surcharges may apply. Please check price at time of booking

Itinerary

Day - 1

Location: Procida - Ischia - Benvenuto! Welcome to Italy. Your trip begins in Procida – the tiny, colourful island off the coast of Naples. If you have spare time this morning, maybe explore the city, see the walled medieval town of Terra Murata or the charming port of Corricella. Start with a group meeting at 3 pm, then head to the local supermarket to buy supplies for your trip as a group. Sail the short distance to Ischia. In contrast to Procida, it's the largest island in the Bay of Naples. Disembark and shake off the sea legs by exploring the famous Castello Aragonese, built in the 1400s. This impressive fortress sits suspended above the sea on a volcanic rock connected to Ischia. Tonight, ask your skipper for the best dinner spots and maybe head out with your group before spending your first night at sea.

Day - 2

Location: Ischia - Sorrento - Spend the first part of your day today in idyllic Ischia. Ischia is a volcanic island in the Gulf of Naples, known for its mineral-rich thermal waters and hot springs. Maybe you'd like to visit Spiaggia dei Pescatori – an idyllic beach nestled between Ischia Porto and Ischia Ponte. This afternoon, set sail for Sorrento. This coastal town offers panoramic views of the Bay of Naples and Mount Vesuvius. Once you arrive, it'll be easy to see why this is a popular tourist destination in Italy. Tonight, you'll have the opportunity to try one of Sorrento's well-known exports – Limoncello. This a liqueur produced from locally grown Femminello Santa Teresa lemons – yum!

Day - 3

Location: Sorrento - Pompeii - Today after breakfast, you'll have the option to visit the abandoned city of Pompeii – a Roman settlement that was frozen in time when Mount Vesuvius erupted. Well-preserved buildings, artwork and pottery offer a glimpse into the lives of the ancient Romans. There's also an option to hire a private guide for the ruins, as the site could easily be explored over an entire day (the additional cost of a private guide will be split between the group). Another possible activity is a visit to Mount Vesuvius National Park – if you choose this activity, you'll have a half-hour local bus and a walk at 1200 m above sea level. Ensure you have warm clothes, a rain jacket and plenty of sun protection.

Day - 4

Location: Sorrento - Amalfi - This morning you'll set sail for the Amalfi Coast, passing the Sirenusas (Gallos) archipelago to the east of the Sorrentine Peninsula. Some travellers may leave the trip when you arrive, and others may join. You'll have a second welcome meeting at 1 pm and then head to the local supermarket with your new group to pick up supplies for the next leg. The afternoon is free to explore Amalfi. You could check out the medieval architecture of Sant'Andrea Cathedral and Cappuccini Convent. You may also like to walk along the narrow trails through olive groves, vineyards and ancient villages. While the trails are steep and full of stairs, there are spectacular views over the ocean at regular intervals. Why not join an optional dinner with your group this evening and feast on local seafood and gelato?

Day - 5

Location: Amalfi - Capri - Today, set sail to the Isle of Capri – once home to the magnificent holiday palaces of the Roman emperors. After you arrive in Capri, there is an optional excursion in a small motorboat to circumnavigate the Isle of Capri. View the island and its impressive cliffs and many grottos – including the green, white and famous Blue Grotto. To enter the Blue Grotto, you'll need to switch to a smaller rowboat, and although swimming in the grotto isn't permitted, there's a small platform close by where you can take a dip. After, there will be time to catch the bus to the Town of Capri or visit the hillside town of Anacapri. If you head there, it's worth visiting the Villa San Michele – the former home to a Swedish doctor that's built on the ruins of a Roman villa. Make your way to Capri Town by the Phoenician Steps (Scala Fenicia), a long, steep stairway linking the towns of Capri and Anacapri. A moderate fitness level and comfortable shoes are required if you decide to climb the steps. 

Day - 6

Location: Forio, Ischia - This morning after breakfast, leave Capri and set sail toward Forio, in the north of Ischia Island. Along the way, stop for a swim in the idyllic waters and arrive in Forio in the afternoon. Tonight, you're free to explore this little paradise on foot or partake in one of the optional activities your skipper recommends. As this is the most populated town on the island, there are lots of little restaurants and delicious spots to eat – your skipper will also know all the best dining options, so you can find exactly what you're in the mood for.  

Day - 7

Location: Procida - This morning after breakfast, you'll sail back to Procida. Stop for a swim along the way, arriving by the afternoon. Enjoy a free afternoon to explore the beautiful town on foot – chase the perfect photo, people watch at a café or visit the Palazzo d'Avalos, the island's former prison. Tonight, sail to the main marina, stopping along the way at Marina Della Carricella to see one of the most photographed parts of the island. Then perhaps enjoy an optional group dinner in the town of rabbit stew or seafood, accompanied by a couple of glasses of local wine and some Limoncello. What better way to cap off a great sailing trip? 

Day - 8

Location: Procida - There are no activities planned for today, so you're free to leave any time after breakfast. If you wish to spend more time here, just speak to your booking agent. 
*Terms and Conditions
Offer subject to availability at time of booking. Prices are per person share twin based on best available tour price, inclusive of all discounts unless otherwise stated. Prices are subject to currency fluctuations and are based on cash or cheque. Tour deposit, amendment and cancellation conditions may apply. Travel agent service fees may apply. Special conditions apply - please ask for full details at time of enquiry.
HLO Ref# 6470