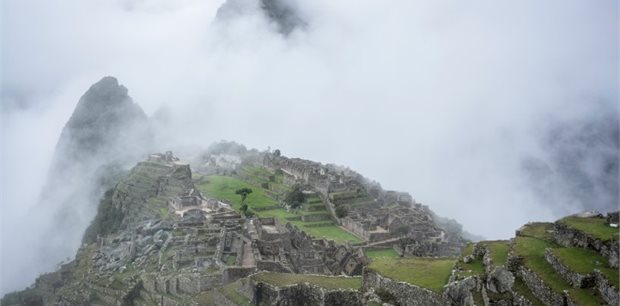 Packed full of highlights, this journey showcases the diversity of wonders across the Andes and Amazon. At Cusco, in the Peruvian Andes, be immersed in the ancient culture of the Incas, visit the Sacred Valley and revel in the magnificent citadel ruins of Machu Picchu. At Lake Titicaca, visit the floating Uros Islands before continuing to the lofty heights of La Paz. The Chilean capital of Santiago is home to some of Chile's most famous wineries and the lively neighbourhoods and late nights of Buenos Aires. At the border with Brazil, experience the magnificent might of Iguazu Falls, before finally arriving in one of the most beautiful cities in the world, Rio de Janeiro.
Highlights

Enjoy a 2 night 'feature stay' at an estancia ranch in Argentina and experience traditional gaucho life
Enjoy a two-night Feature Stay at the private island of Suasi on the Lake Titicaca. Watch the sun go down at the highest point of the island while enjoying a truly memorable picnic and drinks
Enjoy two included visits to Machu Picchu! One guided tour of the ruins and the second visit with free time to explore on your own
Join a specialist historian guide on one of your included visits to an archaeological site in Cusco. Your guide will provide fascinating insights and knowledge of Peru's history and culture
Look for rainbows in the mist of the mighty Iguazu Falls from both the Brazilian and Argentinian sides, and visit a local indigenous community
Venture deep into the Amazon Jungle with your local, multilingual guides and encounter magnificent fauna, flora and wildlife in their natural habitat
Wind through country lanes and refine the palate in Argentina's malbec-producing wine region, enjoying a traditional Argentinian lunch in Mendoza

What's Included

Meals

28 Breakfasts, 9 Lunches, 9 Dinners

Transport

Boat , Bus , Plane , Private vehicle , Train

Accommodation

Estancia Feature Stay (2 nights), Hotel (24 nights), Jungle Lodge Feature Stay (2 nights), Eco Lodge Feature Stay (2 nights)

Included Activities

2-night stay at a traditional estancia
Buenos Aires - Full-day guided tour
Buenos Aires - Orientation walk
Buenos Aires - Tango dance lesson
Buenos Aires - Tango demonstration by professional dancers
Casablanca region - Tour of an organic & biodynamic vineyard including wine tasting
Complimentary Airport Arrival Transfer
Complimentary Airport Arrival Transfer
Complimentary airport arrival transfer
Cusco - Cathedral Entrance Fee
Cusco - Cathedral tour with Specialist Historian Guide
Cusco - Coricancha Temple entrance fee
Cusco - Full Boleto Turistico Pass (access to 16 archaeological sites, transport & guides not included)
Cusco - Orientation Walk
Cusco - Orientation Walk
Estancia - Empanada Making Workshop
Estancia - Polo workshop
Iguazu Falls - Entrance & tour of the Argentinian side of the falls
Iguazu Falls - Entrance & tour of the Brazilian side of the falls
Iguazu Falls - Guarani community visit
La Paz - Tiawanaku archaeological site and museum tour
Lima - Alameda de Chabuca Granda - Street food tasting
Lima - Guided tour Down town, Cathedral of Lima and The Catacombs
Lima - Guided tour of San Francisco Monastery including The Catacombs
Machu Picchu - Entrance and guided tour
Mendoza - Closed-door restaurant lunch
Mendoza - Full-day winery tour - Includes lunch
Polo workshop
Rio de Janeiro - Total Rio Tour Combo 1: Santa Teresa, Corcovado, Christ & Copacabana
Sacred Valley - Community visit & lunch
Santiago - Cerro San Cristobal Funicular
Santiago - Half-day guided walking tour
Suasi Island - Cultural Museum Visit
Suasi Island - Spectacular Sunset over Lake Titicaca, Picnic & Drinks
Valparaiso - Guided City tour
Valparaiso - Lukas Museum
Valparaiso - Pisco Sour workshop & Sunset

Pricing

Start Date
End Date
Price
Availability

Availability:

7+ Available

Availability:

7+ Available

Availability:

7+ Available

Availability:

7+ Available

Availability:

7+ Available

Availability:

7+ Available

Availability:

7+ Available

Availability:

7+ Available

Availability:

7+ Available

Availability:

7+ Available

Availability:

7+ Available

Please note: while prices are accurate at time of loading they are subject to change due to currency fluctuations and currency surcharges may apply. Please check price at time of booking

Itinerary

Day - 1

Location: Lima - Welcome to Lima, Peru. On arrival at Lima's Jorge Chavez International Airport, you'll be transferred to your hotel in Miraflores. In the afternoon around 2 pm, there will be a welcome briefing at the hotel with your Peregrine tour guide. Straight after the meeting your leader will take you on a walking tour of downtown Lima, including the city's historical centre. Flanked by streets of ornate mansions, palaces and churches, Plaza Mayor is the best place to start any exploration of Lima. Take a walk through the old streets to get a feel for colonial life. Continue onto the central market which has a huge variety of fresh produce on offer, including fruits, vegetables and even guinea pigs! You'll also have the opportunity to try some local Peruvian fruits and street food. Next head away from the tourist trail and visit Alameda de Chabuca Granda – an area really only known to locals. This is a place where people go as a treat to enjoy a variety local street food and authentic Peruvian desserts such as mazamorra morada (a sweet porridge made from purple corn), or picarones (Peruvian donuts made from local squash called Macre and sweet potatoes served with a sweet syrup). You will finish in Lima main square, you may choose to stay downtown for dinner or take an included transfer back to Miraflores.

Day - 2

Location: Puerto Maldonado (Amazon Jungle) - This morning starts nice an early with a transfer to Lima Airport at approximately 5.30 am. Fly from Lima to Puerto Maldonado today, which should take around 3 hours, including a 30-45 minute stop in Cusco (during this stop you will not disembark the plane). The flight will arrive into Puerto Maldonado airport just before 12 pm (midday). Take a short drive to the lodge's office in town. Upon arrival, you will be provided with a small duffle bag to pack your personal items required for the duration of your jungle stay. The remainder of your items will be stored securely in the office. From the office it's about an hours' drive to the Port of Inferno. Leave civilisation behind and venture deep into the Amazon rainforest by motorised canoe, up river to your jungle lodge in the Madre de Dios region. During the boat journey you will be given a packed lunch provided by the lodge. Upon arrival at the lodge it's a 15-20 minute walk, and you won't be required to carry your bags. Once you arrive, there is time to unpack and unwind before a short orientation and briefing. After dinner your local guide will take you out into the jungle on a night walk.

Day - 3

Location: Puerto Maldonado (Amazon Jungle) - Embrace another early start (approximately 4.30 am) and visit the Oxbow Lake. The activity begins with a walk through the jungle. It will take you approximately 30-40 minutes to reach the Lake. Once at the Lake you'll board a catamaran to take a slow ride around. Keep your eyes peeled for Squirrel Monkey troops that sometimes forage in bushes at the edge of the lake. Overhead, spectacular Scarlet and Red and Green Macaws and parrots are a regularly seen as they fly over the Lake. After the boat ride you'll take the same path back to the lodge, arriving late morning at approximately 11 am, depending on the group's pace. Soon after you'll head back out on a 20-minute walk through the rainforest to a clay lick visited by 7 to 10 species of parrots and parakeets. While watching from a blind, you'll be able to get very close to view the Dusky-headed and Cobalt-winged Parakeets, Chestnut-fronted Macaws with Mealy, Yellow-crowned, Blue-headed, and Orange-cheeked Parrots. After this you'll walk back to the lodge for lunch. There will some free time until mid-afternoon when you'll head out for the final activity of the day. A 20-minute boat ride downriver from the lodge brings you to Centro Nap – a traditional community clinic that produces medicines from rainforest plants and administers them to patients who either cannot afford to receive treatment in town or prefer traditional medicines. An Eseeja nativa from the Community of Infierno will take you on a unique tour of Centro Nape to explain the uses of various medicinal plants. Head back to the lodge around 6 pm and enjoy some free time before dinner. After dinner head out on an optional night jungle walk.

Day - 4

Location: Cusco - This morning at approximately 8 am, travel back to Puerto Maldonado before taking a short flight (approximately 35 minutes) to Cusco. The flight will arrive into Cusco at approximately 1.30 pm. After settling in at the hotel, embark on an orientation walk of the hotel's surrounding area and Plaza de Armas. This tour will also include a visit to the Cusco Cathedral with a specialist historian guide. Your guide will be highly educated in colonial art, and will be able to offer special insights into Cusco Cathedral, which is a World Heritage-listed site.

Day - 5

Location: Cusco - Your leader will take you on walking tour of Cusco today. Visit the Coricancha Temple for a tour with a local guide. Once plated in thick gold, the Spanish built a Dominican church atop its walls. Afterwards, head to the San Pedro market, where you can practice your bargaining skills and take some colourful pictures. The tour will also stop at the Plaza de Armas in the heart of the city. Here you will again see the main cathedral (this time from the front only), built on top of an Incan palace and one of the city's greatest repositories of art.

Day - 6

Location: Sacred Valley (Ollantaytambo) - This morning, travel by private bus for around 2 hours through the Sacred Valley on the outskirts of Cusco. Known as Wilcamayo by the Incas, this valley was greatly treasured because of its climate, fertile land and the presence of the Urubamba (Sacred) River. Long the main source of food for the high Andes, maize crops can be seen surrounding the river and covering the terraces carved high into the valley walls. You will visit the fortress of Sacsayhuaman where massive stone blocks that form the walls of this site give you an impressive picture of how greatly developed Inca engineering was. Looking over the city from its hilltop position, the fortress is the ultimate example of the Inca's military strength. En route to Ollantaytambo, visit workshops in the Chichubamba community to gain a greater insight into the local lifestyle with an included lunch and visit to some local workshops. After the community visit, continue on to Ollantaytambo. Ollantaytambo is a magnificent example of Inca urban planning and the perfect warm up for Machu Picchu. Ollantaytambo's archaeological site is located to the east of the Plaza de Armas. The upper terraces of this site offer great photo opportunities of the squared grid town below. Today you'll see lots of evidence of the Incas' engineering skills – in the ruins of ancient aqueducts, irrigation canals, dams on the Urubamba River, imposing sets of terraces and centres of worship dedicated to Pachamama (Mother Earth). Late afternoon head to the hotel in Ollantaytambo and settle in for night.

Day - 7

Location: Aguas Calientes - Nestled in the cloud forest at the foot of Machu Picchu, your destination today is Aguas Calientas. Depart the hotel just after 7 am and travel by train for around 1.5 hours through the winding Urubamba Valley to reach the town. From here take a 30-minute bus up the winding road to Machu Picchu where you will be joined by a guide who will take you through the ruins and tell you stories of its history and the ancestral people of the region. Looking at Machu Picchu for the first time, as it sits against a backdrop of forested mountains, is a truly breathtaking experience. No matter how many photos you've seen, it is hard to prepare for its awesome beauty. The true purpose behind Machu Picchu may always be a mystery, since no historical records of the complex exist. In fact, none were made in the first place, since the Incas had no written language. Some historians have argued it was a place of spiritual worship; others, a military stronghold, and some even think it was a prison. Most archaeologists, however, believe it to be the 15th-century headquarters of 'he who shook the earth', Emperor Pachacuti. You will have a guided visit (approximately 1.5-2 hours), then free time to wander around.

Day - 8

Location: Machu Picchu/Cusco - Depart the hotel at around 5.30 am this morning and take the bus back up the winding road to Machu Picchu, arriving at around 6.30 am. On your second visit to the ruins, you'll have free time to explore and take any photos you may have missed yesterday. Why not take a walk up to the iconic Sun Gate and take that postcard picture! Further explore more of the extraordinary architecture of the many temples, palaces and living quarters, where the mortar-free design is particularly earthquake resistant and the stones are so precisely cut that to this day not even a knife fits between them. Before midday take the bus back down to Aguas Calientes. Enjoy some lunch in town and perhaps have head to the local artisanal market to pick up some souvenirs. Later take an afternoon train to Ollantaytambo arriving late afternoon. From Ollantaytambo, take a private transfer back to Cusco arriving around 7 pm, just in time for dinner.

Day - 9

Location: Cusco - Today, enjoy free time to relax, shop or explore more of Cusco's sights. Perhaps head to a cafe on the Plaza de Armas. There are many optional activities available in Cusco, so be sure to speak with your tour leader if you wish to book any of these in.

Day - 10

Location: Puno - Depart the hotel just after 7 am this morning. Travel by bus for around 7- 7.5 hours to the tiny but unique town of Puno. This direct tourist service will take you on decent roads through spectacular mountain scenery. You will also drive through the large sprawling town of Juliaca on your way to Puno, which is a colourful and lively place renowned for its traditional street dancing, often performed in celebration of Catholic festive days in February each year. Arrive in Puno at around 3.30 pm. Located on the shores of Lake Titicaca, this place is a a culture centre of Aymara and Quechuan Indian influences, and where traditional Andean customs are still strongly represented. The town is known as the folklore capital of Peru and is famous for its traditional dances. Many festivals are celebrated here, especially the Virgen de la Candelaria, so if you're lucky your visit might coincide with one of the colourful evening parades, when the streets fill with costumed dancers and musicians. Head to the hotel in Puno and settle in. Shortly after your leader will take you on an orientation walk of Puno town. This evening perhaps head out for dinner with the group – your leader will be able to recommend some great places to eat.

Day - 11

Location: Lake Titicaca/Suasi Island - Leave the hotel just before 7 am and set off to explore Lake Titicaca. Be enchanted by the striking scenery and unique cultures on a cruise around Lake Titicaca today. As Lake Titicaca is the highest navigable lake in the world, the sun can be extremely strong, so make sure you wear a hat and sunscreen, even on cloudy days. Stop by the floating Uros Islands. The Uros people constructed these islands to isolate themselves from rival tribes in ancient times. They are built completely from multiple layers of totora reeds, which grow in the shallows of the lake. Next call into Taquile Island for some woollen handicrafts. On the island, knitting is strictly a male domain, while women do the spinning. At approximately 1 pm, retire to the private island of Suasi where you'll spend the next two nights. This afternoon you may want to venture out on a walk around the Island or why not head to the spa and book in a massage. Tonight, enjoy an included dinner at the lodge.

Day - 12

Location: Suasi Island - This morning you will visit the cultural museum on the island. Here you will find maps, pictures of the lake, and books about history of the lake and its communities. There are handicrafts and fabrics from the different groups that developed around the Lake, types of Andean grains like quinoa, and a chance to learn about the painting process of wool. An easy late-afternoon walk (approximately 30 minutes) will take you to a nice spot to witness a memorable sunset over the waters of Lake Titicaca. Enjoy a private picnic with drinks – a unique moment to soak in the beautiful landscape, appreciate the serenity, and if the clouds behave, watch the sun go down. Tonight, enjoy an included dinner at Suasi Lodge.

Day - 13

Location: Puno - Enjoy a relaxing morning, and just before 1 pm, travel back across the lake to Puno. The boat journey back to Puno is approximately1 hour and 45 minutes. Enjoy a free night in Puno to explore, eat dinner at a local restaurant or relax in the hotel.

Day - 14

Location: La Paz - This morning depart the hotel at approximately 7 am. Travel by minivan to Desaguadero (approximately 2.5 hours), where you'll cross the border into Bolivia. The first stop is the Peruvian migration office where you'll be asked to leave the bus and proceed through Peruvian migration. Then walk via a bridge to the Bolivian side, submit your passport at the Bolivian migration office and reboard the bus, which will continue to La Paz. About 30 minutes after crossing the border there's another stop where the army will again check your documents. On your way to La Paz, stop at Tiahuanaco for a guided visit. The archaeological site of Tiahuanaco was the base of a great civilisation that began around 500 BC before mysteriously 'disappearing' around AD1200. It is believed that the ceremonial complex dates back to the AD800 and was once at the centre of a powerful and self-sustaining empire based in the southern Central Andes. It is also where the Incas learned about building systems and agricultural practices. The sprawling ruins comprise of temples, courtyards, terraced pyramids, monolithic stone statues and gateways. The most famous structure is the Puerta del Sol (Gateway of the Sun). From the ruins it's a 2-hour drive to La Paz, where you'll spend the night. Enjoy spectacular views of the city on your approach, due to its unique location in the middle of a vast volcanic crater.

Day - 15

Location: La Paz - At around 3600 metres, La Paz feels like the top of the world and vies with Tibet for the title of highest capital in the world. Despite the abundance of colonial architecture, La Paz's indigenous roots run deep, and the atmosphere in the market-filled streets is both modern and traditional. This morning at about 9 am you'll embark on a city tour. Begin with a dramatic ride on the world's highest 'urban' cable car, up at 13,000 feet connecting La Paz with its twin city El Alto – a challenging urban environment that is a mix of shacks, half-finished buildings and church spires. Here you will visit some craft markets, selling goods made of alpaca wool, leather and other traditional materials, before visiting the Mercado de Hechiceria or Witches' Market. Browse the weird and wonderful stalls that sell everything from potions to incantations made from herbs. This witches market is rarely seen by tourists and is much more authentic than the smaller witches market in La Paz. Just outside the market is a street with dozens of types of doctors or shamans that, for a price, can tell of your future health, love, or career. Reboard the cable car to the south of the city and take a walking tour of the extraordinary landscape of Moon Valley. This isn't a valley, but a maze of canyons and colossal clay spires. These rugged oddities, caused by erosion, make for staggering views. Stop at Mirador Killi Killi for one of La Paz's most impressive viewing points. Next head to the main square and Plaza Murillo. After lunch, the rest of the day is free. When the sun sets and the temperature drops, join the locals in seeking warmth in a bar or restaurant.

Day - 16

Location: Santiago - Transfer to La Paz airport and take an included flight to Chile's capital, Santiago. Set within a circle of snow-capped mountains, Santiago is vibrant, artistic and gourmet. On arrival, take an included transfer to the hotel. Your adventure continues with another meeting at 6 pm. If you arrive early into Santiago, perhaps take a short walk to get your bearings of the city, with the Andes serving as a spectacular backdrop to your exploration.

Day - 17

Location: Santiago - Today at 10 am get to know Santiago on a walking tour with a local guide (approximately 2.5 hours). You'll discover more about the city that was founded in 1541 by the Spaniard, Pedro de Valdivia, and has experienced a turbulent history filled with native conflicts, floods and earthquakes. Head to the Plaza de Armas, the heart of the city and home to the cathedral, and walk through the central market to try some local specialities. Next, take the cable car to the top of Cerro San Cristobal for the best view of the city. Finishing the tour in the bohemian Bellavista neighbourhood. Tonight, why not take the chance to dine out at one of the city's famous restaurants and sample some local ceviche. 

Day - 18

Location: Valparaiso - Enjoy a free morning in Santiago. Perhaps visit the Mercado Central (Santiago's celebrated fish market) to savour some breakfast empanadas with pebre, a delicious Chilean condiment of coriander, garlic, olive oil and peppers. At about 2 pm head west towards the coast. Stop for a wine tasting on the way in the Casablanca Valley, located about 45 minutes outside of Santiago. Sitting on a coastal plain between the capital and Valparaiso, the valley is Chile's fastest growing wine region, with its rich soil and perfect climate making it a wine lover's paradise. This visit (approximately one hour) is focused more on the sustainability and organic goals of the vineyard and the characters of biodiversity rather than tasting wine. Nice to know however that this area is known for crisp Chardonnay and Sauvignon Blanc, but also for stunning reds like Pinot Noir, Merlot and Syrah. Continue (approximately 1.5 hours) through the lush green vineyards to the coast and the colourful city of Valparaiso, notable for its brightly hued houses spread across a series of hills overlooking the ocean. As a creative hub, the city has no shortage of options for a drink, so perhaps find yourself a place to sip some ancho reyes alongside locals for the evening.

Day - 19

Location: Valparaiso - Listed as a World Heritage centre in 2003, Valparaiso used to be South America's busiest port before the opening of the Panama Canal. It has since transformed itself into Chile's most creative city which you'll learn more about on the walking tour today at 9.30 am with a local guide (approximately 3.5 hours). The ramshackle streets have long been home to artists, writers and musicians so there is no shortage on visual inspiration to prompt some questions about its background. The hills of Cerro Concepcion and Cerro Alegre are dotted with kaleidoscopically coloured houses, with cobbled streets weaving sharply uphill and concealing all manner of galleries, restaurants and shops. Later on, visit the Lukas Museum which houses the collection of original works by the cartoonist, illustrator and chronicler Renzo Pecchenino, Lukas.

Day - 20

Location: Mendoza - At 9 am in the morning, travel through the Andes and across the Argentinean border by local bus to Mendoza (approximately 6 hours on the bus). Please note that crossing the border can take up to three hours depending on local traffic so it's a good idea to bring plenty of water and snacks, as the trip may incur delays. On a clear day it may be possible to see Mount Aconcagua, the highest mountain in the Americas at 6962 meters above sea level. Once in Mendoza, get to know the city with a gentle stroll around its tree-lined streets, or visit the local cafes and restaurants for some Argentinean fare.

Day - 21

Location: Mendoza - Mendoza is Argentina's most prolific and significant grape-growing region, producing nearly three-quarters of the country's wine. The climate produces an excellent variety of grapes, with the region's signature being Malbec. Expect an 8.45 am pickup today, visit several wineries and cellar doors to see and taste the quality for yourself. Afterwards about 1 pm, stop at a closed door restaurant for an exclusive included lunch. Sit back and enjoy being served delicious food in this unique private eatery. Return to the centre around 3.30 pm. In the evening, perhaps test your palate by attempting to pair the perfect wine with an authentic Argentine asado (barbecue-style food). A visit to Aristides Villanueva Street after dark is a must if you enjoy a bit of nightlife. If you're feeling adventurous, try one of the most popular drinks in town: fernet with coke – an acquired taste and not for the faint-hearted!

Day - 22

Location: Estancia Stay - This afternoon fly from Mendoza to Buenos Aires, which only takes around one and a half hours. This domestic flight has a strict luggage allowance of 15kg (one piece) for check in luggage. On arrival about 6 pm, travel in a minivan for just over an hour to a traditional estancia (ranch). This is where the group will be staying for the next couple of days. During your time here, you could go horse riding, take a cooking class or simply read a book. Estancias are ideal for relaxation and provide a great base for activities. Please remember that activities vary depending on the days that you are there. If in doubt, ask your trip leader for more information.

Day - 23

Location: Estancia Stay - Today, your leader can assist the ranch staff to brief you about the sport Polo. This nail biting game will enthral and impress you; combining skill, endurance, elegance and danger! Meet the horses up close and get a feel for the equipment and gear used. Later, head into the kitchen to take part in an mmpanada workshop! Empanada's are an Argentinean staple that resemble a small pie. They can be sweet but are most commonly savoury. During the workshop you will learn how to make the dough and a traditional filling from scratch. At some point today a local gaucho (cowboy) will pop in to the ranch for a chat.

Day - 24

Location: Buenos Aires - After breakfast travel back to cosmopolitan Buenos Aires (approximately 1.5 hours) to experience its old charm and cosmopolitan streets. Soak up the Argentinean capital's irrepressible mix of European and Latin culture on an orientation walk with your leader. Visit Florida street, National Congress and the presidential palace of the Casa Rosada (Pink House) in the Plaza de Mayo. If there is time, your group may get to visit the Obelisk and possibly either La Boca or Recoleta. During the free afternoon, perhaps visit the elaborate tombs on display in the famous Recoleta Cemetery, be seduced by the world's most passionate dance at a tango bar, attend a raucous football match, or gorge yourself on the city's sophisticated culture and food.

Day - 25

Location: Buenos Aires - There's a lot to see today at your leisure. Explore the antique markets of San Telmo or browse the museums in the well-to-do neighbourhood of Recoleta. If you're a foodie or a wine connoisseur, take part in the Malbec Trail of Palermo or Gourmet Buenos Aires Food Urban Adventure day tour. See urbanadventures.com/destination/Buenos-Aires-tours for more information. Your adventure continues with another meeting for the entire group so you can all get acquainted at 6 pm. Afterwards, perhaps head out tonight and be swept away by the dance of love at an optional tango show.

Day - 26

Location: Buenos Aires - Enjoy a morning exploring some of Buenos Aires' most iconic sites with your guide. First stop is the Plaza de Mayo to visit the original town hall, as well as the presidential palace known as the Pink House. Walk around La Boca and its 'Caminito' district, before moving on to the lesser-known Barracas neighbourhood and stop in at a local NGO to learn about their agroecological model of food production and community collaboration. Help prepare a meal – much of the ingredients for which are grown in the co-op's own gardens – and then dine on the results, including alfajores for dessert. Walk off lunch by strolling through Recoleta Cemetery, a labyrinth of ornate mausoleums. After a stop at the grave of Eva Peron, head to Palermo to see beautiful parks and the unique Floralis Generica – a huge metal flower. Later, be captivated by Argentina's most famous dance: the Tango. A professional Tango couple will explain the dance's origin and history, as well as demonstrate the intimately fluid movements for you. You will then be invited to join an hour-long beginner's class to learn some of the basic techniques and find your own rhythm.

Day - 27

Location: Iguazu Falls (Brazil) - This morning, fly to Puerto Iguazu in Argentina (2 hours), gateway to the mighty Iguazu Falls. This domestic flight has a strict luggage allowance of 15kg (one piece) for check in luggage. Spend the next two days exploring the falls in depth, seeing them from both the Argentinean and Brazilian sides. The falls are two kilometres in length, and are made up of 275 waterfalls in total, some of which stretch up to 80 metres high. This makes them both higher than Niagara and wider than Victoria Falls. The Brazilian side of the falls offers great panoramic views of the falls. For a birds-eye view of the falls you can take an optional helicopter flight over them.

Day - 28

Location: Iguazu Falls (Argentina) - Make an early start, 7.30 am, to visit the Argentinean side of the falls today, which has boardwalks allowing you to get up close and personal with these towering rapids. Choose to get an even more exhilarating look at Iguazu with an optional zodiac boat ride below the falls. Later, at about 3 pm, you'll have to chance to accompany your leader on a visit to a Guarani community. Return to the hotel at approximately 5 pm.

Day - 29

Location: Rio de Janeiro - Today cross the border into Brazil and take an included flight (two hours) from Foz do Iguacu to Rio de Janeiro. Witness the intense green of Guanabara Bay and the beauty of the surrounding slopes of the Corcovado and Sugarloaf that make Rio such a majestic place. Take in the ever-present Portugese influence here, which is especially apparent in the opulent buildings constructed when the Portuguese monarchy fled Europe under the threat of Napolean and took up residence here. The white sands of Cobacapana and Ipanema beaches offer an interesting snapshot of local life. For some world-renowned live music, Lapa is the place to go and join the locals for some serious dancing.

Day - 30

Location: Rio de Janeiro - It's an early start this morning, as we embark on a full-day guided tour of Rio. Starting at Corcovado Mountain for sweeping views over Rio from the base of the Christ the Reedemer statue before the crowds arrive. Discover the eclectic architecture, restaurants and art galleries of the artistic neighbourhood of Santa Teresa. Then continue on to by the famous Selaron Steps to see artist Jorge Selaron's gift to the Brazilian people. Give your feet a break during a lunch stop at an incredible NGO called Gastromotiva, where creative dishes are made with donated produce and the cooks are marginalised members of the community given free culinary training. Finish the day with a walking tour of the Port area. This area, a little more off the beaten track, has been recognized for its cultural and historical importance as it was a main Port for the slave trade in Brazil. We will be joined by a local guide from the Pretos Novos institute, which aims to preserve the cultural heritage found in the Port area. On the walk, learn about the story of how the African slaves arrived to Brazil, the horrific conditions they endured on the journey over, how they were sold and, eventually, how they resisted and became free. Their story is intrinsically connected with the history of samba and Brazilian culture. Expect to be finished around 4 pm.

Day - 31

Location: Rio de Janeiro - Your trip comes to an end after breakfast this morning. Please note that you are required to comply with any internal hotel check-out rules before departing.
*Terms and Conditions
Offer subject to availability at time of booking. Prices are per person share twin based on best available tour price, inclusive of all discounts unless otherwise stated. Prices are subject to currency fluctuations and are based on cash or cheque. Tour deposit, amendment and cancellation conditions may apply. Travel agent service fees may apply. Special conditions apply - please ask for full details at time of enquiry.
HLO Ref# 9948